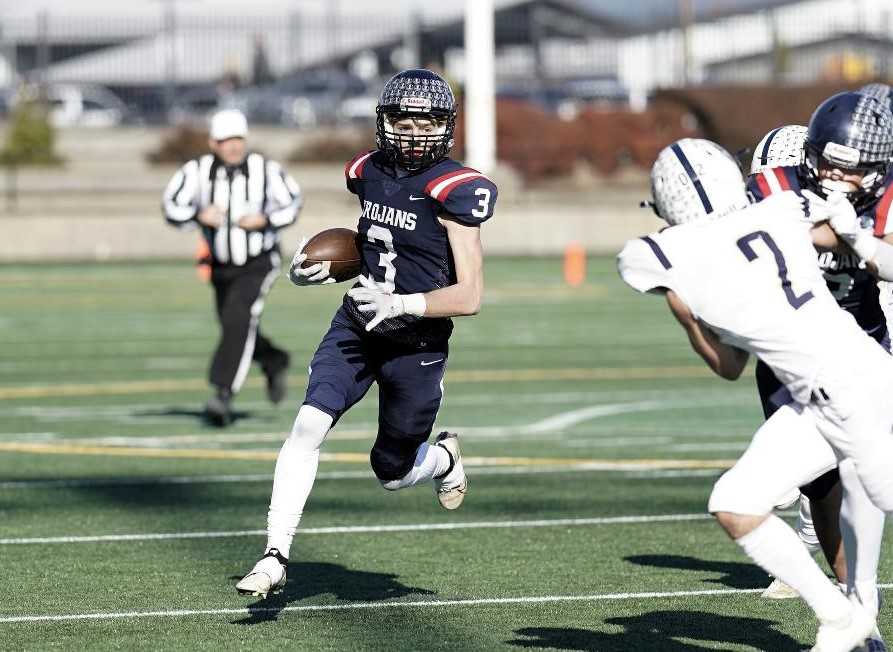 By SCOTT SEPICH/for OSAAtoday
HILLSBORO — Kennedy football coach Joe Panuke talked with his team last offseason about a big decision facing the Trojan program.
They could stay at the 2A level -- where they had made three consecutive championship games and won a title in 2018 – but would have to play nine-man football starting this season. Or they could challenge themselves by moving up to 3A, sticking with the 11-man game and seeing how they stack up against stiffer competition.
The Trojans chose 3A, and so far the decision has worked out as well as they could have ever hoped.
No. 1 seed Kennedy (12-0) kept an undefeated season alive in the 3A semifinals at Hillsboro Stadium on Saturday, downing No. 4 Banks 15-7 in a defensive grind. Kennedy managed just 193 yards of total offense in victory, but held the Braves (11-1) to 152.
The Trojans broke a 7-7 tie with 32 seconds left in the third quarter, as quarterback Elijah Traeger found Brett Boen between defenders for a 15-yard touchdown pass. Then, a high snap on the extra-point attempt became an unexpected successful two-point conversion run.
Kennedy made the lead hold up down the stretch against a Banks team that saw senior starting quarterback Christian Lyda go down with a wrist injury that forced him out of the game in the second quarter.
"It's amazing and this is what we've worked for this entire season," said Traeger, who completed 12 of 19 passes for 131 yards and two scores. "The first time we were told we were going up to 3A we just said 'let's go win that championship.' And now we're headed there so we're looking forward to it."
Panuke praised the way his players approached the task of competing at the 3A level.
"They worked hard over the summer and believe in each other and really play for each other," Panuke said. "We knew we were going to be good this year, and that's why they wanted to play 3A."
"Obviously there was the risk of not making the playoffs or losing early in the playoffs," Panuke continued. "But I'm just proud of how these guys love each other and believe in each other. They feel like they can play with anybody right now."
Both teams scored on 16-yard drives in the first half that were aided by turnovers.
Banks linebacker Daevon Vereen forced a fumble by Traeger at the Trojans 16. Three plays later, Lyda tossed an 11-yard touchdown pass to Max Walker, who made a spectacular one-handed diving catch just inside the right pylon for a 7-0 first-quarter lead.
Unfortunately, Lyda landed on his right wrist on a play during the Braves' second drive, and couldn't grip the ball, forcing Banks to go with junior Ashton Crossen and freshman Lane Gilbert for the remainder of the game.
"Things change quickly for you offensively," Banks coach Cole Linehan said of the injury to Lyda. "Your full game plan goes out the window and you have to readjust, and the kids did as much as they could."
The Trojans were struggling to move the ball early, but created their own scoring opportunity when Traeger intercepted a tipped pass to give Kennedy a short field. Senior Carlos Recendiz, a transfer from Silverton, got a hand on the throw and batted the ball to Traeger.
"I don't know if it was intentional, but it was a good tip because it went right into my hands," Traeger said.
On the next play, Traeger connected with Owen Bruner for the 16-yard touchdown to even the score with 7:42 left in the first half.
Banks drove to the Kennedy 7-yard line in the final minute of the half, but missed a 25-yard field goal that kept the game tied at the half.
The decisive score in the third quarter came at the end of a 12-play, 73-yard drive for the Trojans. Kennedy converted on two third-down plays early in the drive, then Traeger's touchdown throw to Boen came on third-and-12.
"It was a jump ball, but I always trust (Boen) on those because he's always caught them," Traeger said. "I honestly can't remember one he's missed, so I trusted him and went with it."
Banks drove as far as the Kennedy 46-yard line in the fourth quarter, but couldn't muster up a sustained drive to get a tying touchdown.
"We needed to manufacture points somewhere, whether that was special teams or a defensive play," said Linehan. "We tried a couple trick plays, hoping to sneak one by them but they were sound on defense."
The Trojans will play No. 2 Cascade Christian (12-0) in next week's championship game.
"Banks is dang good, and this gives our guys a lot of confidence going forward," said Panuke.
For Linehan, whose team won the 4A title in 2018 and finished runner-up in 2019, he's left wondering what might have been for the Braves.
"I have such a soft spot in my heart for these guys because they've done everything we've asked of them," he said. "Moving positions or just whatever it took to be our best. So when you put so much into it and you're not the team going home happy, it's going to stink."