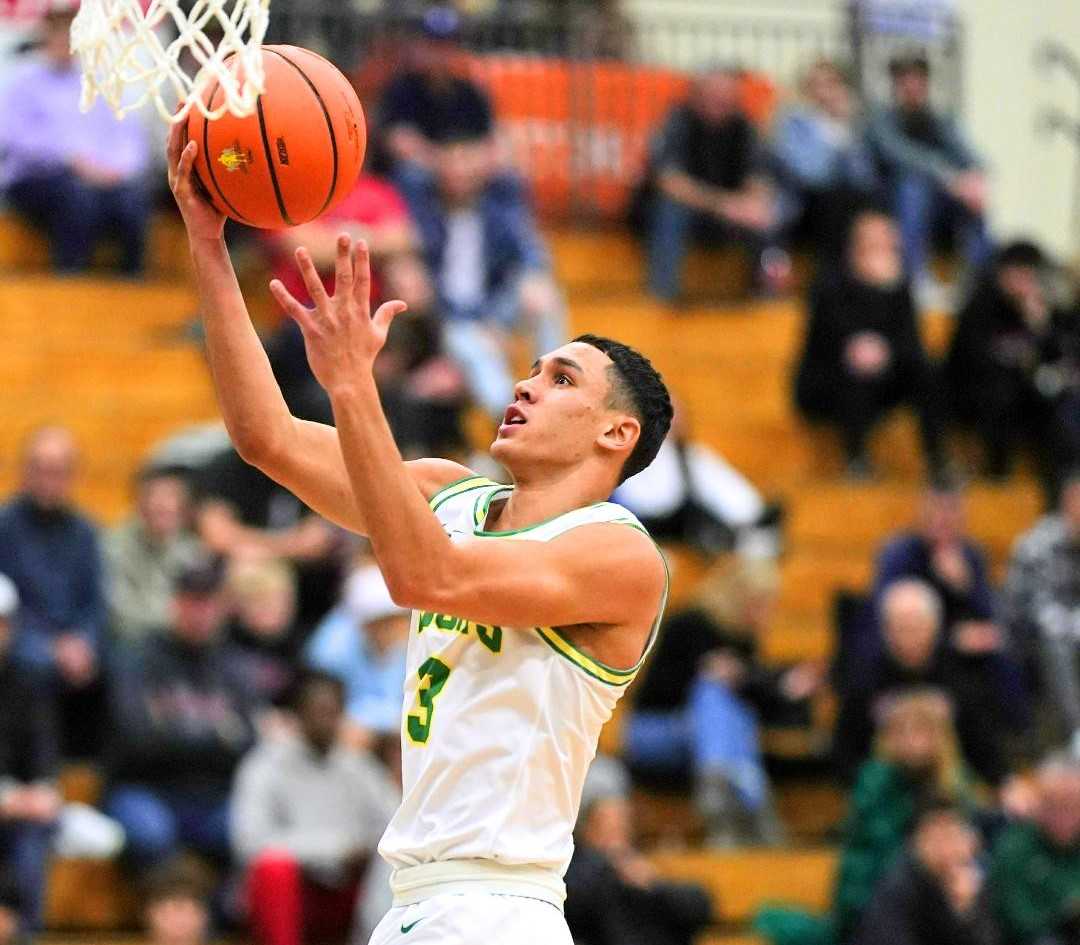 HILLSBORO – Senior point guard Jackson Shelstad led the way as No. 1 West Linn stunned Sierra Canyon (Calif.) 86-69 in the semifinals of the Les Schwab Invitational boys basketball tournament Thursday at Liberty High School.
The Oregon-bound Shelstad had 38 points, seven rebounds and three assists for the Lions (10-0), who will play Duncanville (Texas) in the championship game at 8:45 p.m. Friday.
Shelstad shot 11 of 16 from the field and made 16 of 18 free throws. Senior guard Adrian Mosley added 28 points and 11 rebounds, making 12 of 26 field-goal attempts.
West Linn, coming off an overtime win over Three Rivers League rival Tualatin in the quarterfinals, trailed Sierra Canyon 40-39 at half but pulled ahead 58-51 after three quarters. The Lions shot 50 percent from the field (30 for 60) despite going 0 for 12 from three-point range.
Sierra Canyon (12-3) got 17 points and 10 rebounds from Isaiah Elohim and 14 points and five rebounds from Ashton Hardaway. Bronny James added 10 points.
Duncanville (15-0) defeated Bishop Gorman (Nev.) 83-72 in the other semifinal behind Ron Holland's 25 points and 11 rebounds.
Consolation: Sophomore Jalen Atkins scored 37 points to lead Barlow past Lake Oswego 78-73, offsetting 37 points from Lakers sophomore Winters Grady. … Tualatin senior Josiah Lake had 35 points in a 71-59 win over Central Catholic. Lake made 13 of 22 shots, including 7 of 11 from three-point range. Central Catholic sophomore Isaac Carr poured in 27 points, hitting 7 of 11 from behind the arc. … No. 3 Beaverton knocked off No. 2 Lincoln 65-56. Brady Rice had 21 points, eight rebounds and three steals for the Beavers. Lincoln got 31 points and nine rebounds from Malachi Seely-Roberts, who hit five three-pointers. … Isaiah Crane scored 33 points to lead Jesuit past Roosevelt 80-75. Chance White and Utrillo Morris each scored 22 points for the Roughriders. … Christian Green and Charlie Kapranos scored 13 points apiece for Grant in a 50-38 win over Redmond (Wash.). … Douglas Bailey made six three-pointers and scored 22 points for Tigard, which turned back Cleveland 71-55. Jackson Owens scored 23 points for the Warriors.