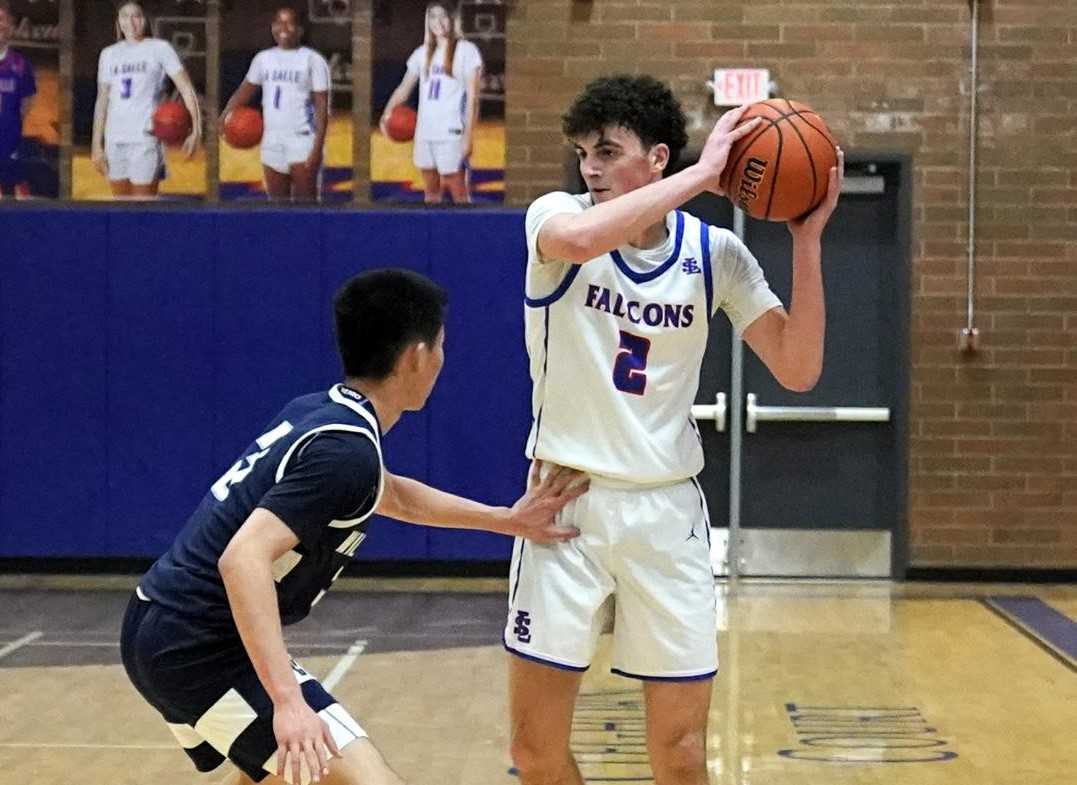 Last season, La Salle Prep ended Wilsonville's 77-game winning streak in 5A Northwest Oregon Conference boys basketball.
Tuesday night, the Falcons took a big step toward ending the Wildcats' eight-year reign atop the conference.
Senior guard Nick Robertson scored 17 points to propel No. 5 La Salle Prep (17-6, 13-1) to a 52-50 home win over No. 2 Wilsonville (19-5, 12-3), clinching at least a share of the conference title. The Falcons can secure the outright title by beating either Parkrose (14-7, 10-4) or Centennial (3-19, 2-12) in their last two games.
It was a much different game than the first meeting between the teams Jan. 20, when La Salle Prep led by one point at half before falling 59-40 at Wilsonville. The Falcons have won eight in a row since that defeat.
"I think we learned a lot about ourselves," La Salle Prep coach Sean Kelly said. "Our last two losses, we led at the half, and the second half we didn't come out as strong. We really talked about that after the Wilsonville game. We're trying just to win the first three minutes of the second half."
In Tuesday's game, La Salle Prep trailed by seven points after one quarter and was down by one point at half after Wilsonville junior Kallen Gutridge hit a deep three-pointer in the final seconds.
The Falcons pulled ahead by six points in the fourth quarter, and after missing key free throws down the stretch, held on to win when Gutridge's last-second jumper fell short.
Senior point guard Cade Jansen and senior Carson Frick added nine and seven points, respectively, for La Salle Prep. Wilsonville got 24 points from Gutridge.
"He is so good," Kelly said of Gutridge. "He's a lefty, so he's a little awkward, and he's so strong, and just elevates so high on his jumper. I think we had everybody on the team guard him."
Kelly said his team "executed the game plan to perfection." It was another example of the Falcons thriving in their roles, which has been a key factor in the team's success.
"In my 30 years of coaching, this might be the one team that all accept their roles," Kelly said. "They've played them to the best of their ability. And we've really stepped up our defense. Our defensive intensity is just a lot better than it has been the last couple years."
La Salle Prep has never won a Northwest Oregon Conference title. The Falcons' last league title came in 2014, when they shared the 4A Tri-Valley Conference title with Gladstone. They won the outright conference title in 2013.
With eight seniors on the roster, Kelly believed his team had a shot at the conference title entering the season. He knew he could count on the scoring of Robertson and senior Finbar O'Brien and the rebounding of junior Grant Ellison.
"I thought we could take care of the ball enough, and play good enough defense, to compete for the title with Wilsonville," he said.
The 6-foot-3 Robertson, the NWOC MVP last season, is averaging 21 points per game. Kelly said Robertson is the second-best shooter he has coached, behind University of Portland women's standout Cassandra Brown.
Robertson, whose father Paul played in college at Saint Mary's, is receiving heavy interest from Division II college programs on the West Coast, according to Kelly. He is having a big season despite being slowed by an ankle that he injured last summer.
"He's playing at about 80 percent," Kelly said. "Last year he played a little better defense and was actually a little better rebounder. He can't really push off his left ankle as much as he wants to yet."
The Falcons are eager to make up for last year's first-round playoff loss at Ashland. They led by 12 points entering the fourth quarter but lost 56-47.
La Salle Prep hasn't won a state championship since 1986, the last of four titles in a six-season span under coach Jack Cleghorn. The Falcons are No. 7 in the OSAA power rankings.
Kelly said Summit and Wilsonville are the favorites in 5A.
"Then I think there's a next little group that all could, on any night, get really hot and win games," he said.
Cougars claim Oregon West
Sophomore guard Landon Knox scored 23 points as No. 2 Cascade won 64-61 at No. 1 Philomath on Monday to claim the outright title in the 4A Oregon West Conference.
The Cougars (20-3, 10-0) trailed by four points early in the fourth quarter but surged ahead with an 11-4 run and turned back the Warriors (19-3, 8-2), who needed a win in the conference finale to share the title with Cascade for the second year in a row.
"We were saying, 'No matter what happens in the game, we're going to come together as a team and we're not going to quit,'" Knox said. "They're a really good team, they're a team that's going to go far in the playoffs and state. They're going to go on runs and we were expecting that, we just came together as a team and we didn't quit. It was a good team win."
Cascade, which beat Philomath 50-49 at home Feb. 2, fell behind 7-0 but came back behind Knox to take a 28-20 lead late in the second quarter. The Warriors drew within 34-31 at half and took a 52-48 lead early in the fourth quarter.
The Cougars pulled ahead 59-56 with three minutes left. Knox made two free throws with seven seconds left for a 62-59 lead, and Cascade stopped Philomath on its final possession.
Senior guard Sam Horne added 18 points for the Cougars. Seniors Ty May and Cole Beardsley each had 13 points for Philomath.
"It's a battle, " May said of playing Cascade. "I think we're the two toughest teams in the state."
West Linn, Lincoln clinch
No. 1 West Linn and No. 4 Lincoln wrapped up outright 6A league titles this week.
West Linn (23-1, 9-0) came through with an 89-78 win at No. 2 Tualatin (18-5, 7-2) on Wednesday, opening a two-game lead over the second-place Timberwolves with one game remaining. The Lions trailed 23-15 after one quarter and 37-35 at half, but took a 53-48 lead after three quarters and held on for the victory.
Senior point guard Jackson Shelstad had 31 points and five assists to lead West Linn. He scored 14 points in the fourth quarter, making all eight of his free throws. The Lions also got 16 points from senior Sam Leavitt and 14 points each from seniors Mark Hamper and Adrian Mosley.
Tualatin senior guard Josiah Lake made four three-pointers and scored 30 points, 16 in the fourth quarter. Junior Jaden Steppe added 21 points for the Timberwolves.
Lincoln (20-4, 14-1) won 90-81 at Benson (14-9, 10-5) on Tuesday to clinch the Portland Interscholastic League title. Senior Malachi Seely-Roberts had 22 points, eight rebounds and seven assists and senior Moroni Seely-Roberts scored 25 points for the Cardinals, who rebounded from a 62-58 home loss to second-place Cleveland (16-8, 12-3) on Friday.
-- Jeremy McDonald contributed to this report