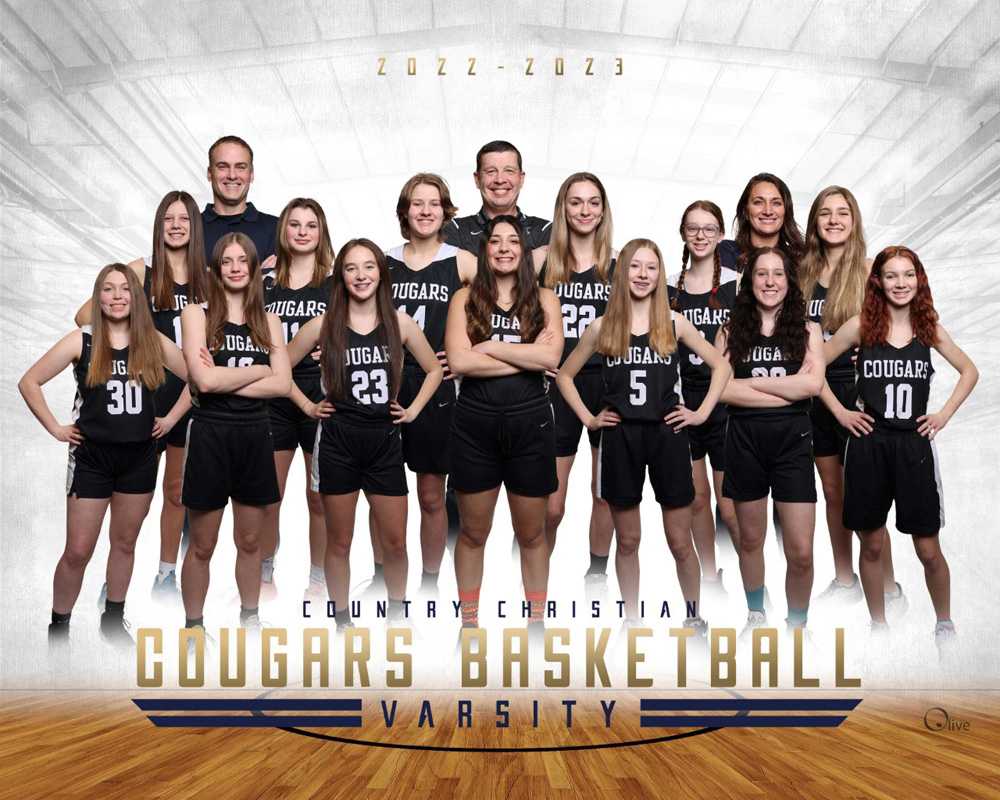 The road to Baker City started for head coach Michael Tompkins and his five seniors eight years ago, when they were fifth graders. That's when Tompkins started coaching them and fourth-grade son Preston Tompkins.
The high school team wasn't having much success then – since joining the OSAA in 2004 through 2018, the highest rank the team achieved was 32 – but this core group of youngsters was winning and winning big. They are 103-28 playing together since fifth grade and 66-18 over their high school careers. The group, headed by Jason Kovalchuk, Isaac Van Vleet and James Zelenivskiy, has truly left a legacy at the school.
The turnaround for Open Door started in 2018, when Tompkins became athletic director and head basketball coach at the school; and really took off one year later when the now-seniors became high school freshmen.
To give you an idea of how low the boys basketball program had sunk, know that the Huskies won only 12 league games in the six-year period between 2011 and 2016.
"I knew I had to change the culture fast," Tompkins said.
In his first year on the bench, ODCA went 11-10 and followed up with a 16-8 record his second year, finishing No. 18 in the state with that group of program-changing freshmen. After the Covid shortened year, Open Door came back strong last year, fashioning an 18-2 record before injuries destroyed the team at Districts and prevented the Huskies from making the playoffs.
The disappointing end to last season has fueled Open Door all season. It has truly been a season of firsts for the program:
First time winning the Valley 10 League and District Tournament
First time going undefeated in league play (14-0)
First time being ranked among the top 3 all season long
First time winning 20 or more games in a season
First time making sub-state in school history
First time making it to the Elite 8 out at Baker in school history
"It has just been a great all-around year for us," Tompkins said. "But we know it could end badly if we don't stay together and play for each other. We have guys that don't care who leads in scoring, just as long as we win. It truly has been the reason we are playing so well this year."
Let's take a look at the quarterfinal state tournament matchups:
1A girls quarterfinals, Wednesday, Baker High School
No. 8 Jordan Valley (19-6) vs. No. 1 Crane (26-1), 1:30 pm: Jordan Valley is making its second straight appearance at Baker. The Mustangs lost their opening came to state-champion Crane, then won out to finish fifth. Jordan Valley, which was ninth in the final OSAAtoday coaches poll, reached the state tournament with playoff blowouts over Ione / Arlington and South Wasco County. The Mustangs are 0-3 versus the state tournament field this year, including a 61-45 defeat at the hands of their first-round opponent on Jan. 28. The team's lone senior, Jill Gammett, is the catalyst. She'll need the best performance of her career if Jordan Valley is to win state for the first time since going back-to-back in 1991 and 1992…Crane matches up in the first round with its High Desert League rival for the second straight year. Also nicknamed the "Mustangs," coach Stub Travis' team lost to Damascus Christian by 22 points early in December but has since won 23 games in a row in search of a fourth consecutive state title, counting the Covid year. Crane, with four starters back from last year's title team, is a guard-dominated squad led by junior Kortney Doman, and seniors Leslie Doman and Taylor Joyce, all three of whom average in double figures. The team is expected to be even stronger in Baker with the return from injury of 5-10 senior starter Alexia Ballard, the tallest player on the squad.
No. 5 Country Christian (21-7) vs. No. 4 Nixyaawii (22-5), 3:15 pm: Country Christian comes to Baker riding the momentum of a 10-game winning streak, but the Cougars are an underdog to reach the semifinals, as their record versus the field is 1-5. Their lone win versus the seven other teams at the state tournament came by one point versus RVAA back on Dec. 28. Country Christian, which finished sixth in the OSAAtoday Coaches Poll, has two state titles, in 2016 and 2018, over the past six official seasons. They are led by lone senior Annie Bafford, a forward who scored 32 of her team's 55 points in its come-from-behind playoff win over Powder Valley to reach the state tournament. Underclassmen Lilli Garfield and Peyton Craven also are key contributors…Nixyaawii is making its second consecutive appearance at Baker. The Golden Eagles went 0-2 last year, but are senior-laden this winter and are the only team to defeat Damascus Christian, a feat achieved on Dec. 10 by a 49-47 score. Three seniors, Kyella Picard, Sophie Bronson and Mersayus Hart, none taller than 5-6, lead the way for Nixyaawii, which won state titles in 2011 and 2013.
No. 11 Rogue Valley Adventist Acad. (22-3) vs. No. 3 North Douglas (24-3), 6:30 pm: The RVAA boys' team made the state tournament last year. This year's it's the girls' turn, after the Red Tail Hawks knocked off Echo on the road, 41-33, in the second round of the playoffs. It wasn't a big upset, as Echo finished eighth in the final OSAAtoday Coaches Poll, two spots ahead of RVAA. Senior Emma Bischoff is the team's tallest player at 5-11 and also its best. The Mountain Valley League MVP is a handful, averaging more than 20 points and 10 rebounds per contest. Two other seniors, wing Michaela Porter and point guard Isabell Zamora, also are key players for the Red Tail Hawks, who are known for their tough man-to-man defense. Rogue Valley Adventist Acad., which lost in the first round of the playoffs a year ago, is 0-2 against this year's state tournament field. The Red Tail Hawks have never won a state championship…North Douglas also has never won state, but the Warriors are a dark horse to take home the title this year. They go to Baker on a 13-game winning streak and are 3-1 against the field after placing fourth at state a year ago, including a 46-39 win Dec. 10 versus RVAA. Third in the final OSAAtoday Coaches Poll, North Douglas, with no player taller than 5-9, presses a lot to control the pace of the game. Junior Brooke McHaffie leads the team in scoring and rebounding. Sophomore Brooklyn Cyr, the team's assists leader, also does her share of scoring, as do Savannah Harkins and Brooklyn Williams.
No. 7 St. Paul (22-5) vs. No. 2 Damascus Christian (23-1), 8:15 pm: St. Paul missed the state tournament a year ago, but finished first in 2019 and second one year later the last two times the OSAA conducted championships. The Buckaroos had five players voted First Team All-Casco League, including MVP Stella Koch. The 5-10 junior, however, will miss the state tournament due to a broken wrist suffered late in January. Senior Annabelle Davidson, a double figure scorer, figures to pick up the slack along with first teamers Frankie Lear, Audra Rose and Gracie Koch. St. Paul, which finished fifth in the final OSAAtoday Coaches Poll, has a "new old" coaching staff this season, a triumvirate comprised of Mike Murphy, Angie Craig and Dennis Melcher. Murphy coached the Buckaroos between 1997 and 2009 and again between 2012 and 2014, making it to Baker 10 times during his previous stints. Craig, Murphy's daughter, played for her dad between 1998 and 2002 and has been a middle school coach the past three years. Melcher has been a high school and college coach for going on 40 years…Damascus Christian is a clear favorite to get to the finals in an attempt to add to state titles won in 2013 and 2015. The Eagles are 6-1 against the field, losing only to Nixyaawii by two points on Dec. 10; and was the No. 1 team in the OSAAtoday Coaches Poll most of the season. Damascus Christian comes to Baker on a 21-game winning streak, eager to improve on its second-place finish of a year ago. The team is defensive oriented, giving up an average of just 26 points per game; and led by The Valley 10 League Defensive Player of the Year, Lainey Day, a 5-11 freshman. Day averages 10 points per game on offense, one of three in double figures, along with track star Ava Mai and volleyball and track star Sierra Hale. The team also boasts another volleyball star, Julia Mitchell, and a sophomore guard, Ayla Pontius, who was a cornerback on the football team her freshman year.
1A boys quarterfinals, Thursday, Baker High School
No. 8 Trinity Lutheran (20-7) vs. No. 1 Crane (28-1), 1:30 pm: Trinity Lutheran missed the state tournament last year after losing to Powder Valley in the second round of the playoffs, but have been the previous four years. The team lost in the championship game to Nixyaawii back in 2019. The Saints, who finished out of the top 10 in the final OSAAtoday Coaches Poll, will come to Baker this year as an underdog, having lost their previous game to Crane by 13 points early in January. They are 1-2 against the field, but have battled illness or injury all season long. Players to watch include 6-4 sophomore Jack Foley, who averages 14 points per game; and 6-3 sophomore Andrew Imhoff, who contributes 16.5 points and seven boards per contest. Sione Leibner, one of only four seniors on the team, is an outstanding defender…Top-ranked Crane comes to Baker looking for a repeat state title. In addition to its win over Trinity Lutheran, the Mustangs have five other wins over the field, with an average margin of victory approaching 15 points. Crane plays up tempo basketball and is exceptional at sharing the rock, averaging more than 20 assists per game. Cody Seigner, a 6-6 sophomore center, averages 17 points, 10 rebounds and almost three assists per game to lead the way. Junior Carter Nichols, the team's assists leader, also chips in 14 points per contest. Brothers Jared and Josh Zander combined to average almost 20 points and 10 rebounds per game. The team is coach by Eric Nichols, in his second year. Nichols played at Oregon City for Mike Doherty, the winning high school basketball coach in Oregon history.
No. 5 North Douglas (22-5) vs. No. 4 Adrian (21-7), 3:15 pm: North Douglas comes to Baker as a scorching hot team. The Warriors were 5-5 at one point but have rattled off 17 consecutive wins. After a fourth-place finish a year ago, this is a team on a mission, led by senior forward Ray Gerrard, who averages 18 points per game; senior guard Logan Gant, a defensive standout; and senior guard Keagan Mast, who scores at 11 points per game. Trenton Rabuck, William Duncan and Jayden Montgomery are other key contributors. North Douglas is 0-1 versus the state tournament field. The Warriors are essentially an unknown as they try to win state for the first time in 36 years, when they captured their only state title, a team that assistant coach Bob Rundell played on…With a core group that started playing together in first grade, Adrian has reached the state tournament for the first time in school history. The Antelopes came within one game last year but edged Myrtle Point this year by six to earn the right. This is a team with balanced offense, led by 6-4 senior guard Carter Bayes, who averaged 16 points, six rebounds and five assists per game. Four other players combine to average 42 points, 22 rebounds and eight assists per game: seniors Robert Garza, Jace Martin, Ashton Jephson and Jesse Walker. Adrian finished fifth in the final OSAAtoday Coaches Poll. The Antelopes are only 1-5 versus the field, but three of those losses have come versus reigning state champion Crane. The last game, on Feb. 18, was the closest, 64-57.
No. 11 Union (24-5) vs. No. 3 Open Door Christian Acad. (22-3), 6:30 pm: Union comes to the state tournament this year after having missed the playoffs altogether last winter. Union won a first-round playoff game during the shortened Covid year, won a playoff game in 2000, when coach Odin Miller was a senior at the school; and, before that, had not won a playoff game since 1950, one season after winning its only state title. This has truly been an historic season for the Bobcats, who had the best regular season in school history and recovered from two Old Oregon League tournament losses to make it to state as the league's fourth seed. Junior Tee Ledbetter, a 6-4 wing, leads the way for Union, averaging 16 points, nine rebounds and three assist per game. Sophomore Chase Koshinsky and senior Bo Ledbetter also are key contributors for Union, which plays an up tempo style with just three seniors on the roster. In Union's state tournament-clinching win over South Wasco County, the Bobcats jumped out to a massive first quarter lead and held on… Another fast start may be necessary for the unranked team against Open Door Christian Academy, which comes to Baker having won 20 of its last 21 games, the lone loss to 6A Barlow's JV squad. ODCA set its own records this season, amassing more wins than any other Husky team and going undefeated in league play. The team, which finished third in the OSAAtoday Coaches Poll, is led by seniors Jason Kovalchuk, Isaac Van Vleet and James Zelenivskiy.
No. 10 Crosshill Christian (21-6) vs. No. 2 Nixyaawii (27-2), 8:15 pm: Crosshill Christian is a team that knows how to get to the state tournament. The Eagles, who have appeared at state seven times in the past decade, took third last year. The team is led by Noah Dallum and Ben Hemelstrand, first-time all-league picks who combine to average 25 points per game. Zack Sands, a 5-10 senior guard, also is a key contributor…Nixyaawii, the No. 2 seed in this year's tournament, will be looking to add a second state title to the one it captured in 2019. The Golden Eagles, who placed fifth last year, are 3-2 versus the field, losing only to Crane, and come to Baker riding a 16-game winning streak. In seven of those games, the team scored more than 85 points. Nixyaawii is underclass dominated. Junior Baron Moses is the team's leading scorer and rebounder. Sophomores Symon Picard and Rylen Bronson team to average 21 points, 10 rebounds and four assists and four steals per contest. Aaron Barkley, a first team all-league pick averaging 13 points per game; and second teamer Dylan Abrahamson, who contributes 12 points, six assists and four rebounds; are the seniors to watch.