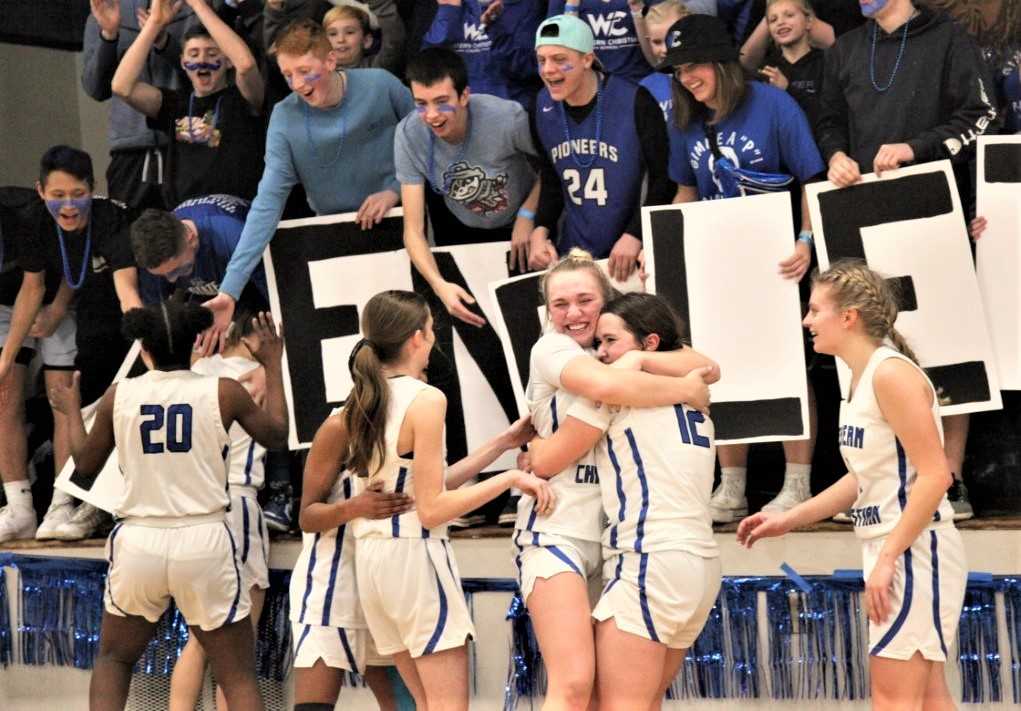 By SCOTT SEPICH/for OSAAtoday
Gary Hull has been through a lot in his 37 years as the boys basketball coach at Western Christian.
He's compiled more than 700 wins and three state titles, and is seeking a fifth straight appearance in the 2A championship game (2021's sixth-place finish is unofficial).
But this year he'll experience something completely new: sharing the 2A tournament coaching experience in Pendleton with his daughter, Madi Hull, who has led the Pioneers girls team to Pendleton in her first year as a head coach.
Both teams are the fifth seed in their brackets this week in the OSAA/OnPoint Community Credit Union 2A tournament at Pendleton Convention Center and Pendleton High School.
"It's pretty special for me to heading to Pendleton with my daughter," Gary Hull said. "I'm very proud of her. Whether she knows it or not, she's been preparing to be a coach for years."
Madi Hull reached the 2A final as a player in 2017 with the school, averaging 27 points and 13 rebounds per game as the Pioneers finished as runner-up to Monroe.
"Most of my girls watched me my senior year play in the title game," said Madi Hull. "It's been fun coming back and coaching these girls who grew up watching me."
Both Hulls are hesitant to discuss their players' individual statistics, instead focusing on the efforts their teams made as a whole to reach the tournament.
The Pioneer teams share two pairs of siblings. Freshmen Jackson Nicoli and Gage Slaughter on the boys team are making the trip to Pendleton with their sisters, senior Madi Nicoli and junior Ady Slaughter. Gary Hull says family bonds have run deep at the Salem school for many years, with basketball legacies handed down through generations.
While the boys team has been a mainstay in the title game for several years, the girls program hasn't returned to Pendleton since Madi Hull's senior year. And expectations weren't necessarily high for her first year at the helm of the program.
"There wasn't too much hope for us to win many games this year," she said. "Most people thought we'd be lucky to win eight games. Thankfully, (assistant coaches) John Hice, Julie Sladek and I were able to get the girls to buy into fundamentals and we have made huge strides since the beginning of the season."
Madi Hull said her group's hallmark is "feisty, chaotic defense" and a willingness to dive after loose balls and take charges.
Gary Hull's team also was reloading in a sense after graduating eight seniors from 2022's title team. But his philosophy of taking on a tough non-conference schedule has served him well in developing in-season experience.
He also credits the support of his school and community for keeping the Pioneers at the top of the 2A heap.
"We're always blown away by the crowd that travels so well with us," he said. "I call it the 'Sea of Blue.' I can't overlook our fans, parents and administrators when talking about any success we've had."
2A girls quarterfinals, Thursday, Pendleton HS
No. 9 Monroe/Alsea (19-9) vs. No. 1 Salem Academy (23-3), 3:15 p.m.:Salem Academy reached the championship game last season, but came up short against Union in its bid for a first girls title since 2008. This year, senior Aly Herber (13 ppg, 5 rpg, 2 apg) was a first team all-conference selection in the Tri-River Conference after missing her junior year due to an ankle injury. Her sister, sophomore Lexi Herber (10 ppg, 4 rpg, 4 apg), is another key contributor along with sophomore Haley Ferry (10 ppg, 8 rpg). The Crusaders are 6-2 this season against other tournament teams. "Our seniors, Aly (Herber) and Grace Hinkle have battled setbacks this season but this group just continues to fight regardless of the situation," said head coach Derek Imig. Monroe won the 2017 2A state title in an undefeated season, then lost in the championship game in 2020. The Dragons finished third behind Central Linn and Bandon in the Valley Coast Conference this season, but they got past Knappa 36-26 in the round of 16 and coach Tony Parker's experience should help them stay competitive in a difficult quarterfinal matchup. Monroe has two seniors on the roster: Emily Hull and Sarah Thompson.
No. 5 Western Christian (21-6) vs. No. 4 Gervais (23-4), 1:30 p.m.: Gervais ran the gauntlet in the tough Tri-River Conference with a 14-0 record in league play, and has already defeated Western Christian twice (47-37 and 42-28). The Cougars also beat No. 1 seed Salem Academy 49-30 in the regular season, but lost a rematch 42-40 in the Tri-River championship game. Two of the Cougars' four losses have come outside of the 2A level. Senior captains Izzy Boyd and Sofia Contreras are team leaders, along with junior Olivia Boyd. Gervais hasn't made a state championship game since winning the title in 1994. What was supposed to be a rebuilding season for Western Christian has resulted in 21 wins and the No. 5 seed in the postseason. The Pioneers will have to overcome a Gervais team that's already beaten them twice to keep the dream of an unlikely championship alive. First-year coach Madi Hull said freshman Runon Muroya, who's from Japan, has been an offensive leader, with junior Ady Slaughter and senior Madi Nicoli bringing rebounding and defense in the post. "I believe our team is in the top eight not because of skills, but because of heart," said Hull. "We always leave the floor being the hardest-working team."
No. 6 Bandon (23-5) vs. No. 3 Stanfield (25-1), 6:30 p.m.: The only representative from the Blue Mountain Conference, Stanfield hasn't faced any of the teams in the 2A tournament field. The Tigers' lone loss came to Nyssa in early December, and they've mostly cruised to 21 straight victories since in earning a first conference title since 1987. Stanfield captured its first girls basketball trophy ever last season (sixth place), and features three sets of sisters this year. Senior Maggie Sharp (12 ppg, 3 rpg, 4 apg) was second team all-state last season. Seniors Zuri Reeser (11.5 ppg) and twins Alexis Mallory (6.8 ppg) and Adrienne Mallory (6.7 ppg) are also key contributors. A semifinalist last year, Bandon has battled injuries all season but made it back to Pendleton. Coach Jordan Sammons said "find a way" has been the team's slogan, as all three of his returning starters missed significant time to the extent that the Tigers have only had their full roster for one game. "One of our strengths is our culture and putting in the extra work, because true confidence comes from being prepared," Sammons said. With the 15 points and eight rebounds per game of injured Katelynn Senn missing this week, Bandon will lean on juniors Olivia Thompson (11.5 ppg, 6 rpg, 3 apg) and Makiah Vierck (9 ppg, 6 rpg). The Tigers have only two seniors on the roster.
No. 7 Colton (22-5) vs. No. 2 Central Linn (26-1), 8:15 p.m.: Central Linn of Halsey comes in with just one loss on the season — by one point to top seed Salem Academy. The Cobras have won 18 straight games overall and the last 13 by double digits. After finishing third in the state last year, Central Linn hopes to reach its first championship game this week. Coach Wendi Farris said her group is "a team in every sense of the word, and follows the mantra "'we' is greater than 'me.'" Senior sisters Maya and Gemma Rowland are team leaders, with Maya topping 1,000 points for her career this season. Gemma is the top rebounder (10.3 per game). The fourth-place team in the Tri-River conference, Colton has reached a state tournament site for the first time since 2005, before any current players were born. The Vikings are led by junior Izzy English (11 ppg, 5 rpg, 3 spg), senior Avery Reiland (9 ppg, 8 rpg) and senior Talia Chianello (4 apg, 2 spg.). Coach Valerie Wakefield said the words "tough" and "together" exemplify her team's approach, and that the Vikings take pride in being the "toughest defense (a team) has seen all season."
2A boys quarterfinals, Thursday, Pendleton Convention Center
No. 9 Heppner (20-5) vs. No. 1 Mannahouse Academy (25-2), 1:30 p.m.: With two losses on the season, Mannahouse Academy of northeast Portland comes in as the top seed in the boys bracket. The school won the 1A championship in 2013 when it was known as City Christian. This year's Lions enter the tournament on 15-game winning streak. The team is led by junior Jadon Bjornsgard, the co-offensive player of the year in the Northwest League, and 6-foot-8 sophomore Joshua Louka, the league's defensive player of the year. Senior Ty Johnson is a team captain along with Bjornsgard. Head coach Ryan Bjornsgard says the Lions' team chemistry is "as good as any team I've ever coached. Our guys are unselfish, trust each other and are a close-knit group." Heppner is the lone boys entrant from the Blue Mountain Conference. The Mustangs finished second in the conference and have lost once in their last 10 games. Heppner also will feel at home at the Pendleton Convention Center, where they've already played five games this season. The Mustangs won a holiday tournament at that venue in late December, then played the BMC tournament there two weekends ago. Heppner has never reached a state championship game in boys basketball.
No. 5 Western Christian (20-7) vs. No. 4 East Linn Christian Academy (24-4), 3:15 p.m.: This game is a rematch of a 50-44 victory by East Linn Christian on Dec. 6. Defending champion Western Christian, formerly Western Mennonite, has been in seven championship games since 2008 under coach Gary Hull, winning three of them. The Pioneers of Salem lost eight players from last year's title team and have no seniors and one junior on the roster. Sophomores Gavin Hall and Lucas Zook are the lone returning starters. "I attribute our success to focusing on fundamentals and team ball," said Hull. "We break our huddles with 'together' and have done so for 37 years." East Linn Christian is the only representative of the Valley Coast Conference, which had three teams lose in the first round of the playoffs. The Eagles of Lebanon, who won their first regular-season league championship since 2004, return eight players from a squad that finished fifth in the state last year. Head coach Jonathan Whitehead said his team's identity starts on the defensive end: "We want five guys who are constantly engaged on the defensive end, and then carry that over to offense." Captains Chayse Beachy, Cole King and Heath Nichol lead the team, with junior Eilot Nofziger providing scoring punch.
No. 11 Regis (20-9) vs. No. 3 Salem Academy (19-6), 6:30 p.m.: Salem Academy downed Regis 59-47 in Tri-River Conference play on Jan. 19. Salem Academy, which lost in double-overtime in the state championship game last year, features Tri-River player of the year Jackson Ogelsby (20 ppg, 13 rpg) in addition to fellow seniors Jaren Oglesby (13 ppg, 5 rpg) and Landen Mitchell (12 ppg, 3 apg). The Crusaders lost two starters, including Jaren Oglesby, to injury for the first seven games of league play, but are now healthy heading into the tournament. Head coach Ben Brown said the 2A tournament field is "by far the strongest I've ever seen." Salem Academy lost only twice in league play (both to Western Christian) and defeated top seed Mannahouse in December. Regis coach Jason Koehnke has previously won two state championships as a boys coach and four as a girls coach in tandem with father Jeff. Koehnke contends that his team played "one of the toughest schedules in the state" at the 2A level. Three of his team's nine losses came to 6A schools at the Capitol City Classic in December, an experience Koehnke referred to as "baptism by fire." Sophomore guard Isaiah Koehnke led the team in scoring (21 ppg) while senior Diego Augilar, a first-team all-league selection, averaged 17 points and 4.5 assists per game. The Rams have won 11 of their last 13 games and beat No. 6 Stanfield 93-81 in the round of 16.
No. 10 Santiam (20-6) vs. No. 2 Kennedy (22-5), 8:15 p.m.: Santiam is the lower seed, but the Wolverines of Mill City have won two of three matchups this year against Tri-River rival Kennedy. Two of those wins were in regular-season play, but the Trojans of Mount Angel got revenge in the conference championship game on Feb. 18 with a 55-53 victory. Santiam is led by first-team all-conference seniors Ezra Downey (16.8 ppg, 4 apg) and Gage Twede (15.9 ppg, 2.6 spg). Downey has topped 1,000 points in his career and hopes to follow in the footsteps of his brothers Julian and Jonah, who won the 2A title in 2017 with Santiam. Head coach J.D. Hill calls senior Quentin Clark "possibly the most underrated player at the 2A level," and said the team has had good balance since getting Clark back from an early-season injury. "We're not the biggest team, but we have highly skilled guards," said Hill. Kennedy lost four times in Tri-River play, all to teams that are also in Pendleton this week, but captured the league's postseason tournament and earned the No. 2 seed in the state bracket. Senior post Brett Boen (13 ppg, 10 rpg) also helped the Trojans to a runner-up finish at the 3A level in football this season. Ethan Kleinschmidt (12 ppg) is also a key contributor on a team with nine seniors. The Trojans are 8-0 since senior Javier Rodriguez joined the starting lineup. Coach Karl Schmidtman said his team emphasizes defense and rebounding and that "we seem to have been playing with a different level of focus and intensity down the stretch."