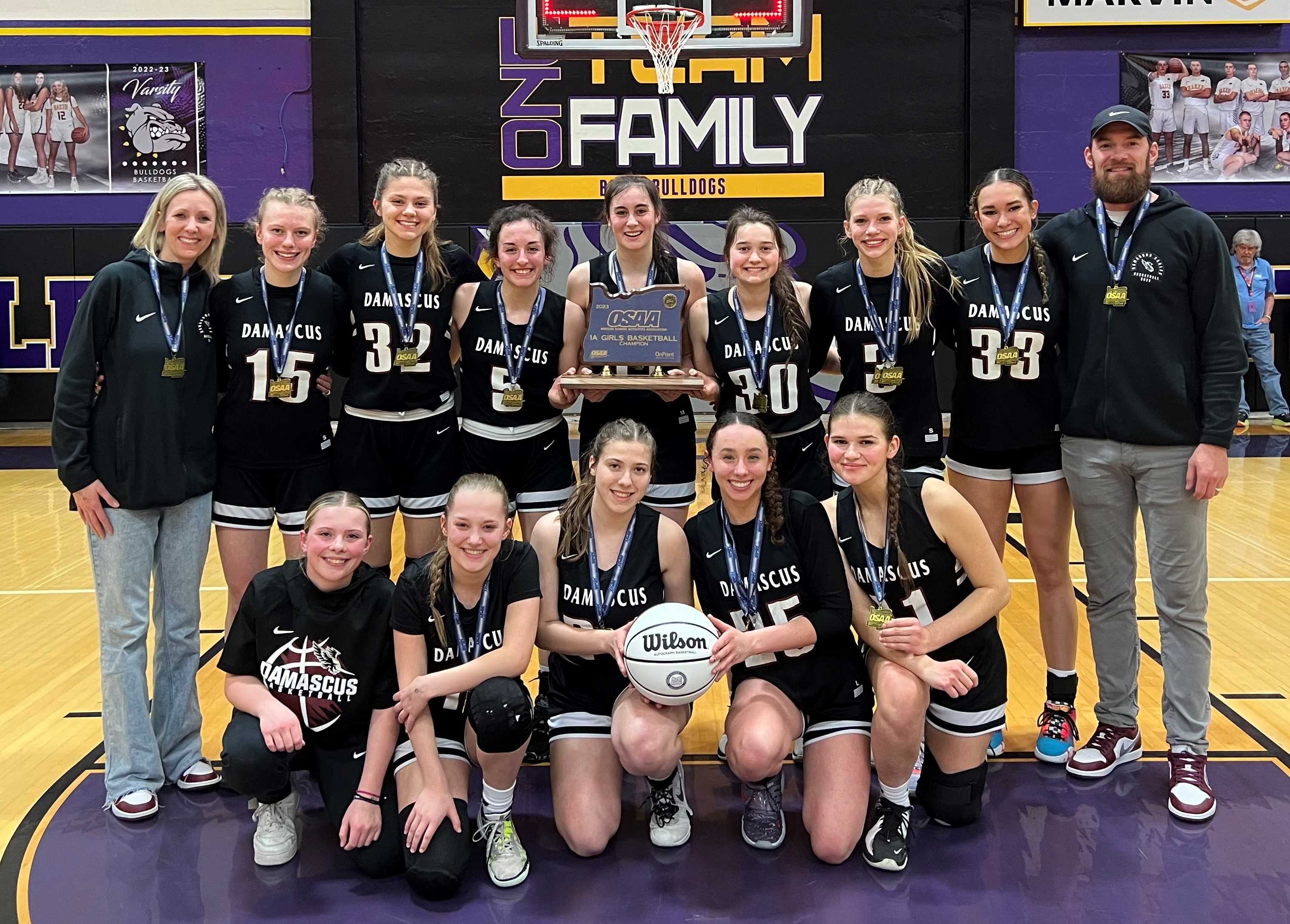 No. 2 Damascus Christian won its first title since 2015 by knocking off top-seeded and three-time reigning champion Crane 35-33 in the final of the OSAA/OnPoint Community Credit Union 1A girls basketball tournament at Baker High School on Saturday.
The Eagles (26-1) used a 12-0 run in the fourth quarter to take a nine-point lead, then survived a late rush by the Mustangs (28-2).
Lainey Day, a 5-foot-11 freshman guard, had 13 points and eight rebounds to lead Damascus Christian. Senior guard Sierra Hale had seven points and six rebounds and sophomore guard Ava Mai added six points, five rebounds and four steals for the Eagles.
"They're a perennial powerhouse, so it's good to know that the work we put in was the right work," Damascus Christian first-year coach Robert Day said. "It definitely means a lot. It's a big win against a big program."
The coach said his team's man-to-man defense was the key.
"They're not used to having anybody play man-to-man like that," Robert Day said. "Most teams play zone because they don't have the personnel. We tried to get them out of their comfort zone as much as possible."
It is the third title for Damascus Christian, which won championships in 2013 and 2015. The Eagles won their final 24 games after a two-point loss to Nixyaawii.
Crane suffered only its third loss in the last four seasons, all of them coming against Damascus Christian. The Mustangs beat the Eagles in last year's state championship game, but fell to them 55-33 in a nonleague game at Pilot Rock on Dec. 9.
"At the beginning of the season, our girls were foaming at the mouth at the opportunity to play them again," Robert Day said.
Junior guard Kortney Doman had nine points, eight rebounds and six steals for Crane. Freshman Ava Bowen had nine points, making two three-pointers, and senior Leslie Doman added seven points and seven rebounds.
Crane took a 20-13 lead late in the first half on a three-pointer by Bowen. Damascus Christian came back to lead 21-20 on a jumper by Hale, but the Mustangs regained a 26-23 edge on a layup by Kortney Doman early in the fourth quarter.
That's when the Eagles went on a 12-0 run, getting two jumpers each from Day and junior post Laelie Rasmussen. When Mai hit a free throw with 1:29 left, Damascus Christian appeared to have the game in hand with a 35-26 lead.
"That gave us some breathing room," Robert Day said of the run. "I think they just ran out of gas and we were able to take advantage of it."
But Crane got three-pointers from Leslie Doman and senior Taylor Joyce to close within 35-33 with 45 seconds left. The Mustangs got the ball back after Day missed a free throw with 12 seconds left, but Joyce missed the potential tying jumper from about 15 feet with five seconds remaining.
Damascus Christian won despite shooting 29.8 percent, including 1 of 19 from three-point range. Crane shot 27.3 percent, hitting 4 of 13 from behind the arc.