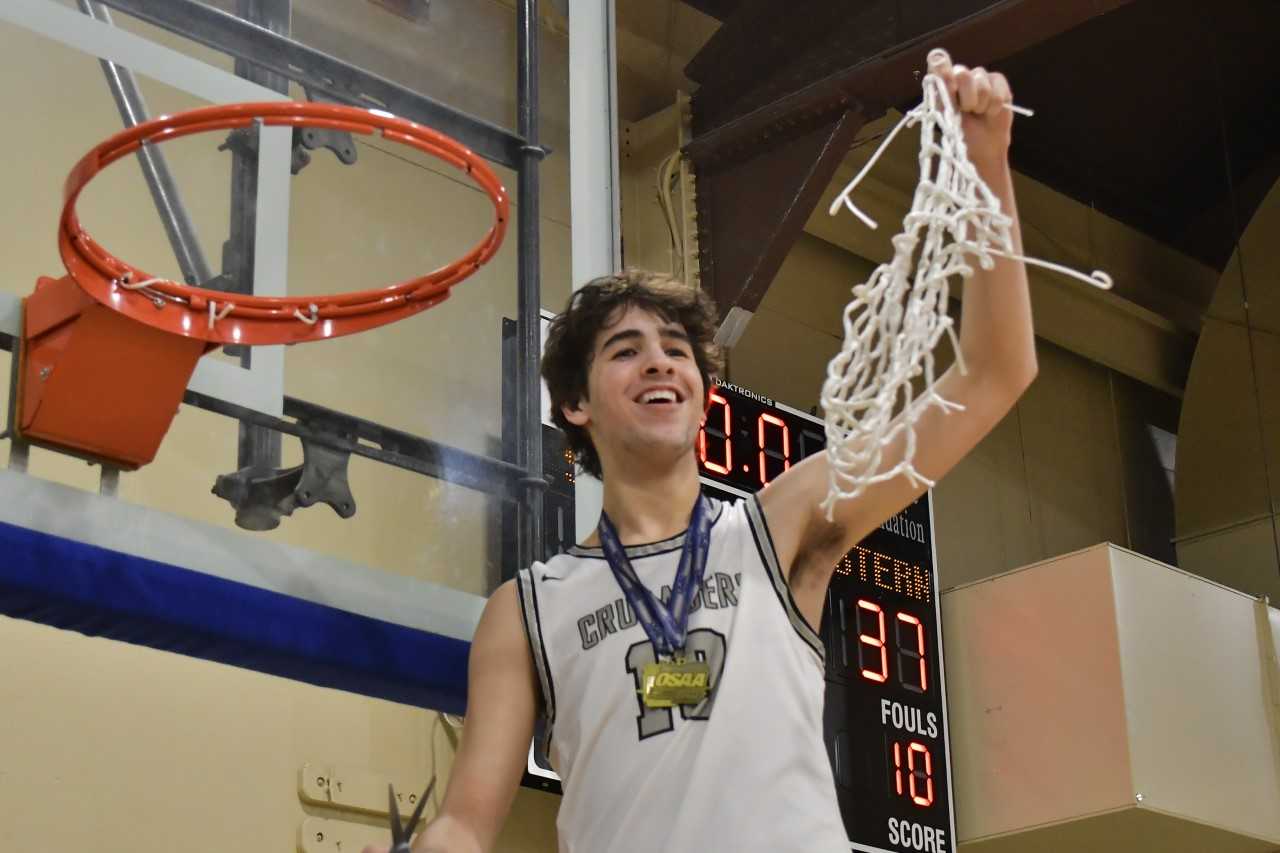 By SCOTT SEPICH/for OSAAtoday
PENDLETON — The Salem Academy Crusaders have been waiting an entire year to get another crack Western Christian at the OSAA/OnPoint Community Credit Union 2A tournament.
The Crusaders didn't let the opportunity slip away, pulling away in the second half to defeat the defending champion Pioneers 51-37 at the Pendleton Convention Center to win the state championship. Last season, Western Christian defeated Salem Academy 54-53 in double-overtime for the title.
"We came out and were definitely ready to play," said Salem Academy senior Luke Molan, who scored 15 points and went 3-for-5 from 3-point range. "We were getting pumped up in the locker room before the game."
Led by the 17 points and 13 rebounds of senior Jackson Oglesby, No. 3 seed Salem Academy (22-6) shot 48.5 percent from the field in capturing its first official state championship. The Crusaders did win an unofficial championship in the shortened 2021 season when no sanctioned OSAA tournaments were held.
"It feels great to get this revenge after waiting so long," Jackson Oglesby said. "It means a lot to me and my teammates that I'm able to step up and do what needs to be done."
No. 5 Western Christian, which graduated eight players from last year's team and has no seniors on this season's roster, defeated Salem Academy twice in the regular season but never led in Saturday's title game.
"We did a great job tonight against a team that's seasoned even though they're young," said Salem Academy coach Ben Brown, who's in his fourth season as the boys coach after spending five years coaching the Crusaders' girls team. "The last time we played them (Western Christian) came out and hustled better than us. We just wanted to fix the mistakes and hustle and the kids did that tonight."
The Crusaders started hot from the field, with senior Jaren Oglesby (Jackson's twin brother) connecting on two early 3-pointers and Jackson Oglesby scoring seven early points to help give them a 16-7 lead through one quarter.
"We were all looking forward to this rematch and it's a great feeling because last year I'm the one that missed the last shot," said Jaren Oglesby. "A lot of guys on our team are seniors so we were coming out and leaving everything on the floor."
"Jaren had eight points tonight but it felt like 20 with how emotional his shots were and how huge they were for us," Brown said.
Salem Academy pushed the lead to 23-12 with 4:42 left in the second quarter, but the young Pioneers answered with an 8-0 spurt to pare the deficit down the three.
Molan hit a 3-pointer to rebuild the Crusaders' lead to six and they never looked back. A 13-3 third-quarter run put them up 41-25 heading into the final quarter and they pushed the lead to as much as 20 in the fourth.
Mateo Schutt had nine points and five rebounds for the Crusaders, while Jaren Oglesby finished with eight points.
"(Molan) was injured for a few games and we were worried about if he would get his confidence back," said Jackson Oglesby. "But he really stepped up during this game, which takes a lot of weight off our backs."
Molan's 15 points were a nice boost, but ultimately the 6-foot-8 Jackson Oglesby made the biggest impact on both ends of the floor.
"I knew he had a chance to be the statewide player of the year," Brown said. "Jackson went through a big growth spurt and his coordination was a little slow in coming, but he's broke through that ceiling and done a great job for us all year."
Gavin Hall went 8-for-14 from the field to lead Western Christian with 17 points. Lucas Zook and Kuga Matsumoto pitched in with five points as the Pioneers shot 37 percent from the field.
"It's disappointing, and we were hoping to have a better effort but we didn't do it and they shot really well," said Western Christian coach Gary Hull, whose team has been in five consecutive official 2A championship games and won two. "A couple of kids who don't normally shoot that well really did for them tonight, and they're so much bigger than us. But I'm proud of the season."
Salem Academy outrebounded Western Christian 35-14 and started three players taller than the Pioneers' tallest starter.
Hull said it will be a "great future for the next two three years" with his group, which is made up almost entirely of freshmen and sophomores.
"Nobody thought we'd be here being so young and graduating eight, but the kids really work hard," he explained. "You'd like to bring home the big trophy, but that's OK."