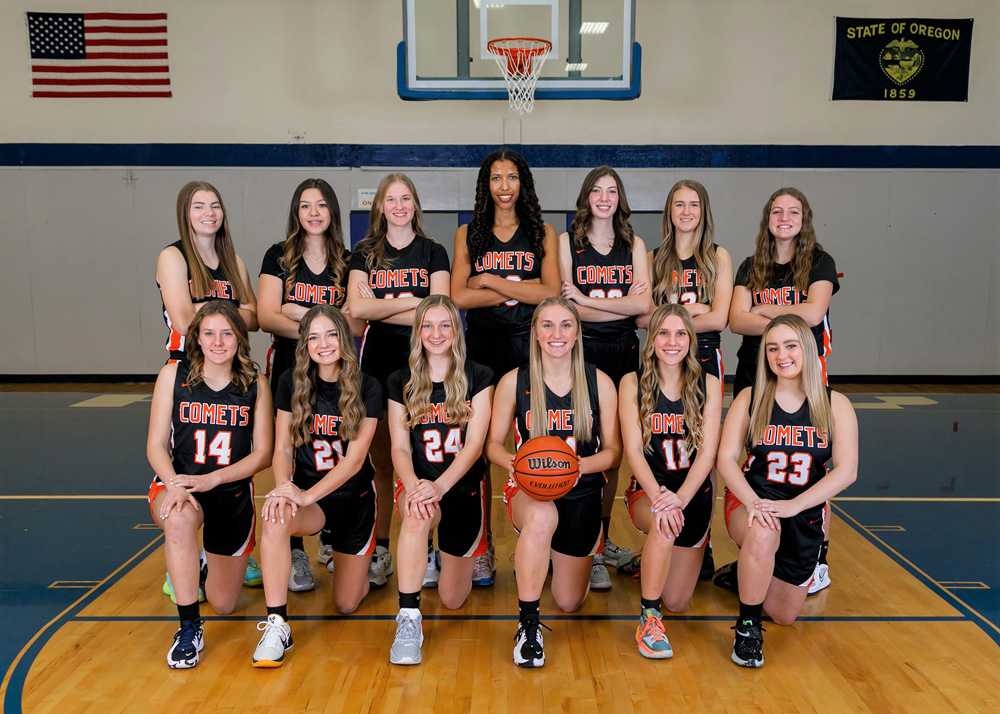 You can forgive Crater's players if, in the midst of a 2-4 start to the season, the idea of playing in the "big girl tournament" seemed like it might have to wait a year.
A mid-December game versus Henley, however, changed everything. The Comets, a collection of sophomores and juniors (with just one senior) won, 84-50. They have been blowing teams out ever since.
We are not talking 20-point wins here. In the team's 17 victories, including Henley, the average margin of victory is a whopping 45.5 points. The closest win during that stretch was 25 points, over Marshfield. Crater defeated Wilsonville, 81-45, in its first-round playoff game to make the elite eight.
How have the Comets won so convincingly? They put intense pressure on the ball, whether full, three quarters or half, and force an average of 21.6 turnovers a game.
"We have seven players who will finish with more than 50 steals this season," said coach Scott Dippel.
Crater also is very deep. In addition to sophomore standouts like Sage Winslow, Addison Dippel and 6-4 Lydia Traore, the Comets boast a cadre of support players, like Isabel McCauley, Chase Weaver, Addison Vranes, Sam Gish, Mable Munroe and Madison Simmons.
"The margins of victory have to do with our depth and their dedication to consistency of play," Dippel explained. "We are blessed to have kids who have developed into more than role players. They take pride defensively and really work well as a unit. I feel like each of these kids could start a game at any time and we would not drop off. This has meant while we change what we do defensively based on the score our skill and intensity do not drop."
There have been two hiccups in the midst of the 17 blowouts: close losses to 2022 5A runner up Springfield, the top seed this year. The Millers prevailed because their standout guard, Danaeja Romero-Ah Sam, was able to handle the pressure of each games big moments, and their team defense has come up with big stops late in those games.
Crater's first-round opponent, Putnam, has tournament experience and the athletes to compete for 48 minutes. That means the Comets will likely be playing a close game. They have only won one such game, a 42-40 win over Southridge in the season opener.
"I am concerned about execution in close games," Dippel said. "We have had narrow losses and only one close win. I think that has to do with youth. I am more comfortable now with their maturation and our ability to be in closer games."
Dippel has coached Crater's core group since they were in 4th and 5th grade.
"Six years ago this weekend, I coached them in the middle school state tournament in Bend," he recalled. "For them, this is their first trip together to what they referred to at that time as 'the big girl tournament.' It is very special for me to see them reach a goal set as 4th/5th graders."
Let's take a look at the quarterfinal state tournament matchups:
1A girls quarterfinals, Tuesday, Gill Coliseum
No. 10 Mountain View (18-6) vs. No. 1 Springfield (21-5), 1:30 pm: Mountain View is as dangerous a 10-seed as you can find. The Intermountain Conference champions come to Gill Coliseum on an 11-game winning streak, which coincides with the return from injury of 6-2 junior center Avery Andrews. Andrews got hurt four minutes into the season and was not a factor until the third league game. Since then, she has averaged 16 points and 10 rebounds per game, and has been a great complement to high-scoring junior guard Kasey Booster, a hard-worker and clutch athlete who averages 23 points per game and poured in 27 in the first-round playoff win over Lebanon. The team also features relentless defender Makenna Bomke and senior captain Allie Neet, another strong defender with a sneaky long range game. Mountain View has never been in a championship game and is making its first state tournament appearance since 2011. But this Cougar team is hot and has the talent to pull off a major surprise or two if taken lightly…Springfield made the 5A final last year and returns four starters from that team, including 2022 5A Player of the Year Danaeja Romero-Ah Sam, a terrific talent who averages 16 points, four rebounds, four assists and three steals per game. It's no wonder the Millers come in as the No. 1 overall seed. Juju Henderson, a 5-11 junior who averages 10 points and five rebounds and is a blocking machine; and Alexi Morgan, an athletic senior who averages seven rebounds and two steals per game; are two other key returnees for head coach Joe Williamson, who also welcomed a transfer from Georgia. Sophomore point guard JB Robinson has fit in seamless, averaging 12 points, five steals and three assists per game. Springfield hasn't won state since the Mercedes Russell era netted back-to-back titles in 2011 and 2012, but the Millers have the pieces this year to take the final step to claim the blue trophy.
No. 5 Crater (19-6) vs. No. 4 Putnam (20-3), 3:15 pm: Crater started the season 2-4 but is 17-2 since, tremendous success for a young team that fell to Putnam in the first round of the playoffs a year ago. The Comets create an average of 21 turnovers per game with their shifting high-pressure defense. They will have seven players finish with 50 or more steals this year. Sophomore guard Sage Winslow is the team's leading scorer, while sophomore Addison Dippel runs the offense and 6-4 sophomore Lydia Traore patrols the paint. Crater has never won a state title in girls basketball, but has been to the finals three times. With only one senior on the roster, the breakthrough might not come this season, but it WILL come…Putnam, which finished fourth at state last year, was crushed when 6-0 junior guard Rylee Lemen went down injured early in December with what was initially diagnosed with a broken ankle. She returned in just a month and the Kingsmen have not lost since. Lemen, who averages 15 points and six rebounds per game, is part of an outstanding Putnam quartet who can compete with anyone. The others are center Riley Greenleaf, who averages 12 points and 6.5 rebounds; Kayla Kasubuchi, who scores 13 points per game and leads the team in assists; and Northwest Oregon Conference POY Emma McDonald, a senior guard who scores 17 per and also leads the team with almost three steals a contest. Putnam made it to the elite eight last year, but this year's appearance is just the third time in the 40 years of Putnam basketball. The NWOC champs, for the first time since 2014, are a high-scoring group, second only to its first-round opponent. The Kingsmen play a fast-paced brand of basketball with disruptive defense and unselfish play. No predictions here about which team will prevail, but this could be an entertaining "track meet." with each team scoring in the 70s or 80s.
No. 6 Crescent Valley (20-6) vs. No. 3 South Albany (22-4), 6:30 pm: When Crescent Valley won state last year, the Raiders did so as an underdog team with no seniors and several freshman contributors. Was this the birth of a dynasty? Since then, two of the freshman standouts won state as members of the Crescent Valley volleyball team and decided to focus solely on that sport. That hurt the Raiders for sure – one was an All-Tournament selection – but they have made it back to Gill for the fourth time over the past five tournaments and will defend their title. The team comes in hot, winners of 11 of its last 12 contests. CV is led by senior sharpshooter Gabby Bland, the star of last year's state championship game. She averages 21 points per game. Senior guard Nicole Huang and 6-2 senior center Molly Campbell combine to score 15 more. Each averages five rebounds per game, the same as Huang's assist average…South Albany is a team in the midst of making history. The RedHawks come to the final eight for the first time in school history and come with a school-record 22 wins. First-year head coach Marc Cordle's team is young, with three of its best four players high school freshmen. South Albany is led by freshmen forwards Taylor Donaldson and Kaylee Cordle. Donaldson averages 19 points and eight rebounds a game. Cordle scores at a 10 points per game clip and averages 7.5 rebounds. South Albany is the third team at Gill from the Mid-Willamette Conference and will play a conference foe in the first round. The RedHawks are 0-2 versus Crescent Valley this season but were much more competitive the second time around. "It has been a honor to coach these girls," Cordle said. "They have worked so hard and treat each other as family."
No. 7 La Salle Prep (20-5) vs. No. 2 Silverton (20-5), 8:15 pm: La Salle Prep has won three state titles since 2015, all in odd-numbered years. Can the Falcons do it again? The Falcons come to the state tournament 7-0 since losing for a second time this season to fourth-seeded Putnam. They made the state tournament thanks to a 12-point win over always-tough Corvallis. Senior guard Ella Wedin is the engine for LSP. The 6-1 Loyola Marymount signee averages 24.5 points, five rebounds, two assists and 2.5 steals per game. Senior guard Emma Buchanan is a defensive force while also averaging 7.5 points and 3.5 assists per game. Freshman forward Ava Bergeson, who stands as the team's tallest at 6-0, averages almost 10 points per game and a team-high eight rebounds…Silverton is back at state this year after going two and out last season, the last under head coach Taj Wold. Assistant Alyssa Ogle took over and led the Foxes to the Mid-Willamette Conference title. Junior guard Kyleigh Brown is Silverton's go-to player. The conference player of the year averaged 20 points, nine rebounds, four assists and three steals per game and was on her game in the playoff win over Canby, pouring in 27 with six assists and four steals. Others to watch include junior Justina Semerikov, a great hustler and defender averaging nine points and seven rebounds a game; and senior Lily Hayashida, a team leader and three-point specialist who has been a four-year varsity contributor. Silverton is deep and plays lock-down defense. That formula might be sufficient to help the Foxes reclaim the state title for the first time since 2016.
1A boys quarterfinals, Wednesday, Gill Coliseum
No. 8 North Eugene (16-9) vs. No. 1 Summit (19-5), 1:30 pm: North Eugene is one of five new boys' teams at Gill this year. The Highlanders were 10-14 last winter and struggled early playing without Ethan Sims and Devon Anderson. After a 1-5 start, North Eugene won 14 of its next 16 games and comes to Gill 2-2 against the state tournament field. The Highlanders, a team comprised exclusively of juniors and seniors, go eight deep, led by leading scorer Joey Banry, a 5-9 junior guard; Nolan Duke, a 6-4 senior wing; and Sims, another 6-4 senior wing. That trio combines to average 33 points, eight rebounds and eight assists a game. North Eugene will be looking for its sixth state title, the last in 2007…Top-seeded Summit reached the 6A championship game in 2022, graduated all five starters and is back at state again, looking for its first state title ever. Summit is not lacking in championship game experience, however. Four played on the state championship football team in the fall and five appeared in the 6A final a year ago. The Storm are one of three Intermountain Conference teams in the field and come to Gill a battle tested 5-1 against the field. Pearson Carmichael, a 6-7 junior, is the team's leading player. The Boise State commit averages 23 points and nine rebounds per game for the classification's highest-scoring team. Collin Moore, Miguel Taylor, Hogan Carmichael and Mac Bledsoe all average between six and nine points per game. The roster includes seven players standing 6-4 or taller. "Our length makes us unique and allows us to defend well," noted head coach Jon Frazier. "We have retooled and reinvented ourselves. With new personnel, our style of play has changed and we have embraced a lot of new schemes. Really proud of our group and how they have grown and matured this year."
No. 5 Mountain View (17-7) vs. No. 4 Redmond (18-7), 3:15 pm: Mountain View made the 6A playoffs a year ago, but lost in the first round. The move to 5A this season has the Cougars chasing their first-ever state championship. The team has a big scorer in junior point guard Quincy Townsend, who averages 24 points, seven rebounds and five assists per game; but Mountain View is a defensive-focused team that yields just 54 points a game. Ian Prictor, a 6-6 junior post; and Nathan Hoisington, a 6-4 senior forward; are the lane cloggers while teaming to score 18.5 per game…Mountain View's opponent is Intermountain Conference foe Redmond, a fifth-place finisher at Gill last winter. The Panthers lost seven times on the season, but only two with 6-10 senior star Evan Otten in the lineup. Otten broke his wrist on Jan. 11. Some thought it might be season ending, but Otten returned five weeks after the injury and the Panthers are 4-0 since then. Otten averages 16 points and 13 rebounds a game and is part of a core group that includes senior guard Tanner Jones and junior guard Colton Horner, who team to average 26 more. Redmond and Mountain View have already played three times this season. Redmond won all three, by a scant one point with Otten out of the lineup and by 14 with him on the court. It's hard to beat a team four times in one season, but with Otten, an Oregon Tech signee, in the lineup, you have to like Redmond's chances.
No. 6 Woodburn (20-5) vs. No. 3 Wilsonville (21-5), 6:30 pm: Woodburn was 16-10 last year and a first-round playoff loser in 4A. One year later, in 5A, the Bulldogs are 20-5, Mid-Willamette Conference champs and playing in the state tournament. What a difference a year makes! Woodburn is led by two juniors, 5-11 wing Cruz Veliz and 6-8 forward Liam Slattum. Veliz averages 12 points per game and is the leading assister. Slattum scores almost 11 per and tops the squad in rebounds and blocked shots. Two seniors, Spencer Karsseboom and Tony Carrasquillo. Karsseboom is the team's leading scorer and joined Veliz as First Team All-League picks. Carrasquillo is a glue guy…Wilsonville is the defending state champion and has been the dominant team in 5A since 2016, amassing four titles since that time. But the Wildcats had an eventful offseason, which included graduating their 6-10 disruptor, Logan Thebiay, and championship game catalyst Enzo Chimienti. On top of that, 6-7 forward Tristan Davis transferred to Lakeridge. Yet here Wilsonville is again. Do not discount the Wildcats, who are built around 6-4 lefty wing Kallen Gutridge. The unorthodox junior averages 21.5 points per game while filling the state sheet in other categories as well. Kyle Counts, a 6-7 junior and son of Beaver great Mel Counts, is healthy after being banged up during the season. He complements Gutridge to the tune of 15 points, seven rebounds and three assists per game; as does the underrated Maxim Wu, who scores at 14-point clip per contest and leads the team in assists. Wilsonville played Woodburn early in the season and won by 16, 50-34. Can the Wildcats win again to jump start another run to the championship game?
No. 16 Crescent Valley (15-11) vs. No. 7 La Salle Prep (19-7), 8:15 pm: Crescent Valley pulled off the stunner of the tournament (so far) when it shocked second-seeded Churchill in overtime. The win earned the Raiders a second consecutive trip to Gill. They went 0-2 a year ago. Crescent Valley, which needed to beat Corvallis to make the state playoffs, are a defensive-minded team that plays with a ton of grit. The Raiders give up 46 points per game but score just two points more under first-year head coach Adam Hastings, an alumnus. Players to watch include senior guard Adam Temesgen, a First Team All-League pick averaging 16 points and three assists per game; football standout Rocco McClave, a 6-2 junior who averages 11 points and six rebounds per; and senior forward Junior Alatorre, who averages eight points and 4.5 rebounds a game…La Salle Prep has won four state titles, all in the 1980s. Sean Kelly's team has a great shot to add one to the trophy case this year. The Falcons edged Wilsonville for the Northwest Oregon Conference title and have a veteran roster with eight seniors. Nick Robertson, a 6-3 senior, is the player to watch here. He averages 21 points per game. Finbar O'Brien, a senior averaging 14 per; and 6-5 junior Grant Ellison are others to watch.