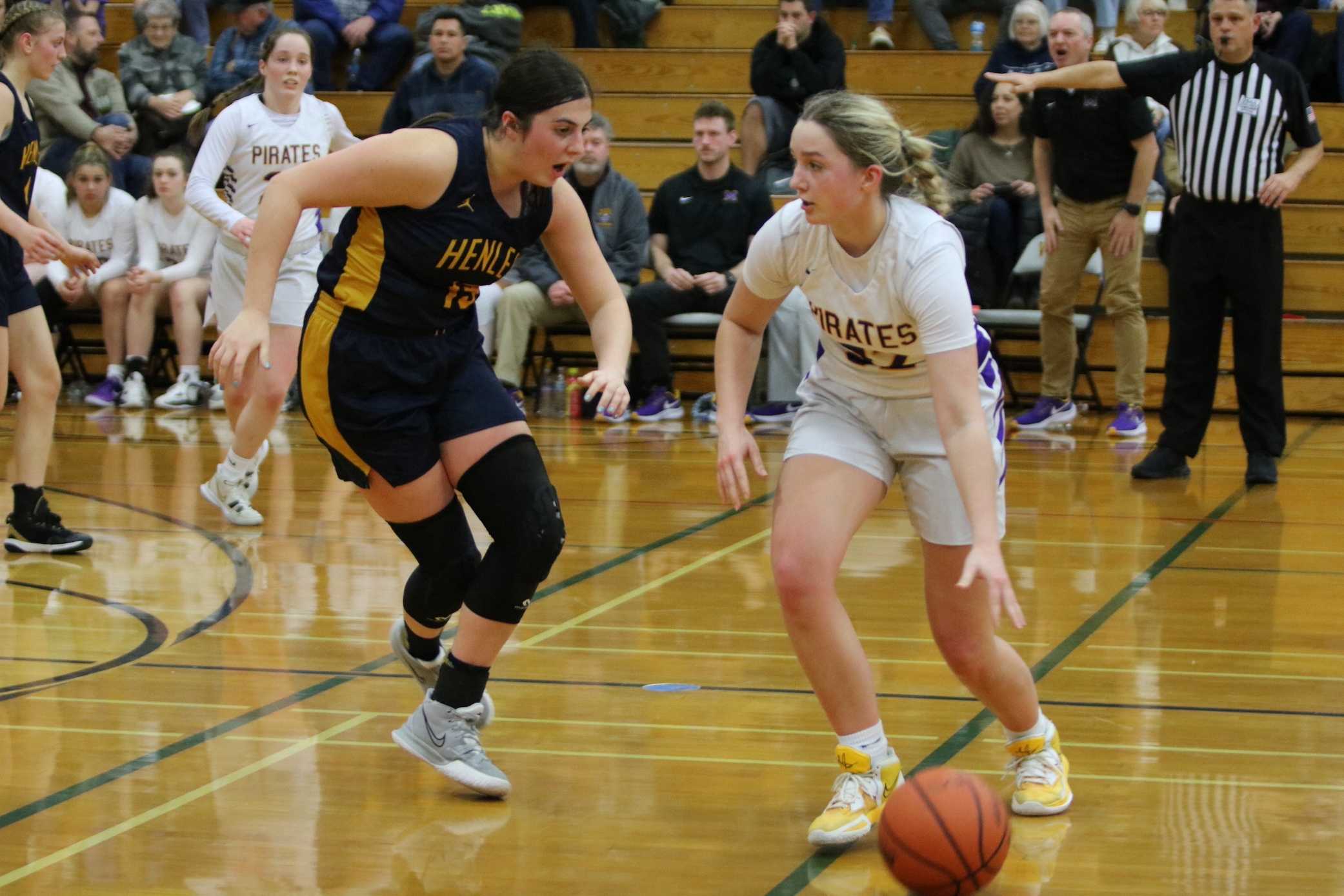 FOREST GROVE -- The Marshfield Pirates were ready for everything the Henley Hornets threw at them Thursday afternoon.
Marshfield's Kate Miles finished with a team-high 19 points, eight rebounds, eight steals and three assists to lead the No. 4-seeded Pirates to a 57-48 victory over the Hornets in the quarterfinals of the OSAA/OnPoint Community Credit Union 4A girls basketball tournament at Forest Grove High School.
Trinity Barker scored 12 points and Tatum Montiel added 11 points and six rebounds to help lift the Pirates (19-7) into Friday's semifinals to face top-ranked Baker (23-2).
Henley's Annie Campos led all scorers with 23 points and grabbed a game-high 10 rebounds for the Hornets (17-9), who will take on Madras in Friday's consolation round.
"Right now, it's survive and advance," Marshfield coach Doug Miles said. "For a team that really hasn't ever been here before, I was pretty happy with the way we played."
Aside from 10 missed throws in crunch time, the Pirates of the Sky Em League dictated how Thursday's quarterfinal would be played after jumping out to a 28-10 lead midway through the second quarter.
Henley cut the deficit to seven points, 46-39, in the first two minutes of the fourth quarter, but even with Marshfield's struggles at the foul line, that was as close as the Hornets could get down the stretch.
"That felt great," said Kate Miles, the coach's daughter and one of three seniors on the Pirates' roster. "We played really well. We all hustled, we did exactly what we wanted to do, and we just executed our game plan.
"I felt like we were in control until Henley really started putting pressure on us. I was a little bit worried because we're not amazing with that, but I think once we called down, we were in control again."
Marshfield defeated the Hornets of the Skyline Conference 41-37 during the regular, so the Pirates had a good idea of what they were up against going into the quarterfinals. They also had a slight height advantage at almost every position and were aggressive in using that advantage to attack the basket rather than settle for outside jumpers.
The Pirates led 20-10 at the end of the first quarter and then went on an 8-0 run at the start of the second, taking their biggest lead of the game when Kate Miles knocked down two free throws to make it 28-10 with 3:24 remaining in the first half.
Marshfield took a 36-22 lead into halftime after shooting 60.9 percent (14 of 23) from the field while holding Henley to 28 percent (7 of 25) shooting. The Pirates also had a 17-12 edge in rebounds and turnovers were a push at 13 apiece.
Henley trailed 46-22 at the end of the third quarter. The Hornets then got a basket from Anna Harper, a three-pointer from Campos, and another inside basket from Holly Parker to pull within 46-39 with 6:13 to play.
That's also about the time Marshfield's misadventures at the free-throw line started, but the Hornets failed to capitalize on the Pirates' generosity.
"Marshfield is a big team and a difficult match-up for us," Henley coach Randy Denson said. "I thought we played well in the second half. It just took us a while to get going and we dug ourselves a bit of a hole, but we definitely hustled our tails off.
"We knew that Coach Miles is a good defensive coach and he was going to throw stuff at us and throw stuff at Annie. I think we handled it well. I think there were just a few things that didn't go our way when we went on our little runs.
"If we don't dig ourselves quite as big a hole in the first half, I think we would have been fine. We just couldn't turn that corner. I don't think it was a lack of effort. I couldn't be more proud of how they played."
Marshfield's Paige Macduff finished with seven points and five rebounds, and Rylinn Clark and Kaleigh England combined for seven points, five rebounds, and two steals off the Pirates' bench.
"As we were missing free throws and then we turned it over and Henley missed a wide-open lay-in that I think would have cut it to five, it was a little scary," Doug Miles said. "But I trust our girls. They're competitors and they know how to keep their poise. They won the state championship in volleyball, so I have faith in them."
Marshfield edged Baker 40-39 on Dec. 20 in the SCTC Holiday Classic tournament at Stayton High School, so they know what they'll be up against in the semifinals.
"Baker is awesome," Doug Miles said. "They're really well-coached and they beat us bad (50-20) in the playoffs last year. We got them earlier in the year when they didn't play their best, but … we'll compete with them. And I think our girls know that we can. It will be fun. What more can you ask for?"
In Thursday's other quarterfinals:
Baker 50, Madras 33: Baker's Josie Ramos finished with 15 points and 14 rebounds, and three other players scored in double figures for the Bulldogs, who advanced to the semifinals for the first time since 2019 when they won the title.
Brooklyn Jaca had 12 points and sixth rebounds, and Rylee Elms and Macey Moore added 11 points each for the Bulldogs, who opened a 24-18 halftime lead before pulling away in the second half.
Madras' Rylan Davis led all scorers with 20 points, knocking down 10 of 19 shots from the field. Sasha Esquiro added four points and four rebounds, and Maija Poland had two points and a game-high 12 rebounds for the White Buffaloes (17-9).
Gladstone 63, Philomath 34: Ryme Jaekel scored a team-high 14 points, Rhyli Grim added 13 points, and the defensive-minded Gladiators forced 23 Philomath turnovers in a wire-to-wire victory over the defending champion Warriors.
Gladstone's Hanne Hopkins had 10 points and a game-high eight assists for the Gladiators (22-4), who enjoyed leads of 16-6 at the end of the first quarter, 28-16 at halftime, and 45-19 after three.
Philomath's Hailie Couture scored a team-high 11 points and Abigail Brown added 10 points and a team-high eight rebounds for the Warriors (17-8).
Astoria 50, Crook County 37: Avery Biedermen scored 12 points, Shelby Brunei had 11 points, and Malory Dundas added six points and 12 rebounds as the Fishermen handed head coach Mike Jacobson career win No. 400 in Thursday's final game of the night.
Trailing 9-7 at the end of the first quarter, Astoria outscored Crook County 10-2 in the second quarter to take a 17-11 halftime lead and then had answers for every run the Cowgirls of the Tri-Valley Conference made in the second half.
Caitlin Young finished with nine points and Taylor Huber added seven for the Fishermen, who shot 34.1 percent (14 of 44) from the field, 28.6 percent (2 of 7) from three-point range, and 78.3 percent (18 of 23) at the free-throw line.
"It was just a rough game," Jacobson said. "That's what happens when you get to the state tournament. You're not always going to play your best basketball just because of nerves and whatever else. But I was happy with the girls. They played hard the whole game."
Jacobson is looking forward to Friday's semifinal match-up against No. 2-seeded Gladstone.
"We'll see if we've got anything left in the tank," he said. "I think it's going to be a heckuva game. We both press. We both want to get up and down. But they're seniors, and we're sophomores and juniors, right? But we've got some ballers. I mean, we've got kids who are going to play. They aren't going to back down."
Crook County's McKenzie Jonas finished with a game-high 13 points and 11 rebounds, and Katelyn Weaver had 11 points and six rebounds for the Cowgirls (16-9).