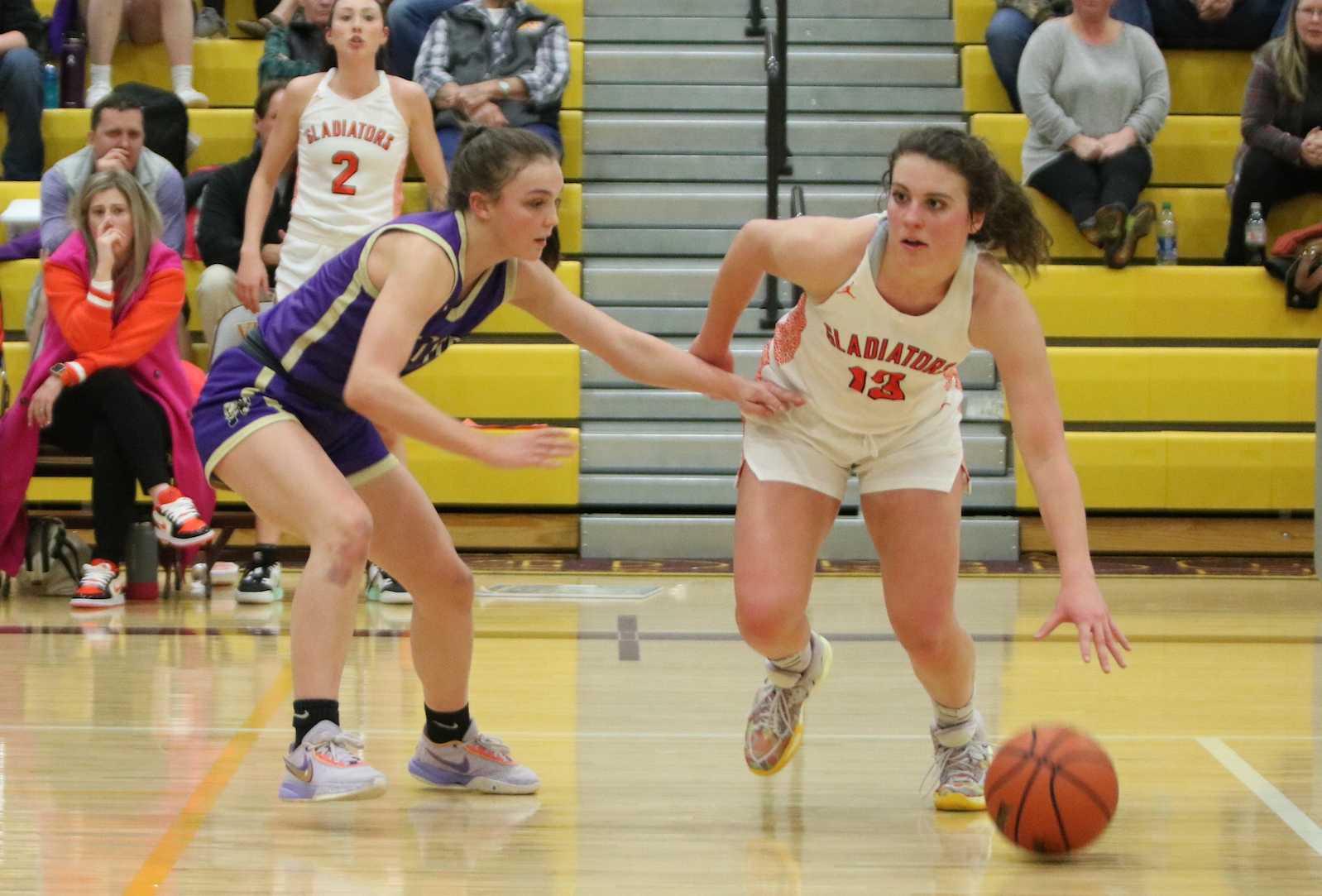 FOREST GROVE -- In many ways, the Gladstone Gladiators and the Astoria Fishermen play the same game. High-pressure defense. Up-tempo offense. And they're not afraid to let shots fly from long range.
On Friday, the Gladiators played that game better.
Gladstone senior guard Hanne Hopkins had a team-high 13 points, five rebounds, and six assists as the No. 2-seeded Gladiators downed the Fishermen in the semifinals of the OSAA/OnPoint Community Credit Union Class 4A girls basketball tournament at Forest Grove High School.
Rhyli Grim and Hailey Monte finished with nine points each, and Emerson Stepp added eight points and a team-high nine rebounds to help send the Gladiators into Saturday's championship final against top-ranked Baker.
"I think everyone could tell we wanted it," Hopkins said. "I'm just glad we didn't crumble at the end when Astoria came at us with a little more pressure. I'm just glad we finished it.
"It feels amazing. All throughout youth basketball and then even last year, we'd always come up short. But I feel like all those experiences prepared us for this, so I'm excited for tomorrow."
Astoria junior guard Maitlin Young finished with a game-high 22 points and six rebounds for the Fishermen (25-3), who will face Marshfield in Saturday's third-place game.
"It's always tough," Young said. "This one hurts, for sure. But it will only make us stronger in the future. We didn't go down without a fight, though. I'm proud of this team for sticking with it and fighting to the end.
"Gladstone came out to play. That is one heck of a team and I'm just excited to see what they do tomorrow in that championship game."
Leading 13-9, Gladstone opened the second quarter with a 10-4 run that ended with Macie Lactu knocking down two free throws to give the Gladiators a 23-13 lead with 4:18 remaining in the half.
Young scored eight quick points on a pull-up jumper and two three-pointers to pull Astoria within two points, 23-21, but the momentum didn't last. Monte countered with a pair of threes for Gladstone, keying a 10-2 run that extended the Gladiators' lead to 33-23 at halftime.
Gladstone coach Glenn Hopkins said the message to his girls during the intermission was to just keep doing what they were doing.
"I told them we had sixteen more minutes to play for a state championship," he said. "That was it. Just play hard, play smart, play together, and leave it all out on the floor."
The game slowed to a turtle's pace at times in the third quarter when Gladstone outscored Astoria 8-4 and pushed the lead to 41-27.
In the fourth, Astoria made one final push when Young drilled a three from the right wing to cut Gladstone's lead to 46-40 with 1:34 to play. The Fishermen went scoreless the rest of the way and Gladstone knocked down six consecutive free throws in the final 42 seconds to seal the win.
Gladstone is in the final for only the second time in school history and the first time since 2007 when the Gladiators lost 44-24 to Stayton.
"I always like to say, 'It's one game at a time,' but this is the last one," Glenn Hopkins said. "I feel pretty confident. I'm sure Baker does, too. I feel like we match up well with them. Baker has size on us, but … we're just going to go out there for 32 minutes and try to bring home a championship."
Having eight seniors on the roster helps, he added.
"Of our eight seniors, five have been playing varsity basketball since they were freshmen, so they've kind of been there, done that for a while," Glenn Hopkins said. "I think they have a lot of confidence not only in themselves but in each other to just maintain their composure and they hold each other accountable.
"You can see it on the floor. They want to succeed for each other."
Baker 45, Marshfield 27: The top-ranked Bulldogs leaned on senior Josie Ramos and a stifling 3-2 zone defense to knock off the Pirates of Coos Bay and advance to Saturday's championship final against Gladstone.
Ramos finished with a game-high 24 points on 6-of-8 shooting from the field and 12-of-14 shooting at the free-throw line to send the Bulldogs into the final for the first time since 2019 when they won their one and only state championship.
"It feels awesome," Ramos said. "We set goals at the beginning of the year and we knew we were capable of being in this position. Now, to see that we're here, it's just awesome and I think It's very deserving. We've worked hard all season."
Baker coach Jason Ramos agreed with his daughter's assessment.
"This group has worked so hard for this," he said. "This core group of six seniors has been playing basketball together for so long, this is the culmination of all that hard work. I'm really proud of them."
The game was tied 10 in the second quarter when Ramos knocked down two free throws that touched off a 15-2 run over the closing 6:52 of the half.
After Ramos' two free throws, Baker converted on six of their next 11 possessions, including three-pointers by Macey Moore and Sydnee Pierce that helped the Bulldogs to a 25-12 halftime lead.
At the other end, Marshfield came away empty on 10 of its final 11 possessions of the first half. The Pirates forced a few shots and rushed others, but the bigger issue was trying to adjust to Baker's defense after the Bulldogs switched from playing man-to-man to a 2-3 zone.
"It's been an issue for us, just attacking zones," Marshfield coach Doug Miles said. "We kind of get nervous and we just don't understand the concept behind it, and that's why teams have hurt us with the zone."
The Bulldogs also played nothing but man-to-man when they lost 40-39 to Marshfield on Dec. 30 in the SCTC Holiday Classic at Stayton. So breaking out the zone may have surprised the Pirates.
"With our man-to-man, we were getting in situations where Marshfield was getting some good looks and we were picking up fouls," Jason Ramos said. "We knew we weren't going to be able to sustain that.
"We've been working on our zone. We'd played it a little bit, but we didn't play it against them when we saw them early in the season. So, we thought this was the opportune time to kind of slow things down and kind of protect ourselves a little bit."
Protecting themselves? More like seizing control of the game.
"That was a huge momentum swing going into the half," Jozie Ramos said. "With our offense, we knew we could just keep building on that.
Marshfield found success early in the third quarter with Paige Macduff scoring three times from under the rim. But Baker countered with Ramos getting loose inside for 10 points in the quarter, helping the Bulldogs extend the lead to 36-20.
The Pirates never got any closer than 12 in the fourth quarter.
For Marshfield, Kate Miles and Macduff scored 10 points each, Tatum Montiel had five points, and Trinity Barker had two.
"Baker is well-coached, they have a solid group of seniors, they've been here before, and they did a really good job," Doug Miles said. "We're not a play-from-behind type team. I thought Baker played a great basketball game. They had our number every step of the way. Everything we tried, they countered."
In Friday's consolation games:
Henley 81, Madras 77: Junior guard Annie Campos finished with a team-high 28 points, 10 assists, and nine rebounds as the Hornets of Klamath Falls went wire-to-wire in their win over the White Buffaloes.
Sophomore wing Anna Harper added 19 points and 12 rebounds, and freshman wing Lily Fussell had 10 points and six rebounds off the Henley bench to help lift the Hornets (18-9) into Saturday's fourth-place game against Philomath.
Madras junior Sasha Esquiro scored a game-high 37 points with six three-pointers, and junior Katelyn Tanewasha had 12 points in a reserve role for the White Buffaloes (17-10).
Leading 41-33 at halftime, Henley opened the third quarter on a 10-5 run that ended with Jewell Northcutt grabbing an offensive rebound and scoring to give the Hornets a 51:38.
The Hornets then pushed the lead to as many as 18 points, 69-51, when Campos drilled a three-pointer with 6:38 remaining in the fourth quarter.
Tanewasha connected from long range to cap a 20-6 Madras run that cut Henley's lead to 75-71 with 2:13 to play, but that was as close as the White Buffaloes could get down the stretch.
Philomath 57, Crook County 37: Freshman Emily Tunisia knocked down three three-pointers and finished with a team-high 15 points as the Warriors ran away from the Cowgirls.
Junior Ahnika Tryon had 13 points and five assists, and senior Abigail Brown added nine points and a game-high 19 rebounds for the Warriors (18-8).
Senior guard Katelynn Weaver led Crook County with 19 points and 10 steals, and senior center McKenzie Jonas added 16 points and seven rebounds for the Cowgirls (15-11).
Philomath scored the game's first 13 points en route to a 15-4 lead at the end of the first quarter. From there, the Warriors enjoyed leads of 29-12 at halftime and 39-24 after three quarters.