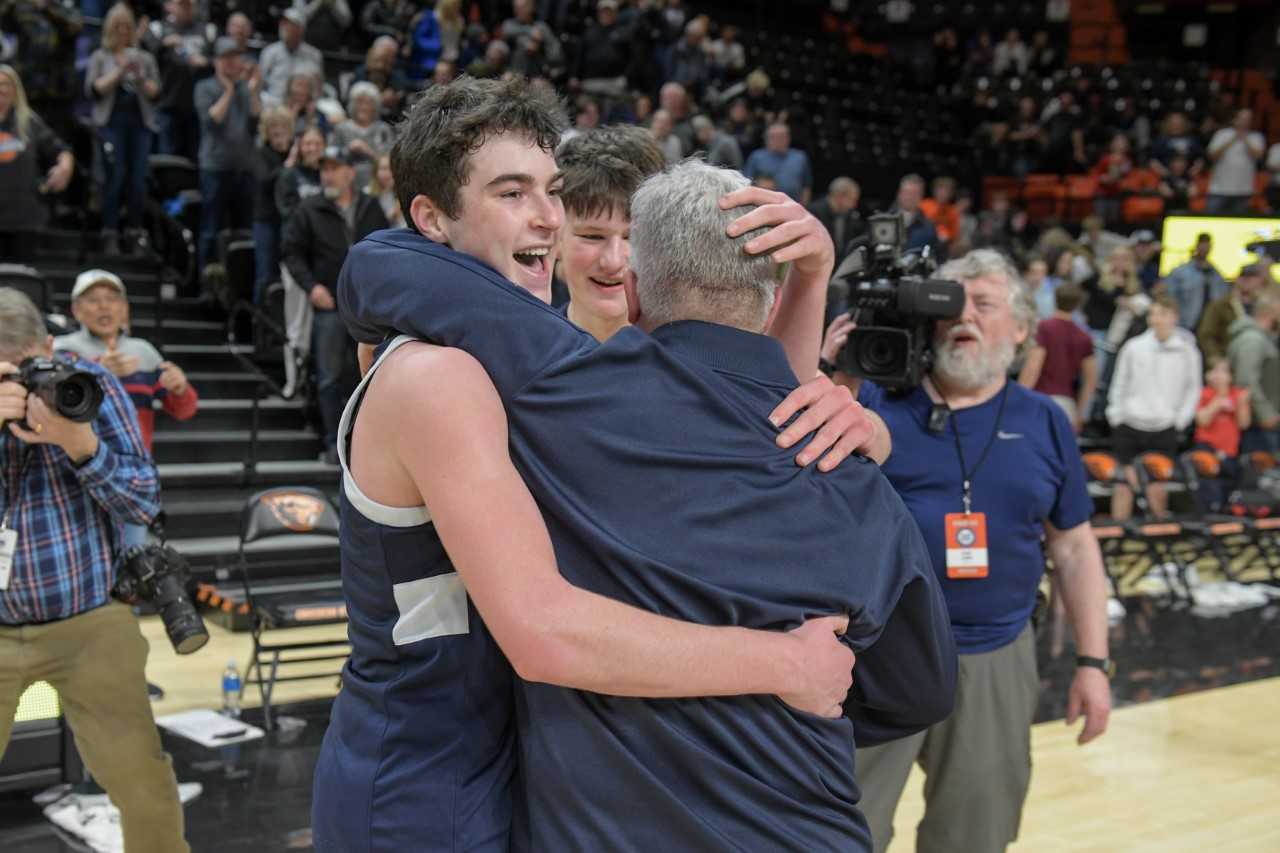 Wilsonville won its second consecutive state title Friday night, and fifth since 2016, by holding favored Summit to just 36 points, 21 fewer than any other game the Storm has played this year. The Wildcats dictated tempo and valued every possession in their 43-36 win at the OSAA /OnPoint Community Credit Union 5A State Basketball Championship at Gill Coliseum in Corvallis.
Facing a team of athletes, most of whom stood between 6-4 and 6-7, Wilsonville, using a short bench, took the air out of the ball, dug in and defended. Relentlessly.
"We came into this game knowing it had to be a dogfight and we fought it out," said senior guard Maxim Wu.
"If they get in the open court they're almost unstoppable," said Wilsonville coach Chris Roche. "They're tremendous athletes. You have to try to bottle them up a little bit. We tried to do that through taking great shots, sprinting back and digging in."
Summit, which played for the title in 6A a year ago, returned to the state championship stage last night in 5A despite having an all-new starting five comprised of four juniors and a senior. The Storm competed hard. They trailed by a bucket after the first quarter, the same margin at halftime, by just one after three and were within a bucket of tying the game with four minutes remaining. The game was that close.
"Our kids battled until the final buzzer," said Summit coach Jon Frazier. "We did everything we could to give ourselves the chance to win. Ultimately, we came up just a little short."
Wilsonville scored first on Friday night, on a determined baseline drive from Kyle Counts. Summit answered on a backdoor layup from Collin Moore, assisted by Pearson Carmichael. Another Moore bucket in close followed, this time set up by a sweet Miguel Taylor pass, and it appeared that Summit's interior passing would be able to solve Wilsonville's tough man-to-man defense all game long. Indeed, the Storm extended their lead to 10-4 on a Mac Bledsoe layup, assisted by Moore; a Moore layup, assisted by Bledsoe, and two Pearson Carmichael free throws, all in the first five minutes. The points weren't coming easily, but they were coming.
Wilsonville just continued to play its game.
"We've been down before," Roche said. "We just hang in there. At the end of the day, it's who scores the most for 32 minutes, not for five."
A sweet pass inside from Counts to Emmitt Fee got Wilsonville back on the board after a scoreless stretch and provoked a rally, which included 3-balls from Wu and Kallen Gutridge; to put the Wildcats back in front, 12-10, at the first quarter horn. Summit, which had played clean most of the period, was hurt by three turnovers in the last two minutes, limiting its shot opportunities.
The second quarter saw Summit unable to connect from long distance -- a trend that continued for the entire game – and struggling to convert in the paint as well. Wilsonville took advantage with efficient offense.
The Wildcats, who scored the last eight points of the first, scored the first five points of the second, on another Wu triple, set up by Nick Colyer's determined rebounding; and Gutridge bulling his way to the basket for a layup. After Taylor scored inside on a pass from Pearson Carmichael to break the drought, Wilsonville came right back with a Colyer floater, and-1, to go up 20-12, its biggest lead of the game.
"Wilsonville, they're a tremendous team and they made things really hard for us, which is what they do," Frazier said. "They defend at a really high level."
Summit was able to breach that defense for three late buckets in the second quarter to make the margin two, 20-18, going to the locker room. Ben Strang scored twice inside, off of feeds from Moore and Taylor, respectively, and Pearson Carmichael made two free throws.
The halftime stats showed a very close game. Summit had seven field goals, six assisted, and five turnovers. Wilsonville also had seven field goals, five assisted and three turnovers. The two-point difference can be explained by three Wilsonville triples compared to zero for Summit, which was 0-for-5 from long range over the first 16 minutes.
Coming out to start the third quarter, Wilsonville had to feel good about its chances. The Wildcats defended beautifully from the three-point line in. That wasn't going to change. The only concern was that Counts was in foul trouble with three. When you don't play more than five guys…
The second half started and Wilsonville immediately locked in. This was intense! Two Wildcat blocked shots on Summit's first possession reminded the Storm that nothing was going to come easily.
The 6-7 Counts was whistled for his fourth foul with 5:13 remaining in the third and headed to the bench, but Wilsonville's defensive efficiency was not impacted. Neither team scored much or sustained any offensive rhythm, as the teams traded baskets for most of the quarter until two Pearson Carmichael drives late pared the Wilsonville lead to one, 29-28, with eight minutes remaining.
In the fourth quarter, with Counts still out for Wilsonville, Summit took its first lead since the first quarter, 30-29, on a run out basket from Moore, assisted by Pearson Carmichael. When Wilsonville could not convert on three chances in its next possession, the momentum appeared to be fully in favored Summit's corner.
Momentum, however, can be as fickle as the next turnover. After Gutridge scored on a jumper in the key to put Wilsonville back on top, a Summit turnover led to Gutridge scoring on a turnaround jumper to extend the Wildcat lead to three.
Moore scored at the rim to get Summit within one with less than five minutes left, but Wu answered when he took advantage of a Storm defensive lapse to get all the way to the hole on a determined drive from the wing.
With a three-point lead and just four minutes remaining, Wilsonville's pace slowed even more dramatically. The Wildcats ran clock when they possessed the ball and prevented Summit from playing fast and getting easy buckets when they were on defense. The three-point lead with four minutes to go became a three-point lead with under a minute remaining.
The clincher came in a 10-second sequence with under 60 ticks left on the clock. Down 36-32, Pearson Carmichael drove to the hoop for Summit and took contact, but no call was made. Colyer rebounded and the ball eventually found Gutridge, who scored from in close under pressure, was fouled and converted the free throw, making the margin seven with 36 seconds left. Summit could not get closer than four points the rest of the way.
Frazier was asked afterwards what his team might have done differently.
"I don't think there's anything to do different," he said. "You have two really good teams. They made a couple more plays than we did. Two-point game two minutes to go. It could have gone either way. Our kids competed really hard."
Frazier lauded Wilsonville's defensive effort, which was the key to the game.
"They did a good job of taking away our transition game," he said. "We weren't able to force turnovers, so that didn't generate any easy offense for us so we were constantly going against a set defense. They don't break down. They made you earn it. We just didn't hit enough shots against that kind of defense. It was one of those nights where we didn't have any elite shot making."
Gutridge finished with 17 points for the victors. Colyer had seven. Fee, the Moda Health Player of the Game for his rugged work inside, scored four and had 10 huge rebounds. Wu finished with eight points and three assists. All four players played all 32 minutes.
"Coach always says 'tough not tired,'" said Wu. "We condition for this in the pre-season. We weren't tired. We just fought through it and wanted it more. It feels amazing. Better than last time. We worked so hard."
Wilsonville repeated as state champions despite losing three key players off of last year's team, two to graduation and one, 6-7 Tristan Davis, to transfer. That made this year's title extra special, Roche said.
"They're all awesome," Roche added. "The things that makes them great are the experiences of all the kids involved. I think about the kids. Right now, I'm thinking about this group, which persevered through a lot of adversity. They hung in together. They got better. This feels great, too, because of how great Summit is. Summit is a formidable opponent. They were the favorite for a reason. They're great. But our kids competed today. I'm super proud."
Moore scored 16 and Pearson Carmichael added 10 for Summit, which remains in search of its first title in basketball. With all but senior Hogan Carmichael (eight rebounds) back among the starters, the Storm will likely be favorites again.
"Each year is its own journey," Frazier said. "Our kids live in the gym. They just want to get better. Hopefully we will put ourselves in position to be here again and hopefully win one."
In the boys' 3rd/5th game..
No. 15 Crescent Valley d. No. 4 Redmond, 52-50
The glitz of Adam Temesgen and the grit of Junior Alatorre carried underdog Crescent Valley to a come-from-behind win over Redmond in the third-place game. Temesgen scored a game-high 24 points and Alatorre made huge plays in crunch time as the Raiders rallied from a 14-point halftime deficit to stun the Panthers.
A competitive first quarter turned into what appeared to be a Redmond blowout by halftime, as guards Tanner Jones, Jack Snyder and Colton Horner took control for the Panthers. The trio scored 15 points in the second quarter, hitting big shot after big shot, in the lane and from distance, to put Redmond comfortably ahead.
In less than six minutes, the game was tied. Crescent Valley, behind the versatile play of the athletic Temesgen, scored the first 14 points of the second half, knotting the score at 39-39 on a bucket from Temesgen.
Nathan Wachs answered with a 3-ball to put Redmond back on top, but the lead was short-lived. Successive triples from Hogan Emigh and Alatorre put the Raiders on top going to the fourth.
Redmond had its chances in the fourth, but too many missed free throws cost the Panthers the opportunity to assert themselves. Meanwhile, Alatorre, who stands 5-11 according to coach Adam Hastings, was giving his squad opportunities to win, whether it was a great box out of 6-10 Evan Otten, a critical steal while his team held a scant one-point lead, tips and challenges on loose ball or contested rebounds or the energy of a smaller guy playing big and making huge plays.
Redmond had chances to win or go to overtime in the closing seconds, but could not convert a headlong drive to the goal, nor a desperation lob at the rim with 0.4 seconds left.
Temesgen added three assists to his 24 points for Crescent Valley (17-12). Rocco McClave added 10. Athletic Heath Carl contributed eight points and seven rebounds.
Horner had five triples and 15 total points to lead Redmond in scoring. Snyder and Otten added 12 apiece. Otten also had 11 rebounds. Redmond was 10-for-18 shooting free throws for the game and just 1-for 4 in the final four minutes.
In the boys' 4th/6th game..
No. 8 North Eugene d. No. 7 La Salle Prep, 64-46
North Eugene exploded for a 19-9 lead after one, extended its advantage to 35-19 at the halftime break and 49-25 after three in the wire-to-wire win.
Ben Kitzhaber scored 21 points, with nine rebounds for the Highlanders (18-10) in the win. Point guard Joey Banry added 10 points and seven assists.
La Salle Prep, which ended its season 20-9, had seven players score at least five points, led by Grant Ellison's eight.
Moda Health Players of the Game:
Emmitt Fee, Wilsonville
Pearson Carmichael, Summit
Sportsmanship Award: North Eugene HS
All-Tournament First Team:
Kallen Gutridge, Wilsonville
Pearson Carmichael, Collin Moore, Summit
Adam Temesgen, Crescent Valley
Evan Otten, Redmond
All-Tournament Second Team:
Kyle Counts, Wilsonville
Rocco McClave, Crescent Valley
Tanner Jones, Redmond
Nolan Duke, North Eugene
Nick Robertson, La Salle Prep