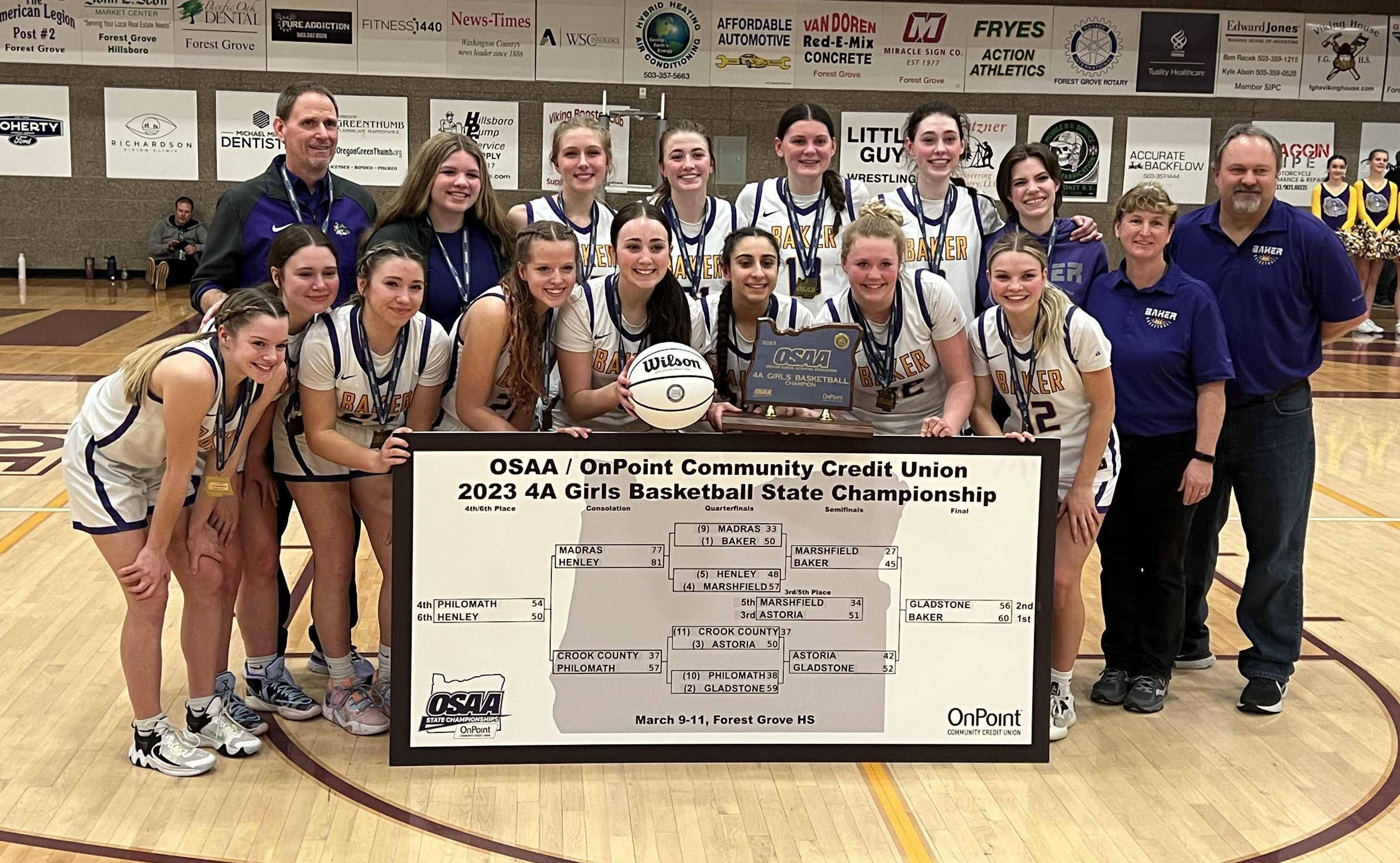 FOREST GROVE -- Baker senior Jozie Ramos didn't do everything she wanted to do against defensive-minded Gladstone on Saturday night.
But she did enough.
Ramos scored eight of her game-high 28 points in the fourth quarter, including the go-ahead points on two free throws with 1:29 remaining as the Bulldogs edged the Gladiators 60-56 in the championship final of the OSAA/OnPoint Community Credit Union 4A girls basketball tournament at Forest Grove High School.
Baker's supporting cast chipped in as needed, but the most dominant player of the floor was the 6-foot Ramos, who also had nine rebounds, two assists, two blocked shots, and was on the floor for all 32 minutes.
"I've been told over and over again that my team is at its best when I'm staying out of foul trouble and making my free throws," Ramos said. "I took that to heart and I did that today, because that's what my team needed me to do.
"Everybody played their part really well today. It was a whole team win."
Baker never trailed in the game after taking an 8-6 lead with 2:48 to play in the first quarter. Yet, the Bulldogs (25-2) had to survive a spirited fourth-quarter comeback by Gladstone before securing their first state title in their first appearance in the final.
Trailing 50-40, the Gladiators went on a 12-2 run and tied the score at 52-all when Sam Jedrykowski drilled a three-pointer from the left corner with 1:39 left.
On the ensuing possession, Ramos got the ball and was fouled, and then calmly converted both free throws to put the Bulldogs back on top.
Macey Moore knocked down another free throw for Baker and Sydnee Pierce added two more with 32 seconds left to make it 57-52, giving the Bulldogs all the offense needed to win.
"Basketball has highs and lows for both teams," Ramos said. "You've got to answer when the time comes and stay calm and not let the other team get into your head. We're a senior group, so we did that well late in the game."
Gladstone's Hanne Hopkins had a team-high 23 points but was the only player to score in double figures for the Tri-Valley Conference co-champions, who reached the championship final for the second time in school history and the first time since 2007.
"My heart breaks for the girls because they battled and they fought right up until the end," Gladstone coach Glenn Hopkins said. "I couldn't be prouder of my girls. It's tough because it's over, but if you would have told me at the beginning of the season that we'd be playing for a state championship and it's a four-point game, I'd take that."
Gladstone lost 39-37 to Baker on Dec. 14, so the Gladiators knew what they were up against and that the primary challenge would be trying to contain Ramos. The issue in the final was that no one was big enough or physical enough to knock the Bulldogs' star player off her game.
"She's good," Glenn Hopkins said. "We got into foul trouble, so we had to switch things up and put different people on her. Ultimately, she's big and strong and she's really good, so that's a tough one."
There also were times when Gladstone's defenders were so preoccupied with Ramos that they lost track of Baker's other scoring threats. Moore, for instance, enjoyed some wide-open looks from beyond the arc and knocked down a pair of threes en route to a 16-point night.
So, it wasn't all Ramos, all the time.
"Whenever anybody else needed to step up, when they had their opportunities, they took advantage of that," Baker coach Jason Ramos said. "It was a team win, for sure."
Still, the coach's daughter's final statistical line was impressive: 8 of 11 from the field, 12 of 15 at the foul line, nine rebounds including two at the offensive end, two assists, two blocked shots, and a steal.
"Jozie stepped up in the biggest game of her life and had a great game," Jason Ramos said. "She's just a hard match-up. She has guard skills, but she's good in the post, so however you choose to match up with her, it's a challenge. She just had a phenomenal game tonight."
The Bulldogs (25-2) and their all-senior starting lineup — Brooklyn Jaca, Rylee Elms, Moore, Pierce, and Ramos — won seven games in a row and 18 of 19 to close out the season.
"It's awesome, especially for this group of seniors that I've been playing with for the past eight years," Jozie Ramos said. "We've been working so hard for this for so long, it's really surreal to be here right now.
"We kind of knew what Gladstone had, and they also knew what we had. We knew it was going to be a physical game and we had to be strong with the ball. We just took care of the ball and played our game."
In other Saturday games:
Astoria 51, Marshfield 34: Sophomore guard Shelby Bruney had 13 points and six rebounds, and junior guard Maitlin Young added 12 points, seven rebounds, and three assists as the Fishermen ran away from the Pirates of Coos Bay in Saturday's third-place game.
Astoria's Avery Biedermen and Tayla Huber had eight points each, and Malory Dundas finished with six points and a game-high 13 rebounds for the Fishermen, who ran their season record against Marshfield to 4-0 while finishing 26-3 overall.
Marshfield's Paige Macduff had a team-high 13 points and nine rebounds, and Kate Miles added 10 points for the Pirates (19-9).
Bouncing back from Friday's semifinal loss to Gladstone, the Fishermen jumped out to a 9-2 lead in the first quarter and never looked back.
"We couldn't go back and fix Friday, so we had to do our best to finish third," Bruney said. "That definitely was not the plan. We would have loved for something bigger, but this is amazing.
"We kept it together. There were definitely some highs and lows, but overall I think we played pretty well."
For the game, Astoria shot 29.4 percent (15 of 51) from the field, but offset their poor shooting with a 41-25 advantage in rebounds, including an 18-9 edge on the offensive glass. The Fishermen also forced 26 Marshfield turnovers and had a 22-12 advantage in points off turnovers.
Astoria graduates two senior reserves — Aaliyah Burden and Kaylee Falleur — setting up the reigning Cowapa League champions to return one of the strongest 4A lineups in the state next season.
Philomath 54, Henley 50: Freshman guard Emily Taunisila knocked down two free throws to break a 50-50 tie with 1:32 remaining as the Warriors rallied from an eight-point deficit midway through the third quarter to claim the fourth-place trophy.
Philomath senior Abigail Brown had a team-high 17 points and 13 rebounds, senior Hailie Couture added 12 points and seven rebounds, and Tunisia finished with five points and a team-high nine assists for the Warriors (19-8).
Henley sophomore wing Anna Harper led all scorers with 21 points, and junior guard Annie Campos had 11 points, 10 assists, and six rebounds for the Hornets (18-10).
Harper made six of her first eight shots from the field and had 13 first-half points to pace Henley to a 24-23 halftime lead.
The Hornets of Klamath Falls then pushed the lead to eight points, 31-23, when Jewell Northcutt followed up a Mya Mauch missed lay-in and scored on the put-back with 5:22 to play in the third quarter.
Trailing 39-35 heading into the fourth quarter, Philomath took its first lead of the second half when Couture knocked down a three-pointer to make it 42-41 with 6:36 left.
Henley battled back to tie the score twice — first at 42-42 on a Mauch free throw and again at 50-50 on a Lily Fussell three with 1:54 to play.
Taunisila, who struggled with her shot for most of the game, then drew a foul and made both free throws to put Philomath on top for good. Zoee Howard and Brown added one free throw each in the final 30 seconds to close out the scoring.