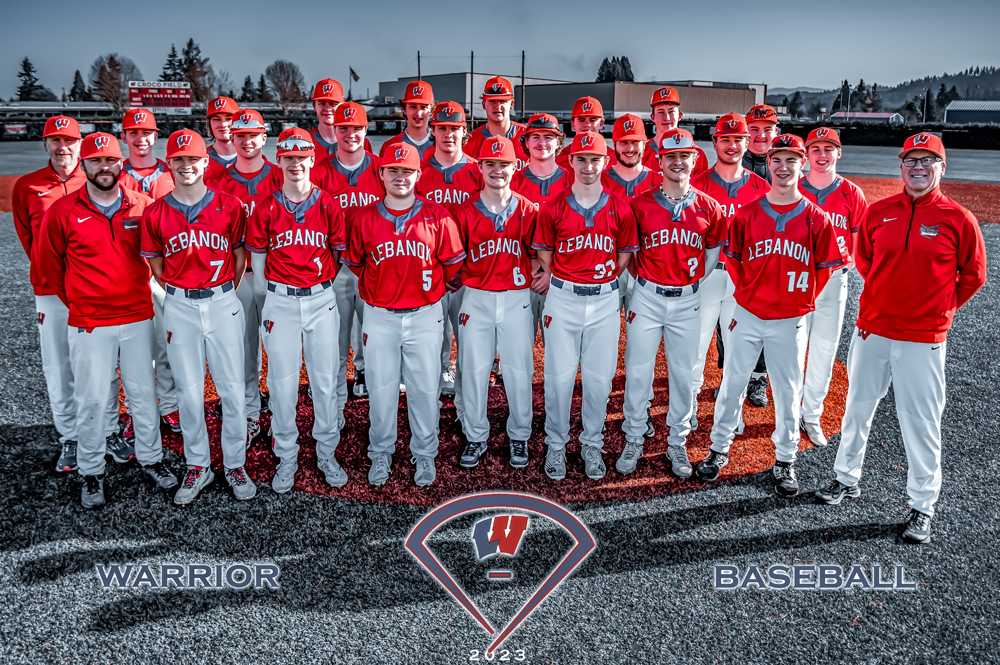 Play ball!
The season is barely a week old and there have already been some statement games in Oregon baseball, both for the larger schools and the smaller ones.
On Friday, Jesuit, ranked No. 1 in the OSAAtoday 6A Coaches Poll, won a home game over No. 2 West Linn, the defending state champion, 9-6. The Crusaders scored four runs in the second inning, two on a Levi Jones home run, to set the tone. Jones added another two-run shot in the sixth to put the game out of reach and make a winner of Ty Alleman, who allowed just one run on five innings and had strong defense behind him.
Noble Meyer, Carson Gantz and Brock Leitgeb each had two hits to complement Jones' big day. West Linn scored four in the top of the seventh to make the final score relatively close.
***
One day later, 2A/1A Umpqua Valley Christian, last year's state runner up and ranked No. 2 in the OSAAtoday Pre-season Coaches Poll, made one run stand up in a 1-0 win over 3A No. 1 Cascade Christian.
The game featured two of the best pitchers in the state and neither disappointed. Owen Thompson yielded four hits, walked one and had 13 strike outs for Cascade Christian. He gave up only a run in the fourth, courtesy of hits from Daniel Withers and Kevin Shaver and a two-run error.
Sophomore Ty Hellenthal went the distance for UVC on only 83 pitches and got help in the seventh when Ty Haynes ran down a deep ball in center to prevent the Challengers from mounting a threat.
"It was a very good win against a quality opponent," said UVC coach Dave York.
Umpqua Valley Christian sandwiched three other wins around the Cascade Christian thriller to start 4-0.
"Our guys are buying in and our pitchers are throwing strikes," York said.
Top 10s
Here are the cumulative records of the top 10 teams in each of the OSAA's five classifications, according to the pre-season coaches polls:
2A/1A: 22-9, led by No. 1 Kennedy (4-0), No. 2 Umpqua Valley Christian (4-0) and No. 5 Blanchet Catholic (4-0).
6A: 23-10, led by No. 1 Jesuit (3-0), No. 2 West Linn (3-1) and No. 3 Lakeridge (2-0)
3A: 22-13, led by No. 1 Cascade Christian (3-1) and No. 2 Banks (2-1)
4A: 16-15, led by No. 7 Hidden Valley (3-0) and No. 8 Gladstone (3-0)
5A: 16-16, led by No. 1 Lebanon (3-1) and No. 3 Summit (2-1).
Kennedy off to blazing start
Defending 2A/1A champion Kennedy is off to a 4-0 start, not against pushovers, but quality opponents like Regis (2A/1A No. 3), Knappa (2A/1A No. 4) and Warrenton (3A No. 6).
"Those teams we have played are very good, well-coached teams, so we are happy to have gotten wins in those games," commented Trojan head coach Kevin Moffatt. "So far our defense and pitching have been solid for the most part. We have been ok at the plate, but we have not hit very well with runners in scoring position. Part of that is we have seen some pretty good arms from other teams, but we are stranding way too many guys and we have to get better in that area if we are going to find much success."
Warrior mentality
5A No. 1 Lebanon, a state runner up a year ago, has started the year 3-1, including a 2-1 decision over 6A state runner up Canby and wins over traditional 6A powers McNary and South Medford.
"I have been very pleased with what we have developed with our team so far this season," noted coach Jeff Stolsig. "Our guys have created a very good culture, and they have brought great leadership, effort and camaraderie to the season. Our guys have developed a strong, competitive spirit and believe in each other. Our guys are OK with a 3-1 start but they also understand that their success is not measured necessarily with a record. They have a certain standard they work hard to reach."
Weather messing with La Grande
4A No. 1 La Grande, the defending state champion, has gotten off to a slow start, largely because of weather that has pounded the eastern part of the state.
The Tigers played a game on Tuesday versus Fruitland of Idaho.
"It was literally the first time we were on a baseball field this spring," noted coach Parker McKinley on Wednesday. "La Grande has been plagued with snow, freezing temperatures and rain for the last three weeks. I have been pleased with the work the players and coaches in the program have been putting in during our time inside and yesterday's game was against a good opponent to help put some pressure on us early and keep us moving forward. We will likely be able to be on our field today, but then more rain and snow is in the forecast for Thursday and Friday."
La Grande lost the game to Fruitland, 4-2. Three Tiger pitchers combined to give up four hits and just one walk, but were hampered by two hit batsmen and two passed balls.
"We had our chances, just couldn't push more across when we had guys in scoring position," McKinley said. "I hate losing, but there were lots of positives to build on from being our first day on a field."
La Grande and many other Oregon teams, are heading south, to Phoenix, Los Angeles or San Diego, to jump start their seasons in warm weather over Spring Break.
"We are looking forward to some sunshine and quality opponents in Phoenix for sure," McKinley said.
Form-ing an opinion about certain teams
To date, more than 60 schools have taken time to complete our pre-season form at this link -- Baseball Wufoo URL -- https://osaa.wufoo.com/forms/z1if24dx159glrs/. We write about all schools with completed forms below and promise to write about every team, in subsequent Notebooks, whose coach completes the form.
Ida B. Wells returns all of its starting pitchers from last year's 16-12 team, including junior lefty Quin Dufort, last year's PIL Pitcher of the Year. Five position players did graduate, but the Guardians expect to fill in with players from a talented sophomore class. Three juniors, Dufort, Griffin Scott and Henry Stolanoff, who each pitch and play the field, will lead the way for Wells, which seeks its first playoff win since 2017. Others to watch include senior RHP/UTL Russell Petersen, who missed most of last year with an injury but was a sophomore two-way starter; and sophomore catcher Cody Roletto, who has all-league potential…
Bonanza has traded one-run wins with Myrtle Point early in the season. The Antlers have been up and down over the past decade, but coach Tyler Hill said they are on an uptick after making the state playoffs last spring for the first time in six years. Six starters are back, including five seniors – Allen Hill (P/INF), Austin Simenski (P/OF), WD Kness (P/INF), Adrian Mojica (INF) and Andres Mojica (OF) – who earned first or second team All-Conference honors last year. Look for Bonanza to contend for a league title and make a deeper playoff run in 2023….
Thurston's rich baseball tradition includes three consecutive league titles (over the last three full seasons) and a state championship in 2009 as part of a run of three championship appearances over five years. The Colts, who were 26-3 last year, should again compete for league and state titles in 2023. They return 10 contributors from last year, highlighted by 5A POY Maddox Molony, a shortstop and RHP. Senior INF Easton McDonald, All-State performers Eli Crist and Adam Elliott and freshman Grady Saunders are other players to watch for Thurston. Saunders will be in the starting rotation and play short when Molony pitches.
Greg Poor is the first-year head coach at Union / Cove, which was 5-11 a year ago with no seniors on the roster. Both Union and Cove have competed for state championships in the past. The co-op between the two could be formidable when the youth gains experience.
Sherwood was 24-6 a year ago and has started 2-0 this year despite graduating a talented senior class. The Bowmen will build around senior CF Nick Gribble, a First Team All-State pick as a junior; and junior P/SS Nolan Umlandt. Parker Fabrycki, Connor Parry and Nigel Fahland are three others to watch for Sherwood, the alma mater of Baltimore Orioles starting catcher Adley Rutschmann (how cool is that?)
Rex Putnam won 20 games last year and is typically a contender in the NWOC, though its last league title was in 2016. The Kingsmen, who made the 5A quarterfinals last season, graduated just two, but one was two-year starting catcher Nick Watson and the other was NWOC Vinny Salvione, the conference POY. Coach Chad McGowan is bullish about his team, which will be led this year by senior Leo Renzema and junior Jackson Fera; as well as four other returning all-league players. Putnam plays good defense and is aggressive on the base paths. The one thing that might hold the Kingsmen back is not having a true ace on the mound.
North Marion typically is a 4A contender. Last year, the Huskies went 23-5 and won the Tri-Valley League. This year's team is in a co-op with Gervais and should contend in the Oregon West Conference with First Team All-State senior Rex DeAngelis as the team's anchor.
Sunset was one of just four teams to defeat powerhouse Jesuit last year. The Apollos graduated just three, but one was their No. 1 pitcher and another was the team's starting shortstop. Expect Sunset, with eight seniors on the roster, to finish in the upper half of the Metro League but winning state might have to wait until 2024. Players to watch include C Nate Davis, an Oregon recruit; HM All-State utility Connor Stone and pitcher Michael Fitzgerald. The Apollos have two state titles to their credit, in 1964 and 1994. Thirty years from 1994 is?
Valley Catholic made the 4A playoffs a year ago and could benefit by the move to 3A. The Valiants return eight contributors, including 2022 All-League infielders Will Erickson and Trevor Lee, who are sophomores this year; and senior catcher Ben Cupani. Coach Dan Cooper, in his sixth year at the school, says VC has potential to surprise, as its pitching is strong and has the potential to be even stronger if junior Jacob Jackson has a breakout year.
2022 5A runner up Lebanon was voted 5A top dog in the pre-season OSAAtoday coaches poll. The Warriors will be seeking their first-ever state title this spring with a roster that returns all but talented CF Henry Pointer. Five returning All-State players – senior catcher Matt Woodward, senior P/1B Tyler Walker, junior INF Hayden George, senior SS Colton Vandetta and senior P/3B Ryan Rivers, the league POY; are wonderful foundational pieces. "We have a very good team with a clear mission," head coach Jeff Stolsig said
Clatskanie is eyeing a return to the state playoffs for the first time since 2019. The Tigers suffered significant graduation losses, but a move down to 2A/1A , good pitching and a strong 10-player freshman class give coach Ryan Tomkins hope that this team can double its win total of seven from a year ago. Keep an eye on three two-way players who will anchor the team: junior P/SS Ayden Boursaw, junior P/C Topher McDonnell and sophomore P/INF Brenden Shroll.
Milwaukie hasn't made state since 2012, but the signs are there for a breakthrough this spring. The 5A Mustangs earned wins last year against two of the top teams in 4A and did not graduate any impact players. SS/P Kaden Harris, a three-sport All-Conference player, will lead the way for a young, fast team.
Scio welcomes a new coach in Jacob Ruby after a 9-13 campaign a year ago. Ruby inherits a team that graduated seven starters so this will be a learning year for the Loggers, who should be strongest on the mound. The top arm belongs to Cody Roofener, who also is a versatile position player with a knack for getting on base. Junior Brian Parazoo, a gold glover at second with strong on-base percentage skills as well, is another to watch. Scio has a very strong junior class. The Loggers should be improved this year and a threat in 2024.
North Medford is off to a 2-0 start to 2023. The Black Tornado have scored 14 runs and yielded just one in two wins over Bend. That's a great start for a team that went just 11-15 a year ago but has two state titles over the past 15 years. "We see ourselves as a contender every year," said coach Kerry Curtis. North Medford is primed to make a huge jump this year, because the team graduated no one from a year ago. The team has experience at nearly every position, led by OF Aiden Horsley, who hit .500 last season; and P/OF Trey Newmann, a strike out machine on the bump. The Black Tornado have five additional All-Conference picks back and several talented newcomers, making them a team to watch in 6A for sure.
Astoria was 6-17 a year ago but expects to be improved in 2023, as it did not have a senior on last year's roster.
South Umpqua, the defending 3A state champion, has started 3-1 in 2023. The Lancers, 25-5 a year ago, were hit hard by graduation, losing seven senior starters and 10 players total, including Far West League POY Ever Lamm; but tradition does not graduate. Coach Steve Stebbins will build around All-State pitcher Jace Johnson and P/OF Drew Camp and has good sophomore arms and a talented group of younger players he thinks will be able to fill voids once they get their feet wet.
The graduation losses are significant at Sandy, where six fulltime starters have departed, including two top arms and the starting shortstop. Pitching should still be a strength, however, as junior Matthew Kosderka returns and will be joined by polished sophomores Max Green (lefty) and Fisher Winchester (righty), who both sit low to mid 80s. Offensively, junior 1B Aaron Menchaca will lead the way along with SS Donovin Crouch and C Johnithin Silvas.
First-year head coach Tommy Niebergall has La Pine off to a 3-1 start, which includes a one-run win over Santiam Christian and a one-run loss to South Umpqua. The 2023 Hawks look more like the clubs that won state in 2018 and 2019 than the team that was just three ticks above .500 last year. That may be because former coach Bo Deforest left the cupboard stacked, with every starter back. Two First Team All-State players, SS Dawson Cook and CF Tyson Flack will lead the way for a team that could be in the hunt for a state title.
Bend was last a state contender in 2018, when it lost in the 5A semifinals. After a few seasons in 6A, the Lava Bears are back in 5A with a potentially dangerous team loaded with offense and pitching. Coach Quinn Clair's team includes 11 seniors, making Bend an experienced bunch, and returns four All-MVC players: two-way talents Kaden Isola, Fischer Barber and Logan Malinowski, and 3B Trenton Karpstein.
Hood River Valley's rich baseball tradition includes five state title, the last in 2015 under coach Erich Harjo during a stretch when the Eagles played for the title three years in a row. HRV graduated a dozen seniors off of last year's 19-7 team, including a catcher and SS playing college ball. This year's roster will be young – just two seniors – and inexperienced, but very athletic. P/F Jake Von Lubken returns as the team's best player coming off of an All-State campaign on the bump. Jordan Webber, Grady Williams, Davis Parr, Addison Postlewait and Hunter Duckwall also figure heavily into whatever success Hood River Valley has.
Sprague is a consistent contender in 6A out of the Central Valley and should be again this year after being ousted from the playoffs by state champion West Linn a year ago. Only one starter departed from the 2022 team. Coach Luke Buchheit, in his 11th year with the program, will build around two All-State seniors, SS Brandon Stinnett and OF Will Hassoun. Sprague also returns MVC Pitcher of the Year Grant Strother, all-league OF Taylor Brenneman and sophomore INF Andrew Mhoon, who has already pledged to the University of Portland. This group is experienced and tight knit and will be battle tested by the state playoffs thanks to a schedule that is beyond demanding. The Olympians have started 3-2.
Santiam was over .500 last year, a good season by Wolverine standards, as the team hasn't won league for almost 50 years and last made the state playoffs in 2019. The news doesn't get better in 2023, as coach Zac Steele lost eight starters, including almost all of the team's pitching. Senior Logan Hays, who hit .377 and posted a 2.42 ERA, is back and will lead the team, which will have many freshmen and sophomores on the field gaining the experience they need to lead the team in future years.
West Linn trounced surprising Canby to win the 6A title last year, its first in 40 years. The Lions' next title could come as early as this year, because Joe Monahan has a stacked team. Pitching will be the team's strong suit, as West Linn returns its ace, RHP Drew Talavs and closer Drake Gabel, both seniors. Two talented underclassmen, Gabe Howard and Blake Crawford, complete a quartet of power arms. Catcher Ryan VandenBrink will lead the offense. The junior, committed to Oregon State, has batted cleanup since he was a freshman. 1B Jake Holmes, Gabel, Tyson Smith and Danny Wideman are other position players to watch. Wideman will play shortstop in place of Maxwell Wright, a hitting machine who moved to Reno in the off-season.
Sutherlin went 6-19 in 2022 and won in league just one time. The Bulldogs graduated two speedy outfielders but have everyone else back. They started 2023 by winning their first two games. Sutherlin will play eight seniors this season, led by All-League catcher Wayon McKnight. Sophomore Tauj Flora is a returning HM All-League infielder. Freshman Jake Narkiewicz is an exciting freshman who will bat leadoff.
I saw a list that had Lakeridge LHP Paul Wilson slotted as prospect No. 213 in the 2023 MLB draft. That's ridiculous. Wilson, the son of former MLB hurler Trevor Wilson, should go in the upper half of the first round. He's tall, a southpaw, throws an easy 95 mph fastball and has the kind of offbeat personality that will allow him to shrug off tough moments and get back on task. I write this about Wilson because he's the kind of talent who can propel the Pacers deep into the playoffs and maybe to the state title. Wilson, who also plays first and bats cleanup, is one of six returning impact players for coach Ray Pearson. SS Dawson Santana and RHP Eric Hoffberg are other talented players who will be difference makers for Lakeridge, which was 28-5 a year ago and won the TRL, the league West Linn plays in. Keep an eye on freshman 2B Jaden Tragesser, who profiles a lot like Santana and should be an asset on defense and at the top of the order.
Willamette contended in 5A last year, the first time in program history that the Wolverines achieved that status. Rob Cantwell's team, coming off of a 23-4 campaign, is in 6A this year and off to a 2-3 start behind 1B/P Ryan Prescott, C Caden Koffler, P/OH Joseph Garboden and SS Noah Cox.
Crescent Valley won 30 games last year. No. 30 was for the 5A state title, its first. The Raiders graduated six, including four who pitched. The offense, led by catcher Walker Still, should still be robust. If the pitching comes around – Luey Campos, Nick Gimino, Tyler Laam are among those being counted on – CV could be there at the end.
The past 10 years have not been kind to The Dalles baseball. The Riverhawks have eight state titles but haven't contended since making the 5A semis in 2009. Things may be looking up along the Columbia River. After a 4-20 season in 2022, The Dalles, now in 4A, has started 3-0 in Pat Clark's first year as varsity head coach and expects to be a playoff team, given that no starters graduated. 3B/RHP Braden Schwartz and RHP/INF Riley Brock will lead the team, which has six seniors. Keep an eye on sophomore power hitter Cody Agidius. He should produce big numbers over the next three seasons.
Westview's flex is that it defeated Grant in the first round of the 6A playoffs a year ago. The Wildcats finished under .500 a year ago, but have won two states titles since 2011 and always are a threat in the Metro League. Six graduated, including two starting pitchers, but coach Matt Bailie says that he has guys capable of stepping in and stepping up. Key players for Westview include All-Leaguers Cole Katayama (RHP/SS), Gunnar Pedersen (RHP/SS) and Roanan Cason (C/RHP). This is a mostly junior team whose calling cards will be hitting and playing good defense.
Marist Catholic capped a 19-9 season with a first round playoff win over Newport in 4A. The team lost five starters to graduation but should still compete well in the classification. Senior Kaden Starr is the player to watch here.
Mountain View hosted a home playoff game last year for the first time since 2011. Back in 5A after a few years in the largest classification, the Cougars are poised to make a name for themselves in baseball. Despite significant graduation losses, six returning seniors, led by pitchers David Duvalle and Simon Lemke, will lead the way. "We have a chance to be a complete high school squad and make it a successful year," said head coach Ryan Johnson.
Roosevelt won three state titles in baseball, but the last was 69 years ago. More recently, it's been tough to be a Roughrider baseball fan, as the team hasn't made the playoffs since 2007 and was above .500 last year, at 14-12, for the first time in 16 years. The trend continues up for Daniel Stauffer's team, even with the graduation of Roosevelt's only southpaw hurler and the starting catcher, Blaeith Scharp Salter, the state home run leader. Eight varsity seniors are back, including 3B/RHP Seth Fillinger and OF/RHP Henry Frish, both First Team All-Leaguers. "They are ready to take the PIL by storm," Stauffer said. "They have been waiting for this year for a while now and have been working very hard to end Roosevelt's playoff drought."
Taft is still looking for its first baseball state title in program history. The Tigers made progress in that area last year by winning 19 games and making the state playoffs, where they lost by a run to state runner up Santiam Christian. Eight starters return, including All-State OF Evan Halferty and All-State infielders Kai Bayer and Baron Delamater. The lone graduate, super utility guy Kaden Hindman, will be missed, but his role could be assumed by freshman LHP/INF Zack Kankins, his little brother.
Grant has won the last three PIL titles and is 105-21 over the past five seasons. The Generals won 18 games a year ago and will be strong pitching and defending in 2023 with five returning starters. P/INF Kellen Segel is Grant's senior star after an All-State campaign in 2022. P/INF Ben Christensen, OF Sam Giansante, sophomore catcher Brady McCarthy and SS Elliot Brown are others that coach Matt Kabza expects to help Grant battle for yet another PIL crown and make a deep playoff run.
Regis won 19 times in 2022 and made the state quarterfinals. With six starters back, the Rams will be looking to win state for the first time in 20 years. Infielder Max Eaton, catcher Noah Koenig and OF Kollin Schumacher will lead the way. Coach Kyle Baker said he hopes that addition of senior transfers Haden Gough and Diego Aguilar from Jefferson (which no longer offers baseball) will help make up for the loss to graduation of league POY Tanner Manning.
Jesuit's 3-0 start includes impressive wins over West Linn and Sprague. The Crusaders are favored to win state in 2023 thanks to a roster that includes 15 seniors. Head coach Colin Griffin has a dominant hurler in Noble Meyer, whose fastball reaches the upper 90s; superstar hitters in Levi Jones and Ryan Cooney and an exceptional supporting cast filled with talented and experienced players. Baseball is fickle and even the best teams can lose in the playoffs, as Jesuit did to Lake Oswego last year, but the Crusaders have what it takes in 6A to go all the way.
Warrenton graduated two, four-year starters from last year's league-championship team, but will have an experienced team with strong pitching in head coach Lennie Wolfe's 32nd year. Seven All-League players are back for the Warriors, including two-time First Team All-State INF/P Dylan Atwood. Sophomore Talon McGrorty and senior Dawson Little are others to watch for Warrenton, which has won league 18 times and a state title in 1994 during Wolfe's tenure.
Given Lincoln's history in baseball and that fact that both Johnny Pesky and Mickey Lolich are alums, it's hard to believe that the Cardinals have never won a state title. Maybe this will be the year. Coach CJ Watson will need to replace graduated arm Owen Smiley and five other seniors who were primarily role players, but has talent back in senior OH Henry Fovinci, junior P Eddie Meier, sophomore C Liam Eldridge and junior INF Isaac Margolis. Lincoln has a couple of exciting newcomers that could make this team better than last year's 14-14 squad, sophomore power hitter Gabe Coltman and junior lefty Alex Deter, who polished his pitching arsenal thanks to a tremendous off-season.
Brookings-Harbor has made the state playoffs the past five years and won state in 2021. Coming off of an 18-9 season in 2022, the Bruins have a shot at making a deep playoff run this spring with an experienced team that should pitch and defend well. Coach Keith Wallin's team will need to figure out how to compensate for the loss of offensive production from Jason DeShon, the team's lone graduate. Catcher Spencer Rosenberg, 1B Ethan Orman and INF Kallen Christensen will lead the way. Look for speedy sophomore infielder Talan Pryor to have success in his first year as a regular.
Southridge, the school that all those young Murray Hill studs feed into, was 13-13 last year and graduated 11 seniors. Pitching could be a challenge but the Skyhawks return some impact bats, including juniors Kaz Kalish, Jack Klee, Ryan Hoffmann, Zane Garvey and Nathan Adair. Kyle Chamberlain's team has started 2-0 and, despite the lack of experience, appears poised to make the state playoffs and even wins its first playoff game since 2019.
Rainier made the state playoffs last year in 3A and will look to a strong junior class to make up for the loss of five starters, including SS Kenney Tripp, the team's leading hitter. Pitching will be a strength for the Columbians, as strikeout wiz Austin Stout returns for his senior year. Junior hurler Peyton Setzer is back, as is junior P/C Hunter Gutenberger. Infielder Colby Biddix and P/OF Josh Ellis are others to watch.
Century was 13-14 a year ago and made a playoff appearance, which is typical of one of the top teams in the Pacific Conference. The Jaguars are off to a 3-0 start this year, so there is hope for a little better than typical despite the graduation of five position players. Pitching should be a strong suit for Century, with Elijah Breault, Levi Hazes, Sawyer Hewett and Joey Genduso all back. Junior catcher Sergio Osoria also returns. The concern at the start of the season was offensive production up and down the lineup, but the Jaguars have averaged 11 runs per game during their opening run, suggesting the offensive production might be there all season long.
Dufur / South Wasco County has a new coach in Don Peterson. He will be hard-pressed to duplicate last year's 24-3 record in 2A/1A, with six impact players having graduated. There is enthusiasm for baseball at both Dufur and South Wasco County, so the rebuilding should be quick. Sophomore Sonny Wilson, junior Olsen Meanus and senior Elijah Thomas will lead the way.
South Salem won only six times in 2022, but a 3-0 start this spring suggests the Saxons may be a team on the rise. Four starters have graduated and they helped reset the culture, but now it's time for the younger guys to shine. Home run leader Cole Weiland, a Whitworth University commit, is among seven key players returning. 1B Braedy Vogt, sophomore OF Gavin Price and sophomore RHP Carter Nelson, an Oregon commit, also are back. The team also welcomes Oregon State recruit Teagan Scott, one of the nation's best freshman catching prospects; and has myriad sophomores who started as freshmen ready to take their games to the next level. "We feel like we have the ability to compete right now," said coach Max Price, whose team will be road warriors in 2023 after vandalism to the field left the team without home turf to defend.
St. Paul is one of the best 1A schools in the state and went 17-7 a year ago. The Buckaroos could have a challenging season, as they graduated five and lost four other varsity veterans for the season with injuries. The good news for coach Dwayne Nowlin and his staff is that they had 32 boys sign up for baseball. St. Paul also returns most of its pitching staff. Throwing strikes, small ball and defense will be the emphasis for 2023.
Watch out for Glencoe in 2023. The Crimson Tide won 11 games last year and should exceed that total easily, with eight key players back. Defense, team speed and pitching should all be strengths this year. Diego Richards, Blake Sehorn, James Kingsbury, Camren Storto and Andrew Probst are all key returning players. Storto, Kingsbury and sophomore Lucas Culbertson should form an effective rotation for coach Andy Ackerman, whose team is a dark horse to win the Pacific Conference title.
Sisters hasn't had much success on the diamond of late, but a move to 3A and change in league gives the Outlaws hope to improve on their 9-17 record of a year ago. "We are just hoping to go out and compete every day and play our best baseball, said second-year coach Matt Hilgers.
McDaniel has won six state titles in its proud history, but the PIL school has not made an impact at the state level since the early 2000s. The Mountain Lions won just five times last year, but competed well for much of the season despite being so young. The team will be young again in 2023, with no seniors and only three juniors. But six returning starters, including sophomores Owen Sonne and Sam Robison; and three freshmen who will start, Lowan Ouska, Calvun Cowing and Brady Davis, will set the tone for the future of McDaniel baseball.
Pendleton / Griswold has never won a state title in baseball, but has contended often, the last time in 2019, when the Bucks lost in the championship game. After 16 wins last year, a move down in level has the team thinking state contender, thanks to returning All-Conference players Payton Lambert (SS), Lucas Bensching (P) and Andrew Demianew (UT). Senior Jack Lieuallen returns after losing last year to a knee injury. The senior has "electric stuff on the hill" according to coach TJ Haguewood.
Clackamas went 26-5 in JJ Winkle's first year as head coach and reached the 6A semifinals before losing to Canby in a back-and-forth thriller. Seven fulltime starters have graduated, which means a return trip to the semis is a longshot. But the Cavaliers have a strong baseball tradition and should compete behind seniors Garrett Strube and Jake Brady and pitch well, anchored by senior Matthew Tacheny.
Ontario won a state title in 2012, but the Tigers have had a rougher go of things the past several seasons and won just one time in 2022. Ontario will be better in 2023; the team has too many athletes not to be. But the point of emphasis is growth. Players to watch include sophomores James Dyas, Seth Iwasa, Brodee Jones, Conner Webster and Ethan Calderon. "We are hopeful that this young group is going to be the one that begins this process of positive change," said coach Tanner Alexander.
Santiam Christian made the 3A title game last season and has reached the state tournament every year since the late 1990s. This year should be no different for the Eagles under veteran coach Matt Nosack. While run production should take a hit due to graduation, pitching and catching should be solid and give SC the opportunity to compete. Look for hurlers like Kadon Haugen and Camden Carley to lead the way on the mound, with Haugen (C), Joe Yenchik and Josh Riddle catalyzing the offense.
McMinnville set a school wins record last year with 26 on its way to winning the Pacific Conference title. The Grizzlies chances at a deep state playoff advance were derailed by a late injury to their best player, Ky Hoskinson. He and three other fulltime starters have graduated, but Todd Peterson's squad has plenty of talent, including two-way stars Parker Guinn and Austin Weeks. Those two, plus junior RHP Mitch Taylor, should give McMinnville a strong arm in every game. "We have a hungry group of seniors who are looking to leave their mark on the program," Peterson said.
Knappa has been to the 2A/1A state quarterfinals or better for 13 consecutive seasons. Repeating that feat might be a challenge for the Loggers this year, as their entire middle infield and team leaders all departed. Two experienced pitchers at the top of the rotation – Jaxon Dietrich and Nick Rusinovich -- will help. The offense should be paced by sophomore INF Jude Miller and junior OF Kutter Ball. "We hope to fight for a playoff spot in a competitive NWL and improve as the season progresses," noted head coach Jeff Miller.
Gresham won 15 games last year in a season where the Gophers slightly exceeded expectations. Gresham graduated four who represented a lot of its offense and its top arm. Six are back, led by All-League SS Owen Cummins, who also pitches; Casey Julkowski, a capable pitcher and first baseman. Junior catcher Tucker Snow also is one to watch heading into this third year starting. Three freshmen and a sophomore will be asked to do a lot for the Gophers this year. How quickly they grow may determine how many games Gresham, which has started 0-4, puts into the win column this season.
2A Oakland was 10-10 a year ago. The Oakers will be inexperienced in 2023, but will be anchored by senior Cole Collins, the league Pitcher of the Year as well as a top catcher and infielder. Two other All-League players, junior Ty Percell and sophomore Alex Vanassche, give Oakland a good core to build around. Collins and Percell will probably be the top pitching duo in the league and the Oakers will be a solid defensive bunch.
North Eugene had a resurgence of sorts last year under coach Kenny Niles and his staff. The Hilanders won 11 games to exceed expectations, and start back on the path to the glory days, which included a state title in 2010. The team graduated two, but both were impact players on offense and as pitcher. Niles said his team will compete, led by junior Cody Gallego, but may be a year away still from contending for a league title. Look for exciting things from freshman Brock Johnson, ranked the No. 1 shortstop in his class by baseball Northwest.
Cascade Christian was ranked No. 1 for most of last year in 3A and opened No. 1 this year. It's an extraordinary time to be a Challenger fan, as the football and basketball teams both won state titles in dominant fashion. Kevin Shafer's team graduated only two, but those players represented the left side of the Challenger infield, two of their top four hitters and a top pitcher. Even so, Cascade Christian will be a favorite. The team will throw strikes, led by senior Owen Thompson, one of the state's premier arms. And the offense should score, with the return of productive hitters Triston Wallace, Cole Shields, Ashton Moody and Liam Benade. Wallace will be an anchor behind the plate. The Challengers have offense and an ace on the mound. If the defense is there as well, Cascade Christian could be hoisting a third blue trophy this season.
Franklin has had strong teams in the past, but the last decade and a half have been tough. The Lightning won only eight games last year and graduated five, but there is optimism that this could be a playoff year if pitching performs as expected and the offense can generate the occasional crooked frame. Players to watch include All-League seniors Owen Combs and Dylan Stone.
Silverton graduated 10 from a 16-10 team and will be mostly sophomores this year, but talented sophomores who care about the sport and have good baseball intelligence. Senior Carson Waples, junior Cade Wynn and sophomore Sawyer Enderle will lead the way for the Foxes, who are pushing to get beyond just making the state playoffs to being a contender for their first state title.
Redmond has opened 2-1, after a 15-13 season in 2022 in 5A, on the backs of five returning starters. Hitting will be good and the team will compete hard in the new IMC, which includes four schools coming down a classification from 6A.
Marshfield was a state contender last year in 4A and made the playoffs after winning a play-in game. The Pirates graduated the league MVP among four seniors, but should match or exceed last year's 17 wins thanks to four strong returning pitchers and a batting order that is potent 1-7. Players to watch include All-Conference returnees Drake Rogers and Luke Party, currently injured 2B Joe Herbert and senior Landon Croff, an INF/RHP who lost all of last year after an ACL injury suffered during football season.
Until next time…