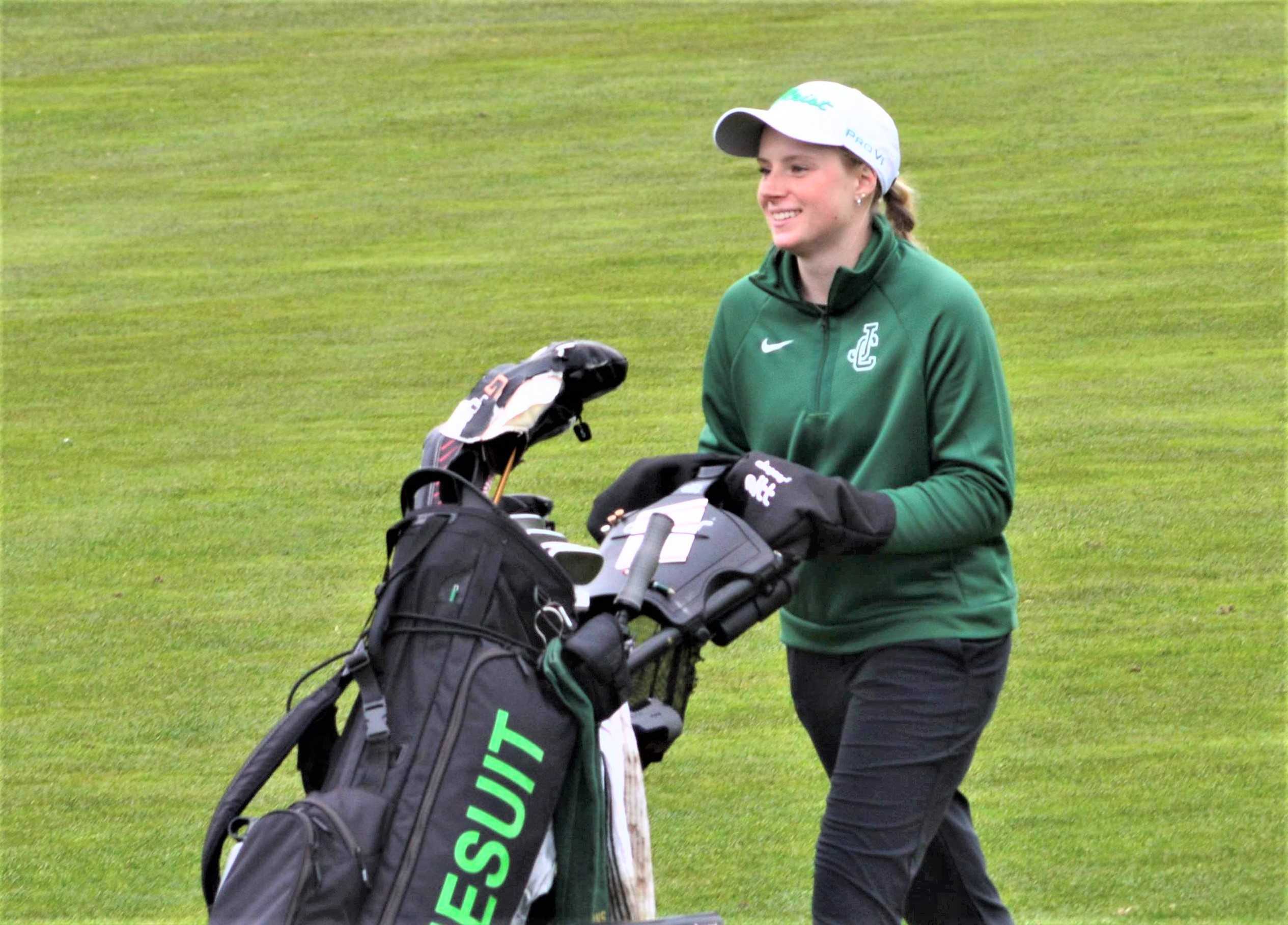 Three-time reigning 6A girls golf champion Jesuit used Wednesday's 6A/5A State Preview tournament as a test run at Quail Valley Golf Course in Banks.
All things considered, the Crusaders were encouraged by finishing as runners-up to Camas (Wash.) in the 12-team event on the state tournament course.
"We took it as a get-to-know-the-course experience," Jesuit coach Michele Gray said. "We didn't do a lot of coaching or prepping, we just said, 'Go out and get a feel for it.'
"Some of the girls have only played it once. We intend to go out there a couple more times before state, give them a little more time to figure things out."
Camas, Washington's big-school runner-up last year, shot 320 to finish first, led by junior Jacinda Lee's tournament-best 73. Jesuit was well back at 343, followed by Lake Oswego (348), Summit (351) and Sunset (353).
Grants Pass senior Brooke Alderson shot a 75 to finish second. Jesuit sophomore Kate Lee and Camas sophomore Jasmine Chen tied for third at 76 and Summit senior Zoe Garcia was fifth at 79.
Lee led a Jesuit lineup that also included seniors Anna Poulin (80), Grace Odegard (92) and Quinn Burke (95). Crusaders sophomore Ceceli Hayes, playing as an individual, fired a 92.
On last year's title team, Poulin and Lee were the No. 1 and No. 3 players, respectively. Poulin tied for fifth place at state and Lee finished 18th. In the Metro League this season, Lee is ranked second and Poulin is third, behind Sunset sophomore Erika Kobayashi.
"They're both strong players and leaders," Gray said of Poulin and Lee. "They're always typically one or two over par, or even par."
Poulin has committed to play in college at Cal Lutheran, where she will join Beth Milne, a senior on last year's team.
Of the six Metro tournaments, Jesuit has won four and Sunset has taken two. The Crusaders lead the league standings with 80 points, ahead of the Apollos (76) and Westview (58).
Sunset is led by Kobayashi and junior Hannah Kim, who shot 82 and 80, respectively, Wednesday at Quail Valley.
"They're giving us a run for our money in league," Gray said of the Apollos, who placed ninth at state last year, led by a third-place finish from Kobayashi. "It's probably within 10 strokes every time. They're very deep, like we are. There's not a big drop-off. We anticipate that they'll be contending at state."
Gray said that her senior-dominated lineup is motivated to go out on a high note.
"This is kind of their last hurrah, so I think that puts a little pressure on them," Gray said. "We know we've still got some growing to do before state. But they are working very hard. We've got some grinders, for sure."
4A/3A/2A/1A girls
Catlin Gabel freshman Vishaka Priyan finished with a 2-under 69 to win the 4A/3A/2A/1A girls State Preview tournament on Tuesday at Trysting Tree Golf Club in Corvallis.
Priyan had three birdies and one bogey to finish ahead of Camas' Jacinda Lee (70) and Jasmine Chen (71). Cascade junior Maddie Dustin was fourth at 77 and Catlin Gabel junior Ava Austria and Camas' Susannah Gillespie tied for fifth at 78.
Dustin is a transfer from 6A South Salem, where she finished 14th in the state tournament last year.
Camas dominated the team scoring, shooting 304 to run away from Dufur (372), Banks (393), Marshfield (398), North Bend (429) and Scappoose (429).
Dufur, which finished fifth at state last year, was the top-scoring Oregon team with the lineup of senior Tora Timinsky (79), freshman Tygh Timinsky (87) and seniors Allie Masterson (102) and Amelie Dearmond (104).
4A boys
Behind individual champion Eli Huntington, Camas won the 4A boys State Preview tournament at Trysting Tree on Tuesday.
Huntington shot a 1-under 70 to lead the Papermakers, who finished at 319 to beat Valley Catholic (325), Marist Catholic (326), Cascade (331) and The Dalles (334).
Cascade junior Kyler Hemelstrand was the runner-up at 72. Molalla sophomore Massimo Cereghino (75), Marist Catholic sophomore Nick Hudson (78) and Valley Catholic senior Aiden Liu (78) were next.
Valley Catholic, the co-runner-up at state last season, got its score behind Liu, senior DJ Romano (79), junior Lucas Howell (82) and sophomore Garrett Grant (86).
Marist Catholic, fourth at state last year, was one stroke behind with Hudson, senior AJ Sargent (80), sophomore Christian Guerrero (82) and senior Henry Pape (86).