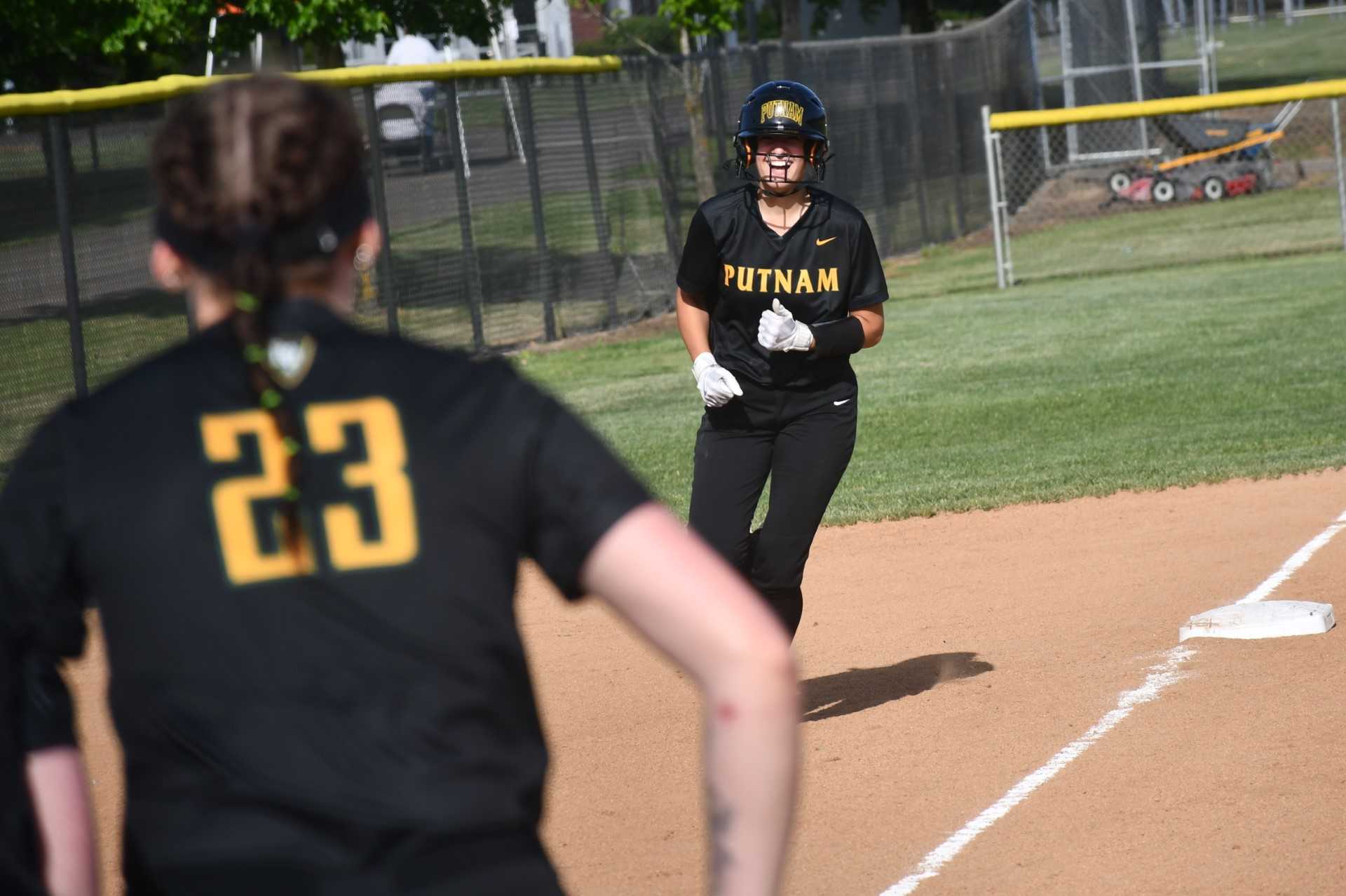 SILVERTON – No. 12 seed Putnam went on the road to upset No. 5 Silverton 2-1 in the first round of the 5A softball playoffs Tuesday.
Silverton took a 1-0 lead in the bottom of the second inning on a sacrifice fly by sophomore Hannah Houts, but Putnam got the big blow of the game in the top of the third inning, a two-run home run by senior Kaitlyn Berry.
Senior pitcher Jessica Cracknell made the 2-1 lead hold up the rest of the way for Putnam (15-11). which picked up its first playoff win since reaching the state final in 2018.
Putnam's defense stood strong behind Cracknell, who pitched a three-hitter with eight strikeouts.
"It was really big for us," Cracknell said. "I know sometimes we can snowball. Staying strong through it all was really big. It was good to have defense behind me as a pitcher."
Senior Alisha Sharp had two hits off Silverton sophomore McKenzee Petersen, who fanned nine. The Foxes' hits came from Petersen and juniors Brylie Parks and Braezen Henderson.
Putnam, the third-place team in the Northwest Oregon Conference, advances to a Friday quarterfinal at NWOC champion Wilsonville (21-7). Putnam handed Wilsonville its only two conference losses, 4-3 and 3-1.
"I hope we can keep the streak going and have the same energy as here, and have some fun as we always do in games," Cracknell said.
-- Jeremy McDonald
Tuesday playoff highlights:
5A
Bend scored 15 runs in the fourth inning of its 18-0, five-inning win over Thurston. Addisen Fisher went 4 for 4 with a double, two home runs and four RBIs and pitched a no-hitter, striking out 10. Gracie Goewey went 3 for 4 with a double, home run and three RBIs. …Visiting Canby routed Ridgeview 11-1 in six innings. Ava Carroll, the NWOC player of the year, went 3 for 5 with an RBI and Brooke Herren hit a three-run homer in a five-inning fifth inning as the Cougars broke open the game. Natalie Just pitched a five-hitter with six strikeouts and one walk. … Madison Sheadel homered, Taylor Kenworthy tripled and Alyssa Kilbane went 3 for 3 in Crater's 7-3 win over Centennial. The Comets scored four runs in the first inning and finished with 11 hits. Alexis Perez pitched a four-hitter with seven strikeouts. ...
Calli Weaving had three hits and five RBIs to help lead Wilsonville past West Albany 11-1 in five innings. Weaving, Anna Jardin and Mary Matthews had RBIs in a six-run first inning. Jardin gave up four hits and struck out three in five innings in the circle. ... Layne Portash pitched a two-hitter with 10 strikeouts and drove in the go-ahead run in the top of the eighth inning in La Salle Prep's 2-1 win at Corvallis. ... Christine Berg had seven steals as Lebanon ousted Eagle Point 6-1. Alivia Holden held the Eagles to one hit and one unearned run in 5 2/3 innings and had an RBI single. ... Top-seeded Dallas/Perrydale shut down Redmond 2-0.
4A
Stayton erupted for eight runs in the fourth inning to closed out Ontario 15-5 in five innings. Isabelle Trevino went 2 for 4 with three RBIs, Brooke Morley had a double, two RBIs and two stolen bases and Madden Pfahler went 2 for 3 for the Eagles. Jessica Rule got the win in the circle, allowing one earned run, giving up seven hits, striking out eight and walking one. Ontario's Chelsey McLean went 3 for 3. …Crook County scored five runs in the top of the first inning and went on to defeat St. Helens 10-4. Jaycee Villastrigo went 4 for 4 and Chloe McKenzie went 2 for 4 with three RBIs. ... Pendleton dominated Estacada 14-2 in five innings, opening a 13-2 lead after two innings. Kendall Murphy homered and Melanie Boatman, Sam Wilks, Avery Krigbaum and Josie Jenness each drove in two runs for the Buckaroos, who had six hits and took advantage of five errors. ...
Top-seeded Henley had 14 hits in cruising past Sweet Home 12-1 in five innings. Anna Harper had a home run and four RBIs and Annie Campos hit a two-run, walk-off homer to cap a six-run fifth inning. Campos went the distance in the circle, allowing only a fifth-inning hit. ... Astoria won 14-4 at Marshfield in six innings as Shelby Bruney went 3 for 5 with five RBIs, including a three-run double in the top of the first inning, and Kya Lindell went 4 for 5. Maddie Wilkin fanned eight and allowed five hits in six innings for Astoria. ... Saige Casey, Kaitlyn Ventris and Aliza Brainerd hit home runs for Scappoose in a 9-8 win over Cascade. ...The Dalles rolled over Seaside 16-0 in four innings. Kennedy Abbas struck out nine and did not allow a hit. Despina Seufalemua hit a home run for the Riverhawks, extending their state record to 64 for the season. ... La Grande eliminated Marist Catholic 12-2 in six innings.