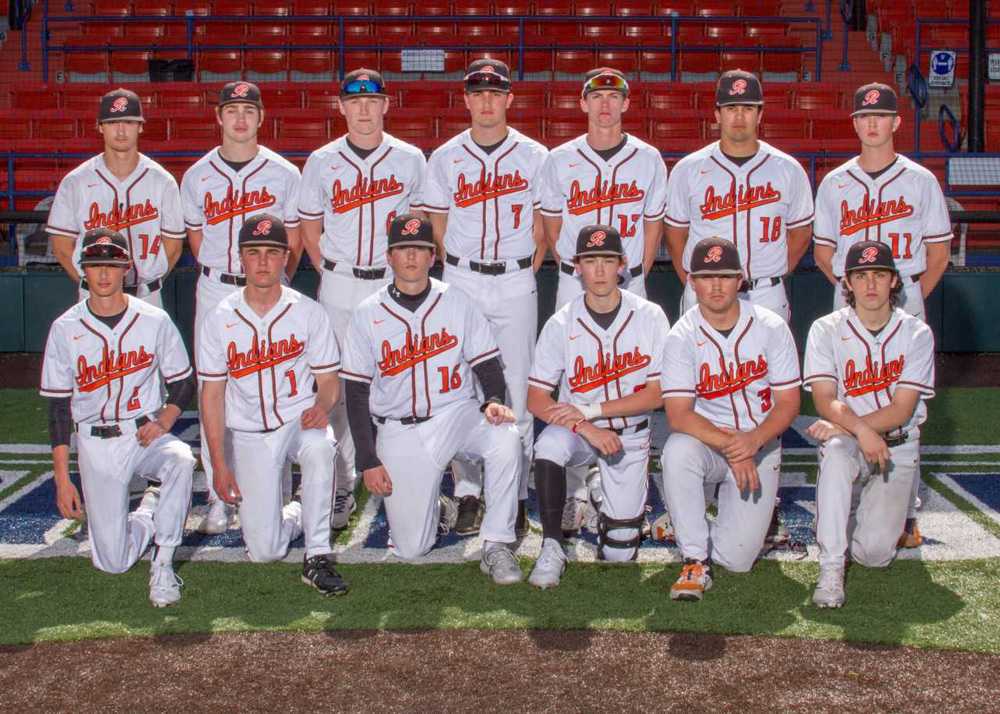 6A
No. 1 West Linn 2, No. 17 Sheldon 0 – Senior lefthander Drew Gabel tossed a shutout at the Irish, allowing two hits while striking out nine in a complete game effort for the defending champions. Baron Naone and Jake Holmes had doubles in the sixth inning to add an insurance run after Ryan VandenBrink drove in the game's first run.
No. 25 McNary 6, No. 9 South Salem 5 – McNary trailed 5-1 after two innings, but scored five unanswered to win on the road, including the go-ahead run in the top of the seventh.The Celtics scored three in the fourth to knot the game at 5-5. A lead off walk by Trevor Ratliff, followed by singles from Carter Hawley and Jesiah Bartlett loaded the bases. Noah Fischer and Anthony Cepeda had RBI ground balls to score two, then a two-out single by Jake Allen tied the game. McNary scored the go-ahead run in the top of the seventh, thanks to a leadoff walk from Jordan Araiza, a Ben Allen sacrifice and a two-base throwing error on the South Salem catcher. Araiza pitched five scoreless innings for the win.
No. 5 Mountainside 2, No. 12 South Medford 1 – Junior Lucas Plenert tossed a complete game for the Mavericks in the home win.
No. 4 Lake Oswego 2, No. 20 Tigard 1 – Tigard led 1-0 going into the bottom of the sixth, when a Declan Francis single plated the tying run. A passed ball subsequently scored Grant Maxwell with what proved to be the winning run. Francis was the winning pitcher for LO. He went the distance and benefited from a strike 'em out throw 'em out double play to end the game.
No. 14 Roseburg 2, No. 30 Barlow 0 – Evan Corbin went the distance on the mound, fanning 10, and also drove in the game's only two runs in the home win for Roseburg.
No. 6 North Medford 4, No. 22 Tualatin 3 (8 innings) – Dominic Daffron went eight innings for North Medford, which won on a walk off sacrifice fly from Easton Curtis, which scored Davis Carr. Carr, Frankie Rutigliano and Trey Newmann each went 2-for-3 and combined for all four runs scored and three RBIs for the Black Tornado.
No. 7 Sprague 6, No. 10 Sherwood 5 – Brandon Stinnett's second home run of the game, in the bottom of the seventh, propelled Sprague to the home win. The senior infielder finished with four runs batted in.
No. 2 Jesuit 14, No. 15 Ida B. Wells 3 (five innings) – Ryan Cooney and Noble Meyer teamed to score six runs and Levi Jones hit a homer for the Crusaders, who won in five innings at home. Ida B. Wells rattled Jesuit starter Ty Alleman, scoring three runs in the top of the first on three hits, including a Quinn Dufort three-run homer, but it was all Jesuit after that.
3A
No. 1 Cascade Christian 13, No. 17 Siuslaw 0 (5 innings) – Owen Thompson and Cole Stofflet combined on a no-hitter, Thompson hit a long home run and Liam Benade and CJ Bonner drove in two runs apiece to lead the Challengers.
No. 8 Sisters 4, No. 9 Neah-Kah-Nie 3 – In a closely-matched game, Neah-Kah-Nie pushed over the tying run in the top of the seventh, but Sisters walked it off on a Patrick Silva double with two outs and a passed ball that scored Silva with the winning run.
No. 12 Pleasant Hill 5, No. 5 Yamhill-Carlton 2
No. 4 Brookings-Harbor 3, No. 13 Douglas 0 -- Austin Dietrich struck out nine without walking a batter over seven innings in the Bruins' win. Seth Valliere sparked the offense, going 4-for-4 with two runs scored. Douglas swung the bat well, hitting multiple balls deep to the outfield, and consistently applied pressure with runners on, but could not get any across home plate.
No. 3 South Umpqua 7, No. 14 Valley Catholic 2 -- Jace Johnson pitched into the seventh inning, striking out 12, and both he and Tanner Beckham homered as the Lancers started defense of their 22022 state title with a convincing win at home.
No. 6 Warrenton 7, No. 11 Santiam Christian 0 -- Dawson Little, Talon McGrorty and Dylon Atwood combined to throw a one hitter, with seven strike outs, at the 2022 3A runner up. Little powered the offense with a two-run dinger in the sixth. McGrorty, Odin Wilson and Kaison Smith all had two hits for the Warriors.
No. 10 La Pine 8, No. 7 Joseph / Enterprise / Wallowa 4 – Lane Rouse had a three-run homer for Joseph, but La Pine was scored in six of the seven innings and came away with the road win. La Pine scored in 6 out of 7 innings. Deakon Looney and Tyson Flack had two hits apiece, with Flack's leadoff double in the first setting the tone for the Hawks. Flack and Looney shared mound duties for La Pine, with Flack whiffing nine in 4.2 innings. "Beautiful setting for a playoff game, great atmosphere and our kids did a good job of making the long trip and showing up to play," said coach Tommy Niebergall.
No. 2 Banks 10, No. 15 Taft 0 (5 innings) -- Justin Walters hit a three-run home run in the bottom of the first to set the tone for the Braves, who won by the mercy rule. Logan Kind pitched into the fourth inning to get the win. He allowed just one hit and struck out six. Kind also finished 3-for-4 at the plate with five RBIs.
2A/1A
No. 1 Kennedy 16, No. 16 Country Christian / North Clackamas Christian 3 -- Charlie Beyer (two home runs) and Ethan Kleinschmit each drove in four runs and Andrew Cuff pitched three scoreless innings for Kennedy for the win. Matt Hopkins, Brett Boen and Owen Bruner all scored twice for the Trojans. Gage Cavanaugh highlighted Country Christian's effort with a two-run single.
No. 8 Heppner / Ione 4, No. 9 North Douglas / Elkton 0 – Tucker Ashbeck tossed a two-hitter in Heppner's win. Caden George's run-scoring double in the third would give Ashbeck all the run support he needed.
No. 5 Knappa 5, No. 21 Lost River 4 – Two two-out errors and a double allowed Lost River to tie the game in the top of the seventh. Knappa won in the bottom of the frame on a bases-loaded walk. Treven Moreland pitched brilliantly for Knappa, going 6.2 innings while allowing just one hit and two earned runs while fanning nine. Jaxon Dietrich earned the win in relief.
No. 4 St. Paul 16, No. 13 Gold Beach 0 (5 innings) – St. Paul won only its second playoff game of all-time, and first at home, by outhitting Gold Beach 14-1 in a game truncated by the mercy rule. The Buckaroos scored 11 runs in the third and were sparked by the bottom of the order, which combined to go 9-for-11 with 7 RBIs.
No. 3 Blanchet Catholic 3, No. 14 Grant Union / Pacific City 0 – Carson McNally threw a complete-game one-hitter and struck out 12 in Blanchet Catholic's win. Sheldon Lenz threw all six innings for the Prospectors in the loss.
No. 6 Reedsport 7, No. 11 Culver 6 – Reedsport needed a rally to drop the Bulldogs at home.
No. 7 Bandon / Pacific 2, No. 10 Regis 0 – Untimely errors by Regis allowed Bandon / Pacific to score two unearned runs in the home win. Colton Siewell went the distance for Bandon, allowing just three hits.
No. 2 Umpqua Valley Christian 11, No. 18 Bonanza 0 (5 innings) -- Daniel Withers and Tygue Barron combined for a 4-hit shutout and UVC scored six in the second inning to get off to a big lead in the home win. Kevin Shaver, Tyler Haynes and Levi Heard each went 2-for-2 for the victors.
...
We will add more recaps as we receive them.