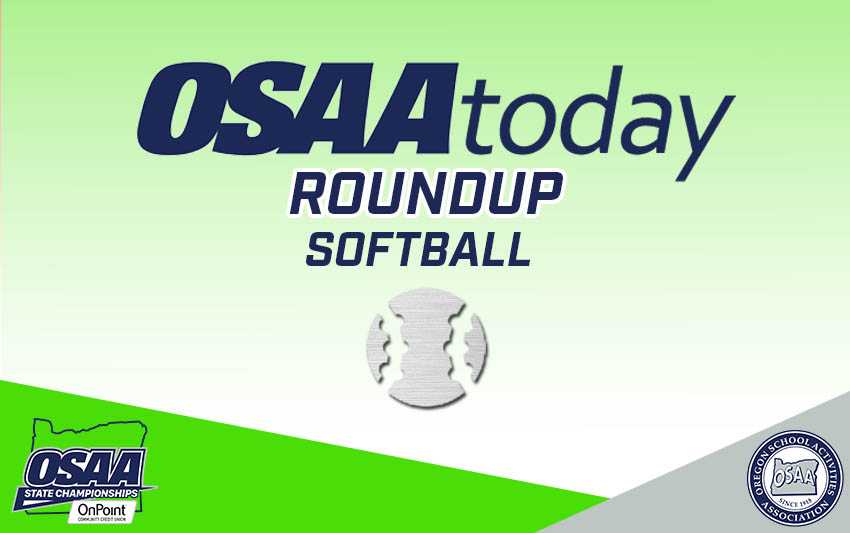 Highlights from Wednesday's softball playoff games. Winners advance to Friday's quarterfinals.
6A
After giving up three runs in the top of the seventh inning to fall behind 5-2, South Medford rallied for four runs with two outs in the bottom half of the inning to beat Lake Oswego 6-5. Maleyah Thoele hit an RBI double and Kaycee Hudson followed with an RBI single to make it 5-4. Hudson stole second base and scored on a June Woster single to tie it 5-5. Woster stole second base, advanced to third on an errant throw and scored the winning run on a single by Sydney Boren. Hudson went 3 for 4 and pitched six innings, allowing three earned runs. Lake Oswego had six hits, getting two from Lia Komitor. … Payton Burnham pitched a one-hitter with 11 strikeouts as Sheldon beat Grants Pass 10-0 in six innings. Brooke Peterson went 3 for 3, including a home run that ignited a six-run rally in the fifth inning. Burnham, Jazmin Gallegos and Kara Gebb each drove in two runs. …
North Medford stopped Mountainside 3-0, getting a three-run double from Samara Miles in the fifth inning and a shutout from pitcher Gabbi Urban. The Black Tornado sealed the win with diving catches by Rhyan Hamlin and Natalie Tiascala in the seventh inning. …Sherwood scored three runs in the bottom of the sixth inning to break a tie and held on to beat McNary 5-3. Mckenna Parmalee and Destiny Cornwell each went 3 for 3 for Sherwood. Both teams had seven hits. ... Rowan Thompson tossed a two-hitter and struck out 12 in South Salem's 10-0, six-inning victory against Westview. Mackenzie Scott had two hits and two RBIs and scored twice. Thompson drove in two runs and Desi Hatfield had a double and an RBI. …
McMinnville held off Jesuit 7-5, getting another big game from Abby Carsley, who went 3 for 4 with two doubles, her 20th home run of the season and two RBIs. Ava Fleischman went 2 for 3 with a home run and two RBIs for the Grizzlies, who outhit Jesuit 12-6. … Elli Higginbotham hit a two-run single in the bottom of the sixth inning to give Southridge a 4-3 win over Tigard. AJ Peterson pitched a four-hitter with nine strikeouts and homered for the Skyhawks, who got four hits off Tigard's Macy Witt. ... Host Oregon City scored six runs with two outs in the fifth inning to rally from a 5-0 deficit and beat Lakeridge 6-5 on Thursday. Gina Allen's two-run double pulled the Pioneers within 5-4, and Allyson Nordling followed with a two-run homer for a 6-5 lead. Lily Riley got the win in the circle, fanning 13. Lauren Beach went 3 for 4 with a triple and an RBI for Lakeridge.
3A
Gaby Bauer and Emilie Eddy each drove in two runs and Madi Groshong had an RBI for Valley Catholic in its 6-4 win over Dayton. Valiants pitcher Mary Crosby got the win, allowing two earned runs and striking out five. … Pleasant Hill rallied from a two-run deficit to beat Glide 6-4. The Billies fell behind 3-1, tied it 4-4 and scored twice in the sixth to take the lead. Raigan Obie went 4 for 4 with a double and Karley Bloxham and Kendall Carey had triples for Pleasant Hill. Peyton Geiger homered for Glide. … Scio routed Douglas 20-0 in three innings. Myleigh Cooper did not allow a hit, fanning seven of the 10 batters she faced, and went 2 for 3 with two home runs and seven RBIs. Meagan Trissel and Khloe Free had two hits apiece and Taryn Ramsay hit a triple. … Lakeview knocked out Corbett 3-1 behind Tyler McNeley, who pitched a one-hitter with 15 strikeouts. The Honkers had three hits. …
Reigning 3A champion Burns dispatched Banks 6-0 as Ayla Davis pitched a three-hitter with 15 strikeouts and no walks. Merissa Medley went 3 for 4 with a triple and an RBI and Lacie Tiller, Mackenzie King, Kyra Robey and Davis also drove in runs for the Hilanders, who had 12 hits. … South Umpqua defeated Vale 16-1 in four innings, scoring eight runs in the final inning. Haley Twyman had a home run, double and two RBIs, Ava White homered and drove in four runs and Danika Richardson went 3 for 4 with two RBIs for the Lancers, who had 12 hits. Violet Richardson held Vale to one hit and fanned nine. … Lexiss Antle had a double and three RBIs and Maddy Tuning went 2 for 3 with an RBI for Yamhill-Carlton, which dropped Elmira/Mapleton 15-4 in five innings. Victoria Juge hit a solo homer for Elmira/Mapleton.
2A/1A
Halle Parsons went 3 for 3 with two home runs and six RBIs, Reece Jacobs went 3 for 4 and Sivanna Hodge went 2 for 3 with three RBIs in Grant Union's 15-0, four-inning win over Santiam. Drew Williams did not allow a hit, striking out four. … Ava Sams hit a walk-off triple in the eighth inning, scoring Luna Dennett, to give Weston-McEwen/Griswold an 8-7 win over Monroe. … Jenna Hopkins went 2 for 4 with a home run and five RBIs and struck out 11 to lead Kennedy past Culver 11-1 in six innings. Isabel Berning went 4 for 5 and scored twice and Ariana Meraz had two doubles. …
Kaili Kirkhart had a double, triple and three RBIs and Brooke Davis had two hits and two RBIs to help lift Lowell over Glendale 8-5. Maddy Thurman also had two hits for Lowell, which rapped 10 hits. … Clatskanie defeated Pilot Rock 4-1 as Kylie Thomas tossed a three-hitter with 11 strikeouts. The Tigers scored three runs in the third inning, getting RBI singles from Karielle Carlson and Kayden Byrum, and made it 4-0 in the fifth inning on an RBI double by Joey Sizemore. ... North Douglas improved to 25-0 with a 12-2, six-inning win over Knappa. Brooklyn Williams had two hits and three RBIs, Tehya Noffsinger had a double and triple, Katie Miller went 3 for 3 and Graycie Rodgers drove in two runs for the Warriors. Knappa got first-inning solo home runs from Emily Larsen and Lily Simpson.