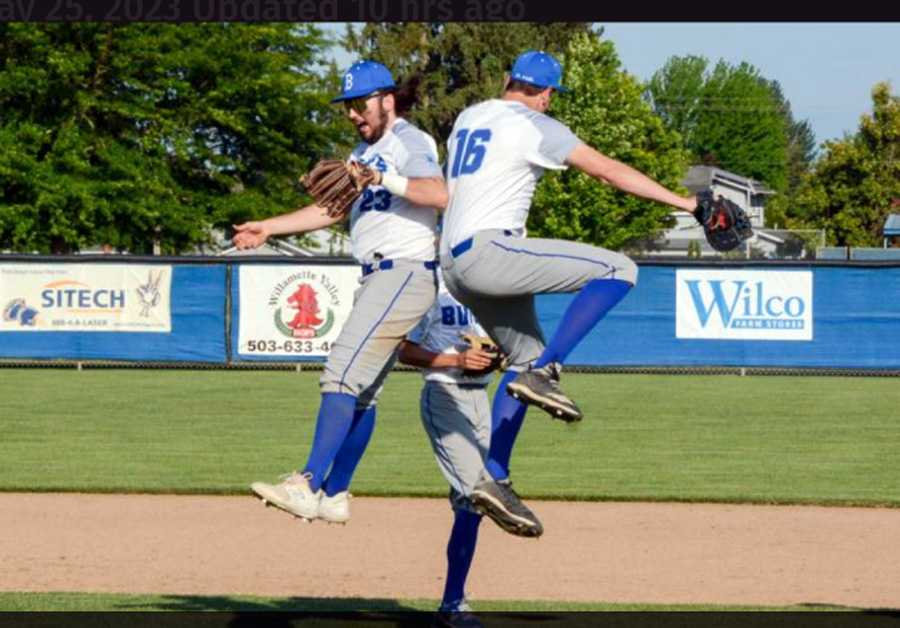 6A
No. 1 West Linn 4, No. 25 McNary 1 – Blake Crawford went six strong innings and Gabe Howard closed for the defending champs, who scored one in the first, two in the fourth and one in the sixth. Howard, Danny Wideman and Mitch Rowe had doubles for the Lions. Rowe's scored two runs.
No. 4 Lake Oswego 3, No. 5 Mountainside 2 – This game was tied 1-1 after five, when Mountainside got a run across in the top of the sixth on an Ian Salbeda single. LO answered with a pair in the bottom of the frame and Jonah Barkoff set the Mavericks down 1-2-3 in the seventh to clinch victory.
No. 6 North Medford 3, No. 14 Roseburg 1 -- -- Trey Newmann threw a complete game, giving up one run on three hits while striking out 10. Frankie Rutigliano led the Black Tornado, going 2-3 with a double and a run scored. North Medford scored all of its runs in the bottom of the fourth on consecutive RBI singles by Newmann, Kellen Willer and Davis Carr.
No. 2 Jesuit 11, No. 7 Sprague 1 (6 innings) – Ryan Cooney had a home run and three RBIs, Ty Alleman went 4-for-4 with five RBIs and Noble Meyer went all six for the Crusaders allowing just one hit and one walk while fanning 10 in the home win. Brandon Stinnett's fifth homer of the year in the first accounted for Sprague's only run.
5A
No. 9 Ashland 11, No. 16 La Salle Prep 1 (6 innings)-- Gabe Grabec went all six innings in a dominant performance, where he struck out 14 while yielding just one hit. Keller Bloodworth finished the game 3-for-5 with three RBIs. His bases-clearing double with 2 outs in the fourth broke the game open. The Grizzlies finished with 14 hits. Five players recording multiple base knocks.
No. 4 West Albany 8, No. 5 Ridgeview 5 – West Albany scored five runs in the bottom of the third, on a solo homer from Camden Johnson and a grand slam from Aiden Metzker, and sophomore Drew Rice made it hold up, as he fanned eight in going the distance.
No. 3 Wilsonville 4, No. 6 Mountain View 1 – Wilsonville scored three runs in the bottom of the second, capped by Berkley Reents' RBI single, and Wade Hagey made it stand up, throwing five innings of one-hit ball in the Wildcats' home win. Mark Wiepert also had a good day for Wilsonville, going 2-2 with a stolen base. "All around it was a low-scoring game, but we were able to punch a few across off of costly mistakes by Mountain View, while we played a very clean defensive game," noted Wilsonville coach Bryn Card.
No. 2 Thurston 4, No. 7 Lebanon 0 – Sophomore Connor Molony tossed a complete-game four-hitter, fanning 10, for the victorious Colts. Adam Elliott paced the offense with two hits, a run scored and one drive in. Matt Woodward had two hits, including a double, in the loss for Lebanon, last year's 5A runner up.
4A
No. 1 Scappoose 8, No. 9 Crook County 1 - A big fifth inning, capped by a three-run dong from Max Nowlin, propelled top-seeded Scappoose to the home win. Joe Fagan started the scoring for Scappoose with a first inning solo shot and Chase Olsen had two hits and three RBIs for the top seeds, which got 5.1 innings of effective pitching from starter Grayson Grover.
No. 5 La Grande 8, No. 4 North Marion / Gervais 6 – Noah McIlmoil's two-run double in the top of the sixth broke a 6-6 tie and Sam Tsiatsos closed for La Grande, propelling the defending champions to the road win. North Marion came out swinging and scored four runs in the first and another run in the second. La Grande turned the game around with four in the fourth, highlighted by Jace Schow's bases-clearing knock. "Good resilience by the boys," said coach Parker McKinley. "Kept battling and responded well to a tough start."
No. 6 Pendleton 13, No. 3 Marist Catholic 4 – Pendleton broke open a close game with a four-run fifth inning and won behind an 18-hit attack. Payton Lambert had three hits and four RBIs, Andrew Demianew added four hits and Clayson Cooley was 3-for-4for the victors. Sophomore hurler Evan Lehnert came into the game with the Bucks trailing 3-1 in the third and shut down Marist Catholic, allowing only a solo shot to Nick Biagi in the seventh. Biagi finished with two hits.
No. 2 Gladstone 4, No. 7 The Dalles 0 – Casey Allsop pitched 6.2 innings and held a potent Riverhawks offense to just three hits. Allsop helped his own cause with two RBIs, while he, Brycen Bryan, Ben Hoffman, Asher Gonzolez each had two hits. Brayde Owen chipped in with three hits and two steals.
3A
No. 1 Cascade Christian 9, No. 8 Sisters 2 – Cascade Christian scored runs in the first five innings and cruised to the convincing win at home. Owen Thompson pitched into the fifth and got the win for the Challengers. Ashton Moody and Cole Shields combined for four hits and five RBIs.
No. 4 Brookings-Harbor 8, No. 12 Pleasant Hill 2 – Pleasant Hill scored in the top of the first, but it was all BH after that. Kyle Burger went the distance for the Bruins, striking out eight while walking just one. Ethan Orman led the BH offense with two hits and two runs driven in. "Pleasant Hill barreled a lot of balls and is a hard-working team," said coach Keith Wallin. "Nothing but respect."
No. 3 South Umpqua 5, No. 6 Warrenton 4 (8 innings) – South Umpqua trailed, 4-1, heading to the bottom of the last, pushed across three runs, tying the game on a Kaden Graf two-RBI single, then walked it off in the bottom of the eighth. Tanner Beckham, who threw a scoreless top of the eighth, drove home Jace Johnson, who led off with a double, with the game's winning run. Elijah Earls went 4-for-4 for SU. Dylan Atwood had two triples and two runs scored and Dawson Little homered and drove in three for Warrenton.
No. 2 Banks 8, No. 10 La Pine 4 – Wyatt Hesselman and Logan Kind teamed on a 4-hitter, Lane Gilbert had a two-run triple and Hesselman plated two with a single in the Braves' win.
2A/1A
No. 1 Kennedy 12, No. 8 Heppner / Ione 0 -- Ethan Kleinschmit threw a five-inning perfect game and drove in four in Kennedy's mercy rule win over Heppner / Ione. Andrew Cuff and Brian Beyer each had two hits and two RBIs and Owen Bruner scored two runs for the Trojans.
No. 4 St. Paul 1, No. 5 Knappa 0 – Nolan McKinley's single drove in the game's only run – Tyler Crawford scored following a double -- and Warren Rose pitched into the seventh, striking out 12, for St. Paul, which advanced to the semifinals for the first time in program history. Corbin Roe and Jaxon Dietrich combined to give up just three hits and one run in the loss.
No. 3 Blanchet Catholic 21, No. 6 Reedsport 1 – Blanchet Catholic scored 10 in the bottom of the first on their way to the dominating home win. Spencer Kowalski drove in six runs to lead the onslaught. He had a grand slam in the first. Mith Wort went 3-for-3 Drew Bartels won the game on the hill. He gave up just three hits over five innings.
No. 2 Umpqua Valley Christian 11, No. 7 Bandon / Pacific 5 – Tyler Haynes went 2-for-3 with a dinger and four driven in, Daniel Withers was 3-for-3 with two runs scored and two driven in and Ty Hellenthal was 3-for-4 with two runs scored for UVC, which parlayed a big fourth inning into the home win.
***
We will add more recaps as we receive them.