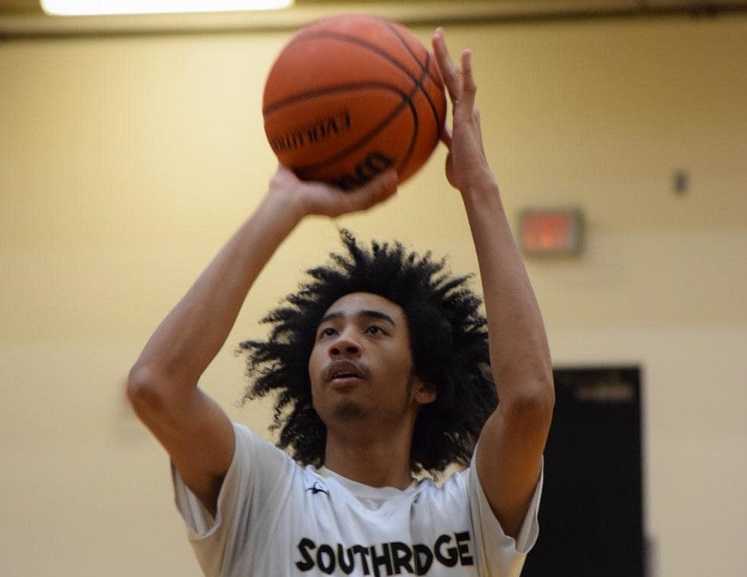 BEAVERTON -- It wasn't pretty or well-executed down the stretch, but in sports, all that matters is the final result.
That was the case at Southridge on Friday night when the Skyhawks took on the South Eugene Axe in a 6A nonleague boys basketball game. After a back-and-forth game that came down to the final heave, the Skyhawks proved that they could win in a variety of different ways in a 76-73 victory..
Senior guard Brock Henry led the Hawks (5-1) with 22 points and forward Kade Hustler chipped in with 14 points, six rebounds and five assists. South Eugene (3-2) was led by senior wing Coleman McAninch, who finished with a game-high 27 points.
"I thought we battled," Hustler said. "It wasn't one of the most perfect games that we've played. I think in the first half we really stepped it up defensively, but that second half we kind of struggled at some parts, and that's just something we're working on in practice."
"They're just a really solid team, but I felt like we had spurts where we just outplayed them," senior guard Ben Pak added. "We moved the ball really well as a team and hit our shots which is what we needed to do."
At times the Skyhawks looked flustered by the length of the South Eugene players -- they were outrebounded 39-26 -- but once they settled into the game, they were able to dictate the tempo and control the game.
One of the ways that the Skyhawks dealt with South Eugene's length was by moving the ball around and getting multiple guys involved.
"Once you move the ball around you get that defense rotating, and then we get their big man out of the paint and into a situation where he has to choose who he is going to guard, and then we have an open shot," Henry said. "So I think ball movement really sparked our offense in this game."
Everything seemed to click for the Skyhawks in the second quarter where they went on a 7-0 run to start the quarter en route to outscoring the Axe 23-8 for a 36-28 halftime advantage.
The Skyhawks started the second half strong as well, but slowly faded as South Eugene used a 20-8 run to tie the game back up at 50.
"I felt like we stagnated offensively and let some of our missed shots turn into layups," Southridge head coach Philip Vesel said. "Our transition defense there for a stretch was not very good and that allowed them to get some momentum."
With both teams trading three-point field goals throughout the fourth quarter, it took a fast-break dunk from Henry with 4:10 remaining to swing the momentum back into the Skyhawks favor. The dunk gave Southridge a 63-62 lead that they would not relinquish.
Both teams shot well from three-point range. Southridge made 11 of 21 and South Eugene hit 9 of 22.
The Hawks have played in a lot of close games recently, including a one-point loss to Liberty and an 11-point win over Clackamas in which they let a 20-point lead slip away. While the late-game execution Friday wasn't good, according to Vesel, having the prior experience of being in a close game helped the Skyhawks take control down the stretch when it mattered.
"I think it showed us that we're not who we thought we were at the beginning of the season, especially with that injury to Zach," Hustler said. "A lot of it is just us going out and working as a team. That is something that we did not do in the Liberty game and that is something that I thought we did pretty well tonight."
Next up, the Skyhawks will travel to Bend on Tuesday to take on Summit. South Eugene will play Heritage in Vancouver on Thursday.
"We've got to learn how to finish games, and that's something that it sounds like it should be easy to do, but it's not," Vesel said. "It takes repetition and game experience. I'm excited for our guys to grow from this."

Kyle Pinnell is a junior at Southridge