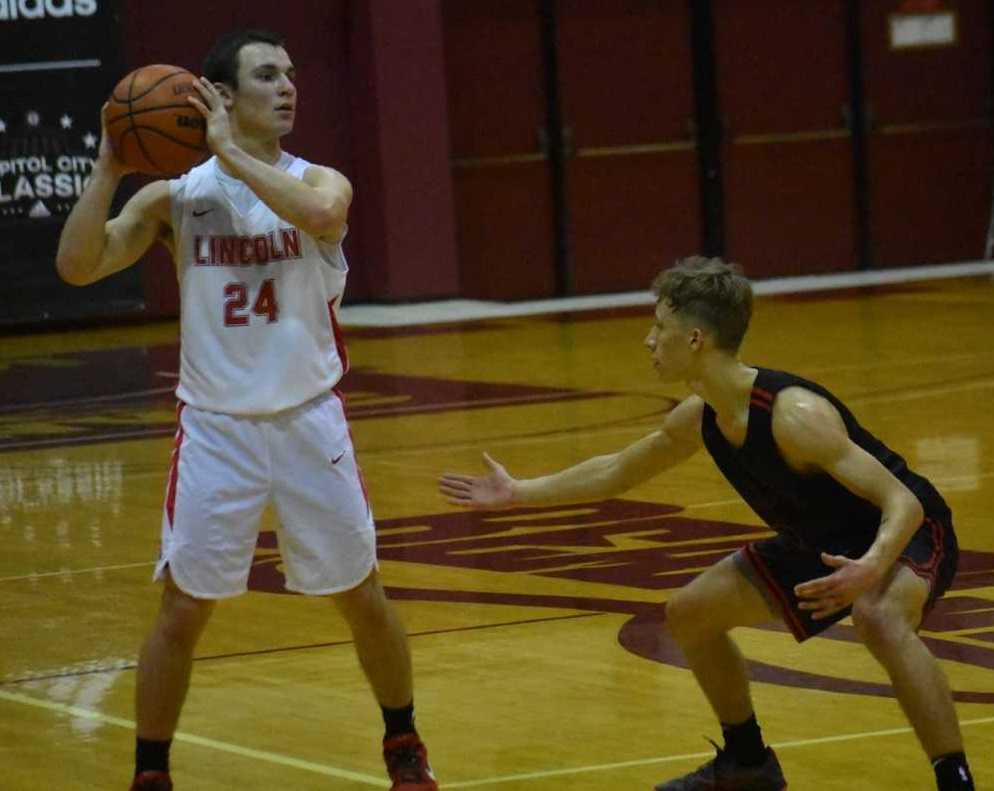 SALEM -- When Lincoln and North Salem opened the Capitol City Classic on Tuesday afternoon at Willamette University, there was a feeling that the game could provide an appetizer for the 16-team, five-day boys basketball tournament.
The Cardinals (2-3) stepped up big in the first half by controlling the boards and converting into their high-tempo offense, making five three-pointers to build a 10-point halftime lead and rolling to a 64-54 win over the Vikings.
"We just tried to come out and play our pace and control the pace," Lincoln senior guard Ben Jeffers said. "We were multi-focused on keeping them out of the paint (as well) because all of their points in the first half came from there.
"We just got to get back into the gym and get better. We got practice tomorrow, get in there and get some shots off because that's one of our most important things. It's what we're best at, shooting."
North Salem (4-4), which was coming off a 66-52 Mid-Willamette Conference win over Dallas on Monday night at home, had its opportunities to do some damage in the first half. But the Vikings' shots wouldn't fall as the back-end of the back-to-back seemed to be catching up with them.
"It's always unfortunate when their shots are just falling," North Salem senior wing Zac Sullivan said. "I mean, they got a lot of screens and a lot of looks in the first half. It sucks when our shots aren't falling.
"We're getting looks to Braden (Vasquez) and Tameron (Hampton) and they're not going in. So the demeanor kind of dropped when they're taking their shots and we're taking the same shots and they're not falling."
Sullivan, who started the game, missed the final few minutes of the first half after taking a knee to the thigh before returning in the second half. The Vikings, however, ended the first half on a 6-0 run to cut Lincoln's lead to 31-27.
North Salem got the game to within one early in the third quarter, but Jeffers hit three of his six three-pointers all in succession and added a fourth to build a 45-34 lead mid-third quarter.
"We're a really good shooting team and we really came out in the second half and we were hitting. We knew we could shoot like that," said Jeffers, who finished with 19 points.
The Vikings got it down to 47-43 after a Vasquez lay-in, but Jeffers would hit a three to make sure momentum stayed in favor of Lincoln. Cardinals senior guard Daniel Kovalev added another 16 points in the win.
Pharov Swank had 13 points, Vasquez contributed 11 points and Hampton added another 10 for North Salem.
Both teams will have a rest day Wednesday before entering their second game of the five-day marathon tournament Thursday.