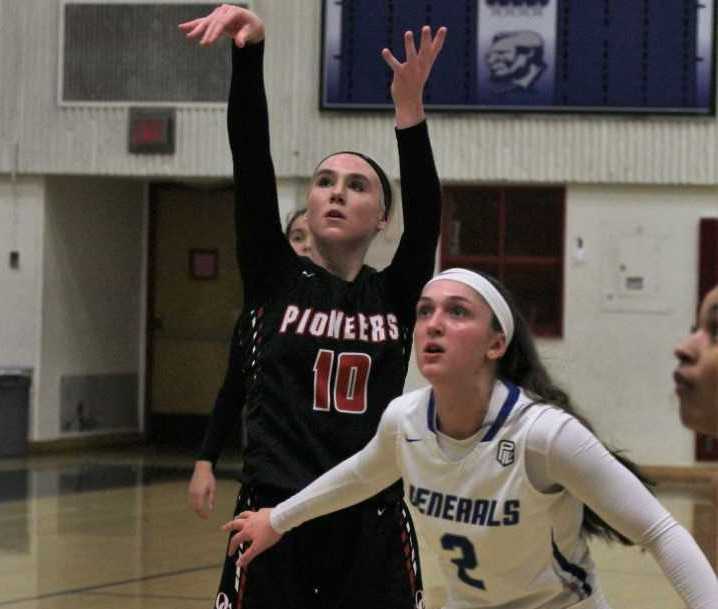 PORTLAND -- On paper, Grant has the necessary pieces to be a 6A girls basketball contender.
The Generals have experienced, proven senior guards in Marin Leonard and Amaya Aldridge. They have one of the state's most athletic, dynamic forwards in Weber State-bound senior Monka Hickok. And they have an imposing interior force in 6-foot-2 sophomore Schuyler Berry.
Now they just need to make it happen on the court.
Friday night, Grant took a step in the right direction by fending off Oregon City 68-55 in a nonleague game at the Marshall Campus. Leonard scored 18 points and Hickok had 15 points for the No. 10 Generals (2-3), who found their stride after trailing by eight points late in the first half.
"I think we're definitely on pace," Hickok said. "We're definitely making a lot of growth from our first game this season. Our chemistry is phenomenal on and off the court. A lot of the mistakes that we were making, we're starting to not make as many of them."
Grant is adjusting to a new coach in Michael Bontemps. He coached the Generals from 2012 to 2015 -- leading them to the Portland Interscholastic League title in his final season -- and has returned to replace Kendra Gardner, who guided the team to three more league championships.
Bontemps inherits three starters from a 2017 state semifinal team in Hickok, Leonard and Aldridge, as well as a fourth starter from last season in Berry. But the team is having some growing pains.
"We're still measuring ourselves," Bontemps said. "We're trying to find the right chemistry with the stuff I've given them. We're trying to find our identity, things that will make us click a little better."
The Generals opened the season in Spokane, where they lost to two Washington teams by a combined 43 points. Their other loss was 62-53 at No. 1 Tigard on Tuesday.
Hickok said the Spokane trip was "definitely a good eye-opener."
"We went into the season like, 'Oh yeah, we're cool, we got this,'" Hickok said. "And then we went there and we were like, 'OK, we know what we need to work on.' So I think it was definitely necessary.
"It wasn't one of those things where you lose and you're down for the rest of the season. It definitely flipped a switch in us, because we're used to being the underdogs. All four years I've been here, we have never once been, 'Oh, you guys are going to win.'"
Still, the Generals have high expectations for themselves.
"Sophomore year was really big for us, but I think we were also waiting for our senior year to really come together," Leonard said. "I think our team chemistry right now is really great. I think we just have to run our plays more and stay consistent throughout the whole game, because we have the tools we need to be one of the most exciting teams in the state."
Grant's execution was choppy throughout the first half against Oregon City (3-3). The Generals also struggled to keep track of Oregon City senior guard Brooke Bullock, who scored 16 of her game-high 27 points in the first half.
Trailing 32-24, Grant went on a 10-0 run in the final three minutes of the half to lead 34-32. The teams remained close throughout the third quarter, and when Bullock hit a three-pointer with 6:42 left in the game, the score was 48-48.
The Generals gradually took over from there, getting two baskets from Hickok and four points from sophomore guard Avari Delancy as the lead grew to 61-52 with 1:53 remaining. They closed it out from the line, getting seven free throws from Aldridge in the last 69 seconds.
Aldridge and Berry added 13 points apiece for Grant. Junior guard Katie Kathan chipped in with 11 points for the Pioneers, who are rebuilding after winning the Mt. Hood Conference last season.
"This would've been a tough loss because I don't think Oregon City is the old Oregon City," Bontemps said.
Oregon City is moving into a new era without Kurt Guelsdorf, who coached the team to three state championships in 15 seasons. Tiffani Traver, a member of the Pioneers' 2009 title team who assisted Guelsdorf the last two seasons, has taken over as coach.
Entering Friday's game, Oregon City's other losses were against Southridge (64-48) and Beaverton (61-25), teams tied for third in the OSAAtoday 6A coaches poll.
"We're right there," Traver said. "There are still some things we need to fix and click, but as far as team chemistry goes, it's been great. They're working hard, not quitting. We have a tough preseason schedule. We play a lot of the top 10, which is good for us, because our conference isn't easy, either."