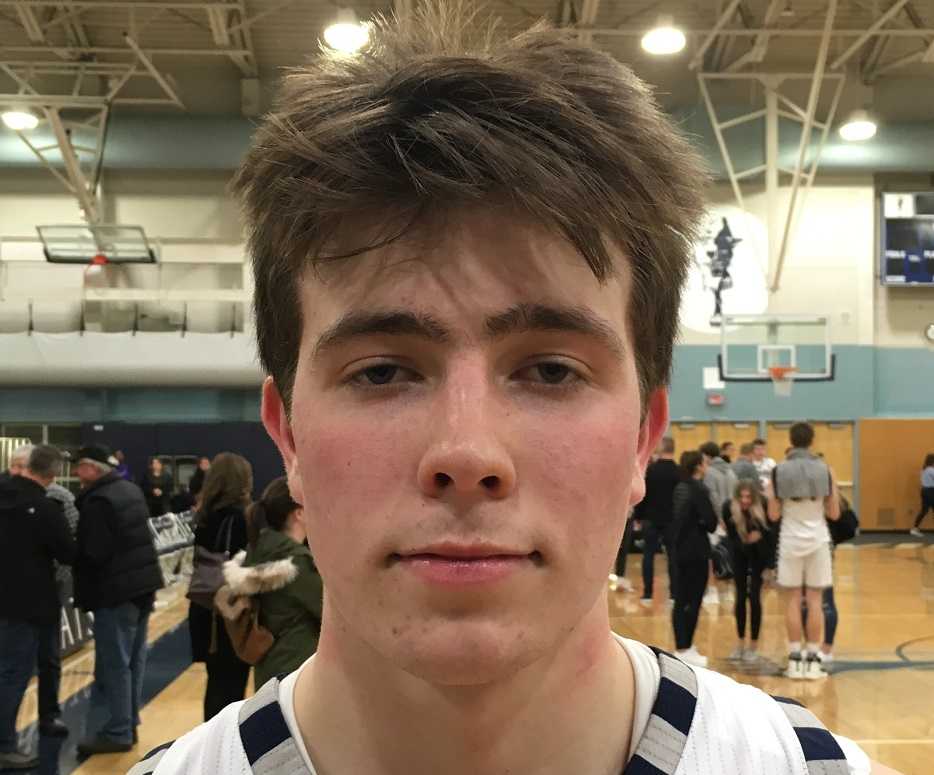 WILSONVILLE – For a few moments in the third quarter Tuesday night, it appeared as if Wilsonville's longstanding dominance in 5A Northwest Oregon Conference boys basketball might be in jeopardy.
Upstart Parkrose had turned a nine-point deficit into a four-point lead, and with each basket, the visiting Broncos looked more like a team on the verge of a big upset.
But the second-ranked Wildcats – who have appeared in four consecutive state finals – were able to steady themselves and grind out a 70-60 win. In extending its conference winning streak to 46, Wilsonville (16-2, 7-0) took sole possession of first place over No. 5 Parkrose (15-2, 6-1).
"It was a huge game because we were either going to be one up or one down," Wildcats senior point guard Jack Roche said. "And going over there, that's a very difficult place to play, so we really didn't want to go one down."
The Broncos, who had won 13 in a row, showed that they have made big strides this season, especially during that third-quarter surge.
"I think they're pretty good, and we looked like we took our foot off the pedal a little bit," Wilsonville coach Chris Roche said. "They're too good to do that against. If you don't play them the right way, they can really do some things.
"All we've done is hold serve so far. That's great, we like that, but it doesn't mean anything."
Jack Roche had 19 points and seven assists, junior post Dakota Reber had 16 points and eight rebounds and junior post Keegan Shivers added 14 points for the Wildcats, who have not lost to an Oregon team this season.
Parkrose got 18 points from senior wing Travion Weiss, 16 points from sophomore guard Damontae Burns and 12 points from senior guard Shawn Briggs. The Broncos were eager for another test against a top team – their other loss was 69-37 to No. 4 Thurston – and they left encouraged.
"Absolutely. I love the direction we're going, and this is just another step for us," Parkrose coach Donell Morgan said. "I think we've improved since the Thurston game. And all of this is really to get to Corvallis, right? I think we have a great trajectory of getting there.
"We just have to be a little tougher in those moments when you have to get a basket, got to get a defensive stop. And we'll get better."
Roche, who is averaging team highs of 17.1 points and 10.1 assists, once again showed his savvy as the team's floor leader. He hit three three-pointers and repeatedly set up his big guys underneath.
"He shares the ball. It's so fun to play with the guy," Shivers said. "You get the easiest shots in the world. He's going to find you."
Roche has a high-flying target in the 6-foot-6 Reber, who had four dunks, including an alley-oop from Roche down the stretch.
"He's been doing that since his freshman year," Shivers said of Reber, who is second on the team in scoring with a 13.2 average. "I can remember coming in and seeing this kid throwing down 360 dunks, and I'm like, whoa. It's fun to watch. It gets us some energy going."
Wilsonville ended the first half on a 12-4 run -- getting three-pointers from Roche and Reber – and Roche hit a jumper to start the third quarter for a 38-29 lead.
But Parkrose outscored the Wildcats 14-1 over the next 3 ½ minutes to pull ahead 43-39. Burns and Briggs made three-pointers and Weiss had two baskets during the surge.
"They're a great team, and great teams make runs," Jack Roche said. "We knew they were going to come out with some fight, and they hit us in the mouth. We talked about in the locker room winning the first four minutes, but they won those. We've got to give them props for that. But once we got there, we just had to dig in and keep fighting."
Wilsonville countered with a 14-0 run to lead 53-43 early in the fourth quarter as junior Gabe Reichle made four free throws and senior post Nolan Thebiay came off the bench for two baskets. The Wildcats locked down on defense, holding Parkrose scoreless for 5:33.
"You've got to give those guys credit. They keep battling," Morgan said of the Wildcats. "And that's what I love about that team, and what we have to get to. It's going to be a heavyweight fight, and you have to keep slugging. I thought we took our slugs at them, and they reared back and slugged back at us."
Wilsonville responded like a veteran team.
"Our guys are pretty resilient, and they've been through a lot," Chris Roche said. "We're pretty experienced, even though we have a lot of juniors that play a lot. We don't really blink at much. But I think it got our attention, for sure."
Parkrose got within 63-57 on a three-pointer by Weiss with 2:37 left before Wilsonville scored the next seven points to ice it. The Broncos came up short this time, but showed that they can't be overlooked.
"They're building a culture and a program over there. Coach Morgan is doing a great job," Jack Roche said. "They're a talented team, great players.
"Burns is only a sophomore. He's already a really good player, and I can't even imagine what he's going to be like as a senior. He's tough, quick. They've got like seven guys that are very, very good. So I'm glad we were able to get out of here with a W tonight."