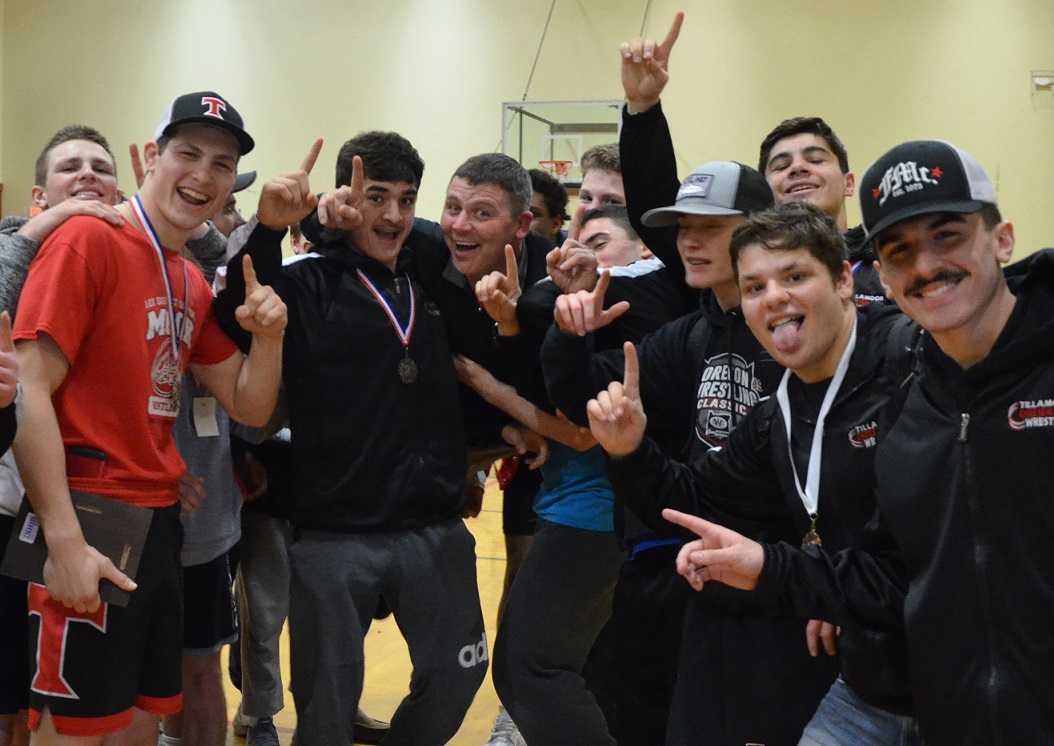 Tillamook wrestling is in Lonnie Eggert's blood.
Born and raised in the coastal town, he was part of Tillamook's state title team in 1993. And after a college career at Portland State, he returned to coach the Cheesemakers, leading them to a state championship in 2008.
But Eggert's career path is taking him into administration, so he will be stepping down as coach after this season. He could think of no better way to go out than another state title.
"If everything goes right, we could make a run at it," Eggert said.
The Cheesemakers, ranked No. 1 in the OSAAtoday 4A coaches poll, took a big step in that direction last weekend in hosting the Special District 1 tournament. They qualified 21 wrestlers for state in winning their 14th consecutive district title, scoring 474 points beat Estacada (224.5) and Woodburn (223.5).
Tillamook had 13 wrestlers in the finals and got titles from seniors Luis Macias (132 pounds), Caleb Werner (170) and Fabian Niemi (182), junior Quintin Metcalfe (120) and sophomore Miguel Niemi (160).
"We thought we'd have a chance at taking 21," Eggert said. "We kind of thought we'd have some more champions, and a couple higher placers. But that's OK. We got 21 there, so we've got a lot of opportunities."
Eggert expects second-ranked Sweet Home, which dominated the Special District 2 tournament, to be a major obstacle. The Cheesemakers beat Sweet Home 51-23 in the 4A final of the Oregon Classic last month.
"They're going to get a lot of bonus points early on," Eggert said of the Huskies. "But the kids are wrestling well. We put 13 seniors on the mat, so we've got some kids that've been there before."
Of Tillamook's 20 state qualifiers from last season, 17 will return. None of them won a title last year, but several finished among the top four, led by senior Chad Werner, who was runner-up at 132.
Fabian Niemi, Caleb Werner and Metcalfe are probable No. 1 seeds. Miguel Niemi and Macias should be slotted No. 3 or No. 4, and Chad Werner is likely to land a No. 5 spot.
"We should have eight or nine kids seeded fairly well," Eggert said. "We've got a lot of guys that've been in the mix. There are a lot of guys that have big goals in where they want to be."
Leading the way this season has been Fabian Niemi, who is ranked No. 1 in 4A at 182 according to the Oregon Wrestling Forum. He will bring a 39-3 record into state.
"He'll wrestle anybody tough," Eggert said. "All of his losses are where we bumped him. He's been our go-to guy. He's one we expect to be in the finals."
Chad Werner, who is recovering from a knee injury, lost a 5-2 decision in the district final to Woodburn senior Giovanni Bravo. But Eggert is confident Werner will be on top of his game at state.
"He hasn't had near of the matches he should. He's just now getting back," Eggert said. "He'll get better. The thing about Chad is he always has losses during the year, but for some reason, the state tournament, he always performs well. He's just a competitor. He's one we don't worry about."
Eggert said he thought Tillamook underperformed in finishing fifth at state last year. He believes the team is in prime position heading into the state tournament Feb. 22-23 at Veterans Memorial Coliseum.
"All the kids are really coming together," he said. "The little guys are performing."
In addition to Tillamook and Sweet Home, La Grande and Mazama also won 4A special district titles last weekend. Hillsboro, Dallas, Crater and Crook County won 5A district titles.