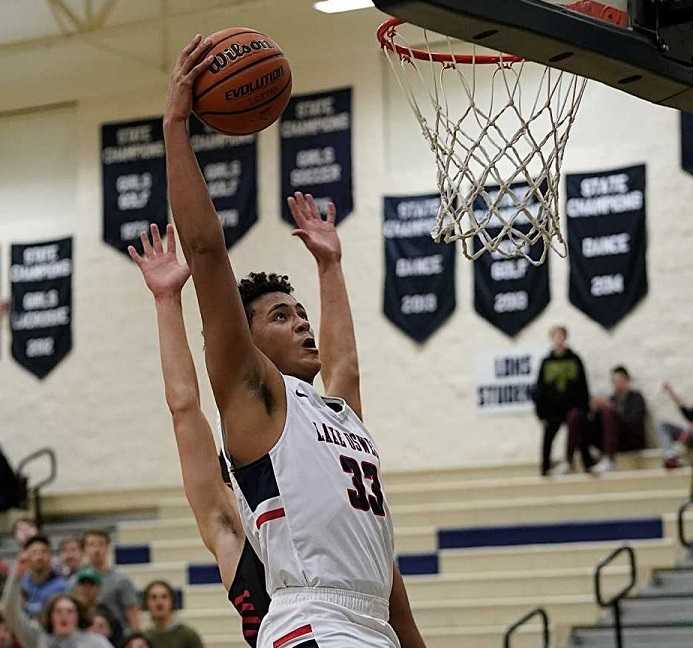 LAKE OSWEGO – No. 2 Lake Oswego found itself in a vulnerable position against visiting Oregon City in a Three Rivers League boys basketball game Monday night.
The Lakers' leading scorer, senior guard Josh Angle, was out with a sprained knee, and in the third quarter of a tight game, they lost their starting center, 6-foot-7 senior Fred Harding, to a sprained ankle.
But behind clutch performances from sophomores Wayne McKinney and Trace Salton, Lake Oswego (17-4, 8-1) buckled down and gritted out a 52-42 win over the Pioneers (14-6, 5-3) that strengthens its hold on first place.
McKinney, a 5-11 point guard, had 15 points, three assists and two steals, and Salton, a 6-5 post, helped pick up the slack for Harding by coming off the bench for 14 points.
"It means our guys are ready," McKinney said. "Next up, that's what we have. Our guys off the bench, very productive. I'm proud of them. I didn't feel any pressure. I knew we were short on guys. That affects us a little bit, but we still have our guys ready."
Angle, who went down in practice last week and missed Friday's win over Lakeridge, is expected to return to practice Tuesday. Harding's ankle sprain does not appear to be serious, according to Lakers coach Marshall Cho.
Shorthanded, Lake Oswego got its usual steady game from McKinney. The contribution from Salton, who played in his fifth game since recovering from ankle surgery, was a bonus. Salton scored eight points in the fourth quarter, including two key baskets to answer after Oregon City twice cut Lake Oswego's lead to three points.
"To come in and show the poise and make plays, he's an exceptional player," Cho said. "I just try to encourage him. He's really hard on himself. He made a couple of sophomore mistakes, but then he comes right back, makes up for it, makes huge plays."
Salton injured his ankle in April and played on it until August, when he visited the doctor and found out he had two torn ligaments. He had surgery that week.
"It just got worse, to the point where I couldn't even take steps without it giving out," Salton said. "So I had the surgery."
Salton got into his first game Jan. 25 at Canby, playing about eight minutes, and has played well enough to earn a spot in the rotation. He had 16 points and seven rebounds in the win over Lakeridge.
Did he expect to play a key role this season?
"Not really," Salton said. "I was kind of surprised getting into the first game and getting as many minutes as I do now."
It's no surprise to Cho, though. The coach said that Salton, who played JV as a freshman, was under consideration for the starting lineup before the injury. Missing summer ball was a setback for Salton, but Cho said he is earning his time in a frontcourt that includes two seniors in Harding and 6-5 Grant Fuson.
"Fred and Grant have waited their turns the last two years, and they showed a lot of character," Cho said. "We've had some lineups where we go big, and we could have Fred, Grant and Trace back in there. It just gives us a lot of versatility, a lot of different looks that we can throw at teams come playoffs. So I'm excited about that."
Salton has a connection with McKinney that goes back to when they played together during elementary school at The Hoop in Beaverton. McKinney grew up in Beaverton and Salton in Tualatin.
"We've always talked about going to the same high school, no matter what, and now we're here," Salton said.
It's clear that Salton also is fitting in with his other teammates, in particular Fuson, who had three assists to Salton against Oregon City.
"Grant Fuson can really pass it. He's a gifted passer," Cho said. "He and Trace, considering that they haven't played together, the chemistry that they are developing already is really special."
Oregon City could have thrown a wrench into the Three Rivers title chase with a win Monday, and when the Pioneers shook off a 10-0 deficit and led 24-23 early in the third quarter, they were in prime position.
But Lake Oswego clamped down on defense and outscored Oregon City 13-3 over the next seven minutes to lead 36-27 early in the fourth quarter.
"We just weren't physical enough," Pioneers coach Aaron Newkirk said. "They were way more physical than we were. We weren't physical against Tigard and it cost us. We weren't physical tonight. Their physicality dictated everything, and we were back on our heels the whole game."
Oregon City junior point guard Andre Best and junior guard Jake Gettel hit three-pointers as the Pioneers cut the lead to 38-35 with 3:48 left, but Salton scored Lake Oswego's next three baskets to hold them off.
Fuson added nine points and four assists for the Lakers. Oregon City got 16 points from Gettel and 13 points from senior guard Corban Remsburg.