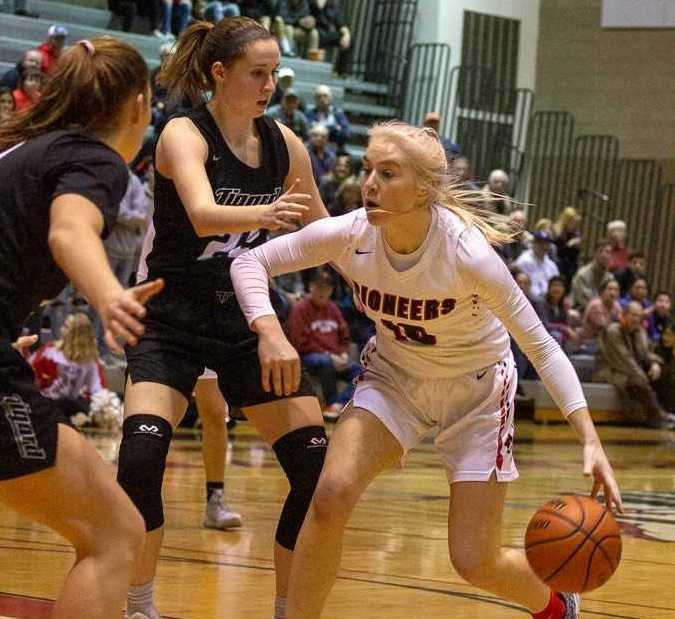 OREGON CITY – No. 3 Tigard had to tap into its vast pool of veteran savvy Friday night to lock down the outright Three Rivers League girls basketball title.
No. 8 Oregon City could have finished in a first-place tie with a win over visiting Tigard in the regular-season finale, and after rallying from a 15-point deficit to within two points in the fourth quarter, the Pioneers had turned up the heat before their home crowd.
But Tigard (22-3, 13-1) responded by making several key plays in the last few minutes to hold on for a 52-46 win, ending the six-game winning streak of the Pioneers, who joined the league after winning the Mt. Hood Conference last season. It is the Tigers' fourth league title in a row.
"That's something we pride ourselves in," Tigard junior guard Kennedy Brown said. "For Oregon City, that was pretty impressive that they were competing for the league title. But that was something that we've valued and we wanted as a team."
Added Tigers senior guard Campbell Gray: "We definitely didn't want to share that title, with their first year in the league."
The win over the surging Pioneers (17-7, 11-3) adds to Tigard's momentum entering the 6A playoffs. The Tigers have won five in a row since falling to West Linn 47-45, their only league defeat.
"That West Linn loss, as much as it hurt us, we've refocused," Tigard coach Steve Naylor said. "And we've played I think four of our best games since then. … I hope we're ready."
The last time the teams played, Jan. 29 at Tigard, the Pioneers led by two points early in the fourth quarter before Tigard finished the game on a 16-0 run to win 59-45.
This time, it appeared the Tigers would coast to a win. They led 16-4 after one quarter and held leads of 15 points in the second and third quarters, the last time at 33-18.
Oregon City began to turn the tide with its full-court press, however, forcing seven turnovers in the third quarter. When sophomore post Emmaly Welch scored inside, the Pioneers had crawled back to within 38-31 late in the period.
Sophomore guard Mia Martineau made a three-pointer and senior guard Brooke Bullock made two free throws to cap a 12-2 run that cut Tigard's lead to 45-43 with 3:32 left in the game.
But the Tigers got a layup from junior Delaney Leavitt, and after several empty possession on both sides, Brown scored off a turnover for a 49-43 lead with 1:11 to play. Oregon City was finished.
"What we have is a veteran crew," Naylor said. "We don't call timeout, we just go through and play. We've been there before. Our preseason was brutal. We've been in some tight games. They know what to do. This is a team that doesn't really get rattled."
Leavitt made three three-pointers and scored a game-high 15 points for Tigard, which also got 13 points from Brown and 10 points from Gray. Brown scored nine of her points in the second half, many of the baskets halting Oregon City's momentum.
"She's all heart," Gray said of the 5-foot-4 Brown. "She plays very hard."
With what was at stake, and on senior night, Brown said she expected to get Oregon City's best shot.
"So when they had that run, we knew they'd be coming back," Brown said, "and when they did, we just had to be smart, and be composed and execute on defense and offense."
The Tigers, who lost in the quarterfinals last year, have high hopes for the postseason. Senior guards Gray and Paige LaFountain were key contributors as freshmen when Tigard reached the 6A final in 2016.
"We just need to play smart and we'll do good," Brown said. "Because of how we played, and who we played, in our preseason, we've seen a lot of people, and it gives us a lot of experience."
Welch and junior guard Katie Kathan scored 12 and 10 points, respectively, for Oregon City. Bullock, who is averaging a team-high 15.3 points, finished with six points as Tigard focused its defense on her.
The Pioneers have finished strong in their first season under coach Tiffani Traver, the successor to state-champion coach Kurt Guelsdorf.
"It's been really fun," Bullock said. "It wasn't what I was really expecting it to be. We were not even supposed to be here right now. The fact that we're here right now says a lot."
Naylor said the Pioneers will be dangerous in the playoffs.
"They're so quick. They're a tough team defensively," Naylor said. "They didn't shoot it real well tonight, but when they get it going, they're really tough. They've come a long ways, and they're a lot better, for sure."