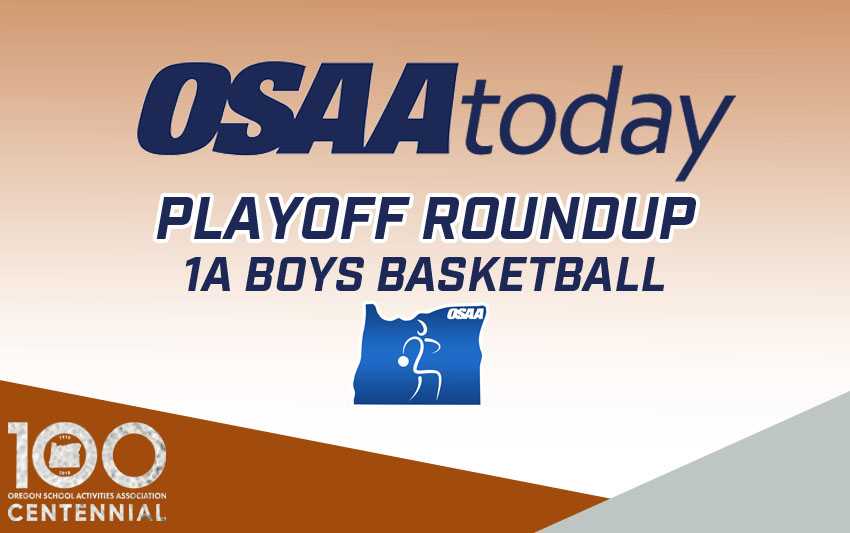 A look at Friday's games in the OSAA / OnPoint Community Credit Union 1A boys basketball playoffs:
Nixyaawii 73, St. Paul 54 -- The top-ranked Golden Eagles scored the first 18 points of the game and led by 31 at halftime on their way to the easy state-tournament-qualifying win. Sophomore Moses Moses had 18 points to lead the way in a rare start. Mick Schimmel and Magi Moses combined for 25 more. Rawley Koch played well in the loss for St. Paul.
Sherman 62, Siletz Valley 41 – Tough defense, solid rebounding and balanced scoring helped Sherman, No. 2 in the OSAAtoday coaches poll, double up visiting Siletz Valley, 38-19, at halftime. Siletz Valley made a second-half run to cut the lead to just eight points but could get no further. Keenan Coles led all scorers with 17 points for Sherman, which also put Luke Martin, Wade Fields and Caleb Fritts in double figures. Tyson Rilatos and Anthony Simmons combined for 21 points in the loss for Siletz Valley.
Triad 60, Perrydale 42 – Micah Young hit a corner triple to help Triad get off to a hot start at home. The Timberwolves, No. 3 in the OSAAtoday coaches poll, led by 10 after one, 12 at halftime and 19 at the end of three quarters. Kyle Thorson hit three three-point baskets in the fourth quarter for Perrydale to pull the Pirates to within 12 but Triad's free throw shooting came through down the stretch to clinch victory. Ethan Moritz led three Timberwolves in double figures with 20. Young and Ethan Roe chipped in 13 apiece. Triad outrebounded Perrydale 36-20 for the game. Thorson's 13 points led the Pirates.
Trinity Lutheran 62, Riddle 41 – Tied at 24-all at halftime, host Trinity Lutheran outscored Riddle 19-5 in the third quarter to pull away in a showdown of teams ranked in the OSAAtoday coaches poll top 10. Riddle got only as close as nine points in the fourth quarter, as Trinity Lutheran put on the defense led by Layton Valentine. The Saints' offense was paced by Matt Elder, who had 16 points and added nine boards. Scooty Gilbert chipped in 15, all in the first half, for Trinity Lutheran (22-5) while Cash Niemeyer contributed 10 points and eight caroms. Nate Hopkins had 17 to lead Riddle, which finished its season 23-5.
Days Creek 62, Powder Valley 58 -- Caleb Kruzic made six three-pointers and scored 20 points as the Wolves held off the Badgers. Days Creek made six three-pointers in the first quarter to build a 10-point lead, but Powder Valley went on a 14-2 run to lead 29-26 at half. Senior guard Blake Ellis scored 15 of his 16 points in the third quarter as Days Creek regained control. The Wolves made nine free throws in the fourth quarter to hold on.
Prairie City 66, Dufur 49 -- The Panthers raced to a 16-3 lead, getting eight points from Levi Burke, and never looked back against the Rangers. Prairie City led 30-16 at half, and after Dufur closed to within eight points in the third quarter, the Panthers pulled away.
Horizon Christian (Hood River) 49, Crosshill Christian 43 -- Sophomore guard Caleb Lingel scored 14 points and senior guards Derek Johnston and Bailey Holste had 13 points each for the Hawks in the win over the Eagles.
Damascus Christian 44, North Douglas 41 — Down by seven with 1:37 remaining, Damascus Christian rallied with nine unanswered to pull off the stunner over visiting North Douglas. Great leadership by senior Johnny Shields and clutch shooting when it mattered most paved the way to the Eagle win.