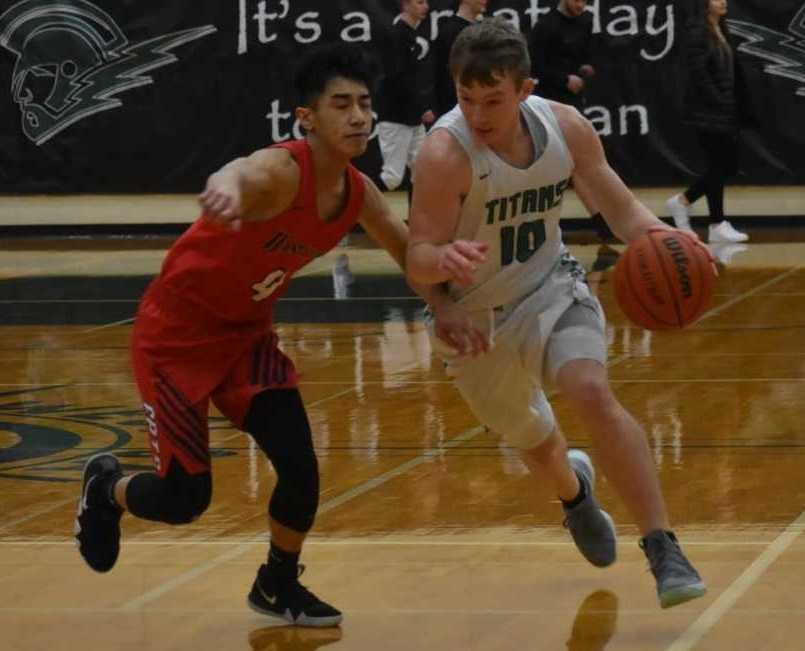 SALEM -- Westview's athleticism proved to be problematic for West Salem on Tuesday night in the first round of the 6A boys basketball playoffs.
The 17th-seeded Wildcats used their athleticism to build a 15-point lead in the second quarter, then turned back a second-half rally for a 67-51 road win. They advance to the round of 16, where they will play at No. 1 Lake Oswego on Friday.
Senior Kobe Newton scored 24 points for Westview, which was coming off a 49-47 defeat to Jesuit in which it lost a chance to claim a share of the Metro League title.
"Coming off a tough game against Jesuit, it was important for us to come and play great," Newton said "We felt like we needed to win that game. We should have won that game. We just came out with a different energy. Obviously shot a little better, and it went well from there."
The Wildcats (16-9) know they are facing a tall task against Lake Oswego, which beat Franklin 79-41 on Tuesday.
"Defense. That's going to be a defensive game, both teams," Newton said. "We consider ourselves one of the better defensive teams in the states, so do they. So I feel like it's going to be a battle of two defensive teams. So whoever stays the most together, plays the best team defense, I think will come out of that one."
Westview started fast on Tuesday, but No. 16 seed West Salem (15-10) wasn't going to back away. The Titans, who feature one senior in Justin Scoggin, slowly began to chip away behind sophomore post Holden Whipple.
Whipple scored all 10 of his points in the third quarter as the Titans got to within three points. The Wildcats pulled away for good in the fourth quarter.
"They decided to start taking care of the ball and doing whatever they could to control the game, too," Whipple said. "And they did a good job getting us back out of our rhythm."
Inexperienced West Salem stunned a few people this season by finishing second in the Mountain Valley Conference, four games behind South Salem. The Titans, who lost 11 players from last season, picked up valuable experience entering next season.
"No one expected us to be here, which is cool," junior Kieran Pruett said. "So it's very cool to see where we're at, but I felt like we could have gone a lot farther than we did. But I'm looking forward for next year. We got a really good team. I feel like we're going to be competing for a trophy next year."
Tuesday's other games in the OSAA / OnPoint Community Credit Union 6A playoffs:
Central Catholic 67, Beaverton 44: Full game story
Sandy 65, Tualatin 59: The No. 21 seed Pioneers roared back from an 11-point halftime deficit to eliminate the host Timberwolves. Pierce Roeder hit two three-pointers and Kaleb Hubbard added another in the fourth quarter to lead Sandy's rally. Hubbard and Colton Gorski scored 24 points each for the Pioneers. John Miller scored 19 points and Bridger Steppe had 14 for Tualatin.
Lake Oswego 79, Franklin 41: The top-seeded Lakers jumped to a 25-5 lead after one quarter to take control of the game. Seven Lakers scored in the outburst, led by sophomore Wayne McKinney's seven points. Lake Oswego kept the pressure on in the second quarter and extended the lead to 45-12 at halftime. The Lakers had four players in double figures: Josh Angle with 14, Casey Graver 13, Trace Salton 12 and Sam Abere 11. Franklin was led by Taylor Pomeroy with 12 points.
South Salem 95, Roosevelt 78: Saxons senior point guard Jaden Nielsen-Skinner, who has signed with Portland State, was dominant, consistently getting to the basket to finish with 36 points. Treyden Harris and Trey Galbraith added 19 and 18 points, respectively, for host South Salem. Roosevelt got 24 points from junior wing Jayoni Moore, 18 points from Malik Kelley and 17 points from Brandon Hopson.
Grant 95, Newberg 61: Senior guard Aaron Deloney erupted for eight three-pointers and 44 points as the reigning champion Generals, seeded sixth, cruised past the visiting Tigers. Ty Rankin had 15 points and Erik Fraser added 12 points for Grant. Newberg got 20 points from Alex Jaczko and 18 points from Jack Chlumak.
West Linn 41, Forest Grove 38: The host Lions took their first lead of the second half with under 30 seconds left. West Linn's Oreon Courtney had 15 points and nine rebounds, making 5 of 7 free throws in the fourth quarter.
Sherwood 55, Sprague 40: Senior wing Braden Thorn scored 16 points and junior post Blake Jensen added 15 points for the host Bowmen. Kobe Withers had 12 points for Sprague.
Oregon City 44, Gresham 39
Jesuit 49, Benson 46