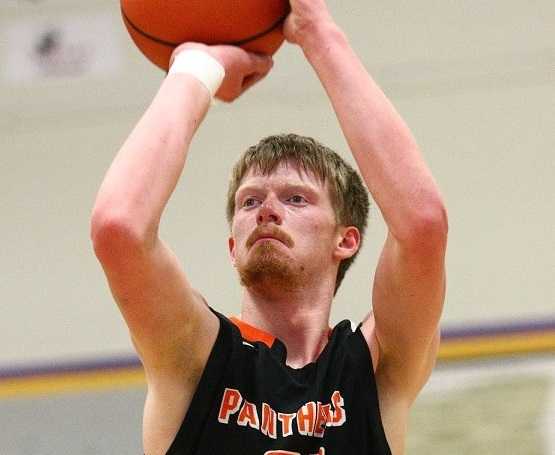 BAKER CITY -- No. 8 seed Prairie City rallied from a nine-point deficit in the fourth quarter to beat top-seeded Sherman 52-48 on Wednesday in the quarterfinals of the OSAA / OnPoint Community Credit Union 1A boys basketball tournament at Baker High School.
The Panthers trailed the Huskies 43-34 entering the fourth quarter before going on a 12-1 run to lead 46-44 on two free throws by Cole Dieter with 3:03 left.
Sherman pulled even at 48-48 with 2:18 remaining on a jumper by Wade Fields, but Prairie City quickly responded with a jumper by Lucas McKinley to lead 50-48 with 2:02 to go. Sherman turned the ball over with 18 seconds left, and McKinley made two free throws with two seconds left to clinch the win.
"We kind of stood around in the first half, but the second half was a lot better," Prairie City coach Sam Workman said. "We didn't really get going until about the middle of the fourth quarter. The kids just started moving the ball and moving on offense, and then everything started going our way."
Levi Burke had 15 points, 12 rebounds and four blocked shots and McKinley had 12 points, including two three-pointers, to lead Prairie City. Keenan Coles had 13 points and eight rebounds and Fields added 12 points for Sherman (24-4).
It was the Panthers' third win over Sherman in the last two seasons. They knocked the Huskies out of the quarterfinals 68-53 last year and beat them 54-52 in a nonleague game Dec. 27.
Prairie City (26-2), last year's runner-up, advances to Friday's semifinals to play No. 5 Nixyaawii.
"For the seniors, it means a lot," Workman said of returning to the semifinals. "They want to go for it again. We better have our heads screwed on straight Friday. Hopefully we can play a whole game like we did in the fourth quarter."
Nixyaawii 66, Horizon Christian 44: Nixyaawii's Moses Moses, a 6-1 sophomore guard, made 9 of 12 shots – including 7 of 9 from three-point range – for 25 points to lead the Golden Eagles (26-2) to the win.
Moses made four three-pointers in the first quarter as Nixyaawii opened a 21-12 lead. The Golden Eagles pushed the lead to 20 points in the second quarter and held off the Hawks (19-7), who got within six points in the third quarter.
Tyasin Burns and Mick Schimmel added 11 points each for Nixyaawii. Derek Johnston and Alex Petshow had 12 and 11 points, respectively, for Horizon Christian.
Trinity Lutheran 52, Triad 41: Playing in their first-ever state tournament game, the No. 6 seed Saints held off their Mountain Valley League rival for the second time in three meetings this season.
No. 3 seed Triad (21-3) went on a 10-0 run to lead 31-30 in the middle of the third quarter, but Trinity Lutheran (23-5) responded with 10 consecutive points to pull ahead 40-31 early in the fourth quarter.
Matt Eidler had 16 points and nine rebounds and Scooty Gilbert had 15 points and nine rebounds for the Saints, who made 14 of 26 free throws. Ethan Roe had 11 points for the TimberWolves, who made 5 of 9 free throws.
Trinity Lutheran advances to play Days Creek in a Friday semifinal.
Days Creek 60, Damascus Christian 47: The No. 7 seed Wolves (22-5) made 11 three pointers – getting four from Rocco Muir and three from Blake Ellis – to shoot down the No. 2 seed Eagles (25-3).
Ellis made two three-pointers to spark a 12-3 run at the start of the third quarter, opening a 34-26 lead. Damascus Christian got to within 46-42 midway through the fourth quarter, but Zane DeGroot made a three-pointer and a jumper to push the lead back to 51-42.
Ellis had 17 points and Muir and DeGroot had 12 points each for the Wolves. Jacob Zakharyuk led the Eagles with 14 points.
Photos of state championship events are available from Northwest Sports Photography at 4nsp.com