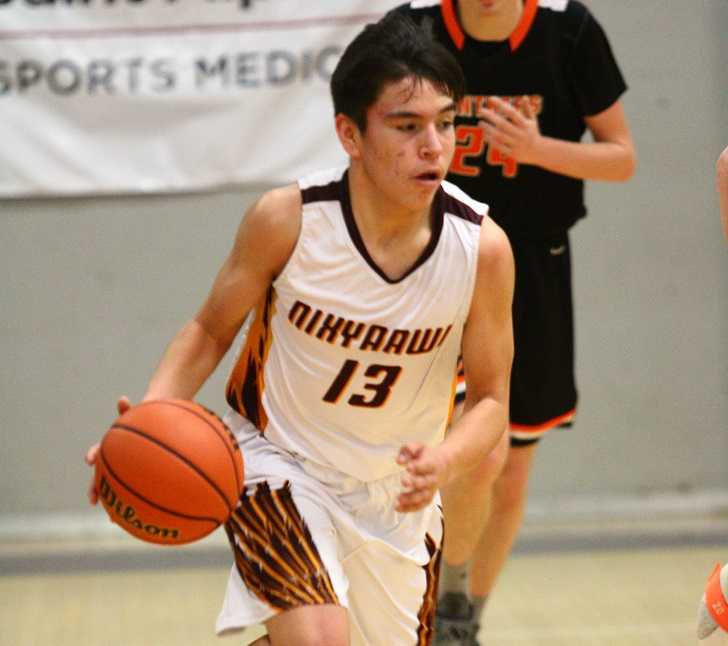 BAKER CITY -- Nixyaawii started fast and never let up in a 71-49 win over Prairie City in the semifinals of the OSAA / OnPoint Community Credit Union 1A boys basketball tournament Friday at Baker High School.
The Golden Eagles (27-2) scored the game's first 12 points on four three-pointers – two by Quanah Picard and one each by Tyasin Burns and Dazon Sigo – and were never threatened. Seven different Nixyaawii players combined to make 10 three-pointers.
"We had some open looks and we knocked down some threes," Golden Eagles coach Shane Rivera said. "It's something that they work on. We fortunate to have that at our disposal."
No. 5 seed Nixyaawii, which has never won a title, will appear in the final for the second time in four years Saturday when it meets Trinity Lutheran. The Golden Eagles lost in the quarterfinals last year.
"It's great for the kids and it's great for the community," Rivera said. "Our goal to start the year, after the end of last season, was to get back here and win that last game. We've been here one other time, and we came up short. We're going to put our best foot forward and give it our best effort to win that last game."
Burns had 15 points and Picard 14 points to lead Nixyaawii. Mick Schimmel, the brother of former Hermiston and Franklin girls star Shoni Schimmel, added 10 points and 12 rebounds.
The Golden Eagles have won 11 in a row, all by double digits. They rolled past Horizon Christian 66-44 in the quarterfinals.
"We've been focusing on our team defense and moving the ball around, sharing the ball, getting the ball to the open guy," Rivera said. "We finally know our roles, but at the same time we know we have seven kids that can score the basketball, and six of them can shoot it from the outside."
Levi Burke had 25 points and nine rebounds for Prairie City (26-3), making three three-pointers.
Trinity Lutheran 53, Days Creek 40: The sixth-seeded Saints of Bend, in their fifth season of existence and playing in their first state tournament, pulled away in the fourth quarter to advance to their first final.
Days Creek trailed throughout but was within 40-37 with 4:42 left after two free throws by Rocco Muir. But Trinity Lutheran's Scooty Gilbert and Matt Eidler scored baskets to spark a 9-0 run that opened a 49-37 lead with 1:09 remaining.
Gilbert finished with 17 points, seven rebounds and four assists. Eidler had 17 points and seven rebounds for the Saints (24-5), who had a 40-26 edge in rebounds.
Muir had eight points to lead the No. 7 seed Wolves (22-6), who shot 30.4 percent (14 for 46).
Photos of state championship events are available from Northwest Sports Photography at 4nsp.com