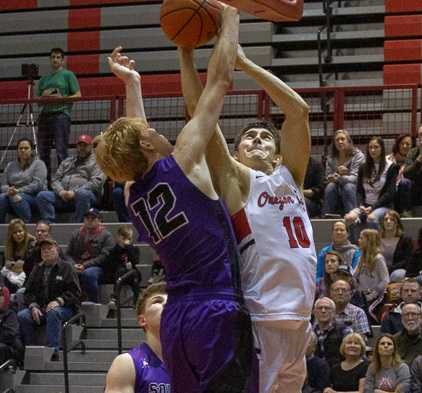 OREGON CITY – A perennial contender in the late 2000s, Oregon City was beginning to wonder if it would ever get back to the 6A boys basketball tournament.
So when the Pioneers locked up their first berth since 2010 on Friday night with a rollicking 48-29 win over visiting South Eugene in the round of 16, it needed time to sink in.
"It doesn't seem real," said Oregon City coach Aaron Newkirk, who is in his seventh season. "I think about some of our former players here. As soon as that buzzer went off, those faces started flashing through my head."
The Pioneers' degree of difficulty will be high at the tournament, where they face a quarterfinal against top-seeded Lake Oswego, which beat them in both Three Rivers League meetings this season. But with the state's No. 1 defense (43.3 points per game), they believe they can be competitive.
"I think we're going to do pretty well," senior post Erich Nova said. "There are going to be good teams out there, but I think we're going to be able to stop them sometimes."
For one half Friday, No. 8 seed Oregon City (19-7) was locked in a defensive battle with the ninth-seeded Axe (20-7). Both teams struggled to run their offense in a first half that ended 15-15.
The Pioneers started to find an offensive rhythm in the second half, though, and with their defense still making life difficult for South Eugene, they slowly pulled away.
"We just came out with energy," Oregon City junior point guard Andre Best said of the second half. "We wanted to win the game, so we just played together and did our regular stuff, nothing new."
Best hit a three-pointer for a 22-17 lead, and the Pioneers strung together 10 consecutive points to extend their edge to 32-19 early in the fourth quarter. The last eight points of the run came via reserve junior guard Dalton Welch.
"He's one hell of a player," Nova said of Welch. "He's coming off the bench, not playing much, banging down some threes."
The game got away from South Eugene, which was playing 24 hours after defeating McNary in a first-round game that was pushed back two days by a snowstorm.
"Their defense took us out of the game," Axe coach Dave Hancock said. "We couldn't get anything going offensively. That style kind of makes you rush things. A two-point lead seems like a 10-point lead, and you come down and make bad offensive decisions. Give them credit. They were very good."
Oregon City pounded the offensive boards and consistently beat South Eugene to the ball all over the court.
"Every loose ball, I thought that they were better at," Hancock said. "I thought they went in with two hands when we were soft. Our juniors – we've got a good group of kids coming back – they're going to learn from that."
The Pioneers added two exclamation points in the final minute. The first was a fast-break alley-oop from senior Corban Remsburg to Nova. The second was a three-pointer by seldom-used senior Nate Erhardt.
Nova's dunk delighted the home crowd.
"I had no idea that was going to happen," Nova said. "My guard just looked at me and he said, 'Up, up,' and I said, 'I better go up and get that.' I went up, I brought it down. Bringing down the house, baby."
It was a special moment for the team.
"That was his only dunk of the year," Best said. "And it being our last home game, with that dunk … I'm so proud of him."
Nova and Best scored 13 points each and Welch added 10 for Oregon City. The Axe got nine points from junior guard Sam Harris and eight points from junior guard Josh Paul.
The Pioneers now turn their attention to next week.
"It's awesome," Best said. "We're ready to make some noise. It's what we practiced for all year. It's one of our goals. The Three Rivers League is tough. We've played some great teams. That helped us."
Newkirk is confident that his defense will show up at the Chiles Center.
"We've had ups and downs on offense, but all year we've been like that on defense," Newkirk said. "Last year we were second on defense to Jesuit, and the kids were mad about that. They wanted to be first this year.
"At the tournament, a lot of teams will struggle shooting the ball. And we have that pattern that we set of making it tough on teams to score. We just hope that will carry us."
Other 6A games in Friday's round of 16:
South Salem 73, West Linn 52: Treyden Harris had 21 points and five rebounds and Jaden Nielsen-Skinner added 19 points, six assists and three steals for the Saxons, who trailed by four points after one quarter but took control by outscoring the Lions 22-10 in the second quarter.
Oreon Courtney and Joe Juhala had 14 and 12 points, respectively, for West Linn.
Jesuit 69, North Medford 42: Aiden Williams made six three-pointers and scored 24 points to lead the Crusaders past the Black Tornado. Jesuit outscored North Medford 16-6 in the second quarter to open a 28-15 lead. Jeff Carpenter had 18 points for the Black Tornado.
Lake Oswego 56, Westview 54: Josh Angle scored 13 points as the top-seeded Lakers survived an upset bid from the Wildcats. Kobe Newton scored 23 points for Westview, which came up short when Juwon Esuk missed a three-pointer at the buzzer.
Lake Oswego also got 11 points from Casey Graver and 10 points each from Wayne McKinney and Brandon Roberts.
Central Catholic 66, Sandy 43: Darius Gakwasi scored 20 points, including three three-pointers during a decisive third-quarter run, as the host beat the Pioneers for the third time this season.
SataieVior Ayilola had 15 points and DeRay Seamster added 11 points for Central Catholic. Kaleb Hubbard led Sandy with 17 points.
Grant 69, Sherwood 57