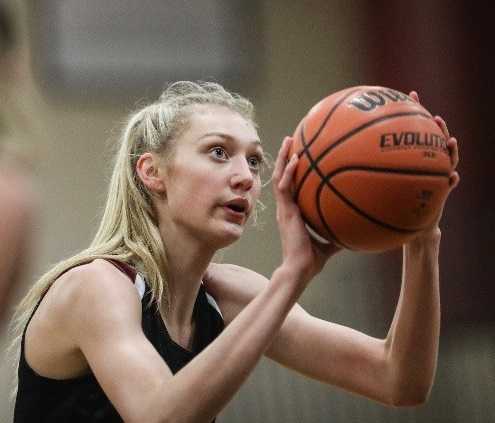 Even with all the high-stakes games played in recent weeks, the result that has resonated the most in 6A girls basketball this season is from three months ago.
On the night of Dec. 7, Tigard went into two-time reigning state champion Southridge and won 54-50, ending the Skyhawks' 44-game winning streak against Oregon teams. It sent a signal across the state that Southridge could be had.
For all it might have meant to other 6A contenders, though, it didn't seem to affect the Skyhawks. They have not lost to another Oregon team this season and will carry an 18-game winning streak and the No. 1 seed into the OSAA / OnPoint Community Credit Union 6A tournament this week at the Chiles Center.
"I knew we were beatable if we played like we played," Southridge coach Michael Bergmann said. "I feel like if we play the way we should play, it's going to be hard for teams to beat us."
Southridge graduated two key starters from last year's champion in explosive wing Maggie Freeman and hard-working post Natalie Hoff, who are at Boise State and Seattle Pacific, respectively.
But the Skyhawks have two third-year starters in Stanford-bound, 6-foot-5 junior post Cameron Brink (20.8 points, 10.8 rebounds, 2.2 blocks) and junior point guard McKelle Meek (14.2 points, 4.2 assists, 2.6 steals), who have expanded their roles.
"McKelle is more of an offensive threat now," Bergmann said. "She always had that in her, but didn't necessarily do it with the people around her. And Cameron is much more of a leader and a kid that needs to be out there. She's really improved her shooting range, so that's made her a lot different kind of player."
Southridge rose to the challenge against top teams in the Metro League, beating No. 5 seed Beaverton by 17 and 20 points and No. 6 seed Jesuit by 10 and 19 points. As the season has progressed, Bergmann has seen his team's poise and execution improve.
"I would even argue that we're better at executing this year than we were last year, both in the half-court and on offense and defense," Bergmann said. "You can't replace Maggie's offense and Natalie's ability to score down low when Cameron is not in the game, but I think we're tighter on our execution this year than we were last year."
The Skyhawks also hold a 55-50 win over No 3 seed Benson in the final of POA Holiday Classic on Dec. 29. The Techsters, who lost to Southridge 46-27 in last year's final, are among the teams that believe they have a realistic shot against the Skyhawks.
"From what I'm seeing, it's pretty open," Bergmann said. "You've got Benson and Beaverton and us that maybe physically we have an advantage over other teams, but everybody in the field has enough athleticism and great coaching and just savvy players, and kids that can take over a game."
Bergmann said that Tigard, with UC Davis-bound senior guard Campbell Gray, is a good example.
"They may not have the height advantage, but they have a kid that can score 20 points at any time, no matter how you defend her," Bergmann said. "I think every team has someone like that on their team. This should be really, really competitive this year."
6A girls quarterfinals, Thursday, Chiles Center
No. 8 South Medford (23-4) vs. No. 1 Southridge (23-3): The explosive Panthers, who are second in 6A scoring at 70.1 points per game, will challenge the Skyhawks' defense. Senior guard Ula Chamberlin (18.7 points), who has signed with Weber State, is South Medford's all-time leading scorer. Junior guard Bella Pedrojetti (13.2 points) also can be dangerous. The Panthers lost by four and 12 points to Sheldon, their only defeats to Oregon teams. South Medford is 0-3 in the quarterfinals since finishing runner-up in 2014.
No. 5 Beaverton (17-10) vs. No. 4 West Linn (20-6): Both teams lost in the semifinals last year, when the Lions took third place by beating the Beavers 38-33. Beaverton dominated West Linn in the POA Holiday Classic on Dec. 27, rolling to a 63-48 win. West Linn is led by 6-4 sophomore post Aaronette Vonleh (18.5 points, 6.8 rebounds) and sophomore guard Audrey Roden (14.0 points, 5.8 rebounds, 3.3 steals), Beavers juniors Sydney Erikstrup and Laura Erikstrup – 6-1 forwards – are averaging 10.7 points each. Sophomore guard Mackenzie Naro has made 50 of the team's 160 three-pointers.
No. 6 Jesuit (21-5) vs. No. 3 Benson (23-4): The Techsters, who lead 6A in scoring at 70.5 points per game, face the Crusaders, who have 6A's leading defense (34.5 points). Benson, runner-up to Southridge last year, features talented senior guards Ciera Ellington (19.2 points, 4.7 assists, 5.0 rebounds, 3.3 steals) and Tayler Lyday (17.1 points, 6.2 rebounds, 2.4 steals, 2.0 blocks) and one of the state's best shooters in junior Bria Dixson (15.2 points), a transfer from Franklin. Jesuit has a first-team Metro League point guard in senior Anna Fanelli (7.8 points, 4.7 assists).
No. 7 Sheldon (23-4) vs. No. 2 Tigard (24-3): The Tigers won at home over the Irish 69-51 on Dec. 4. Since that game, Sheldon senior forward Kami Walk has returned from knee surgery to bolster the Southwest Conference champion Irish, who have won 12 in a row. Junior guards Aly Mirabile (13.4 points) and Makayla Scurlock (10.2 points, 5.4 rebounds) lead Sheldon. Mirabile is the conference player of the year. Three Rivers League champion Tigard has senior guard Campbell Gray (18.2 points, 7.0 rebounds), a starter on its 2016 state runner-up team, and junior sharpshooter Delaney Leavitt (11.4 points).
6A boys quarterfinals, Wednesday, Chiles Center
No. 8 Oregon City (19-7) vs. No. 1 Lake Oswego (22-4): The Lakers beat the Pioneers in both Three Rivers League meetings this season, 60-46 and 52-42. Lake Oswego came on strong at the end of the season and finished at the top of the OSAAtoday 6A coaches poll. The Lakers survived an upset bid by Westview in the round of 16, winning 56-54, to make the tournament for the first time since their 2013 semifinal team. Senior guard Josh Angle (16.7 points, 7.0 rebounds) and sophomore point guard Wayne McKinney (11.6 points, 4.4 rebounds, 3.3 assists) lead Lake Oswego. Oregon City tops 6A in defense (43.3 points). The Pioneers are led by senior guard Corban Remsburg (12.2 points) and junior point guard Andre Best (11.4 points, 4.1 assists, 40 three-pointers).
No. 5 Central Catholic (21-5) vs. No. 4 Jesuit (20-6): Jesuit defeated Central Catholic 58-45 on Dec. 7, but the Mt. Hood Conference champion Rams have made dramatic improvement throughout the season and enter the tournament on a 17-game winning streak. They are long, quick and athletic, led by 6-5 sophomore guard Darius Gakwasi (16.0 points, 6.5 rebounds), 6-4 senior guard Isaiah Amato (14.0 points, 4.0 assists, 2.5 steals), 6-7 junior post SataieVior Ayilola (15.0 points, 7.0 rebounds, 2.0 blocks) and 6-1 junior guard DeRay Seamster (14.0 points). Metro League champion Jesuit has a versatile scorer in 6-5 senior wing Justin Bieker (17.5 points) and a deep threat in senior guard Aiden Williams (12.6 points, 71 three-pointers), as well as one of the state's most accomplished coaches in Gene Potter. Rams coach David Blue played for Potter at Jesuit, where he graduated in 1993.
No. 6 Grant (21-6) vs. No. 3 Jefferson (22-5): The Portland Interscholastic League co-champions meet in the most intriguing quarterfinal matchup. Grant edged Jefferson 63-62 in the title game last year, despite going 0-3 against the Democrats during the season. The teams split two games this season, Grant winning at home 83-82 and Jefferson following suit 73-66. Grant has a prolific scorer in Vermont-bound senior point guard Aaron Deloney (26.0 points), the PIL player of the year. Jefferson has unmatched size, depth and athleticism, and features senior point guard Marcus Tsohonis, who is headed to Washington. Jefferson and Grant lead 6A in scoring at 81.8 and 81.1 points per game, respectively.
No. 7 Tigard (17-9) vs. No. 2 South Salem (22-4): Two of the state's most dangerous players will be on display when the Tigers meet the Saxons. Tigard's Stevie Schlabach, a 6-4 senior wing, scored 68 points in two playoff games. South Salem has Portland State-bound senior point guard Jaden Nielsen-Skinner (21.2 points, 7.4 assists, 4.6 rebounds, 2.8 steals), a fourth-year starter who was a member of the Saxons' 2016 semifinal team, their last appearance in the tournament. In South Salem's 60-53 win at Tigard on Dec. 14, Nielsen-Skinner had 20 points and Schlabach had 22. The Tigers are in the tournament for the first time since winning the 2002 title.