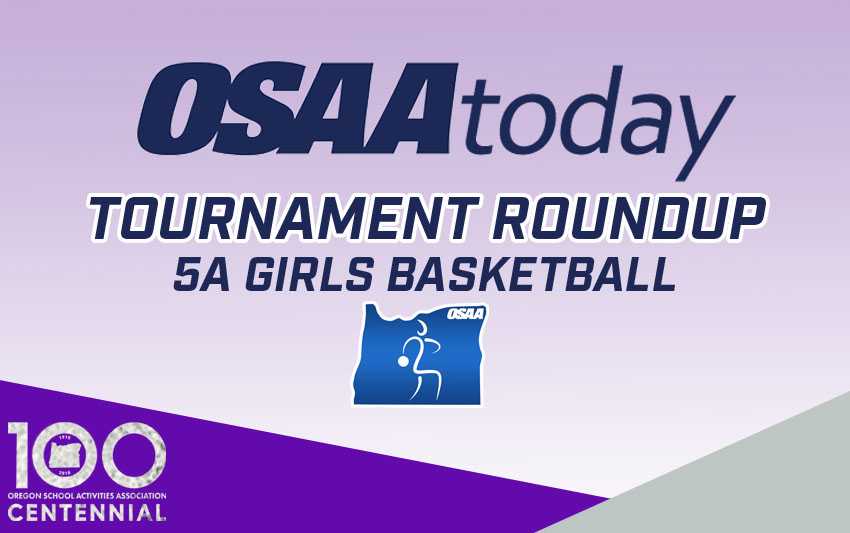 Here's a rundown of all the quarterfinal action from the OSAA / OnPoint Community Credit Union Class 5A girls basketball tournament from Gill Coliseum.
No 1. Wilsonville 60, No. 9 Crescent Valley 38: The top-seeded Wilsonville Wildcats flexed their muscles in a romp over Crescent Valley to open the quarterfinals.
Wilsonville outrebounded the Raiders 44-30 and outscored them 30-18 in the paint to run away with the win.
Crescent Valley was ice cold from the perimeter, going 1 for 15 from three-point range. They finished 12 for 46 from the field overall, while Wilsonville was 6 for 20 from long range and 21 for 53 overall.
Wilsonville sophomore point guard Sydney Burns notched a double-double with 15 points and 11 rebounds. Reese Timm scored 12 points for the Wildcats, and Emilia Bishop grabbed a game-high 12 rebounds.
Wilsonville led 31-15 at halftime.
For Crescent Valley, Cali McClave shot 3 for 17 from the field but finished with 14 points thanks to an 8-for-11 performance from the foul line.
Wilsonville will take on Northwest Oregon Conference rival La Salle Prep in the semifinals Friday. Crescent Valley will play Silverton in a consolation game Friday.
No. 5 La Salle Prep 57, No. 4 Silverton 46: No. 5 La Salle Prep buried 11 three-pointers and amassed a 21-point halftime lead to advance to Friday's semifinals with a win over the Foxes.
The Falcons shot 60 percent (9 for 15) from three-point range in the first half, and Silverton couldn't buy a bucket. The Foxes shot 1 for 12 from three-point range and 4 for 26 overall to start, and the only consistent offense came from post Truitt Reilly. She had eight points and five rebounds, and made three of Silverton's four first-half field goals.
La Salle Prep guard combination of Alyson Miura and Emily Niebergall were terrific from the perimeter. The tandem made seven of their team's 11 long-range shots, and Niebergall finished with a game-high 15 points on 6-of-14 shooting. Miura canned four three-pointers, all her made field goals, to finish with 12 points. Addison Wedin chipped in nine points and six rebounds.
Reilly finished with 11 points and 12 rebounds for Silverton, who outscored La Salle Prep 17-10 in the fourth quarter.
No. 3 Springfield 54, No. 6 Churchill 46: A full game story can be read here.
No. 7 Crater 42, No. 2 Lebanon 39: The final game of the quarterfinals started slow, but ended with one of the most exciting finishes of the tournament.
No. 7 Crater held off a furious rally by the No. 2 Lebanon Warriors and hung on for the upset victory 42-39. Lebanon erased a 13-point Crater lead and cut it to a single point three separate times, but the Warriors could never get a timely bucket to fall.
Following Ellie Croco's clutch three-point play for the Warriors with 50 seconds left to cut Crater's lead to 40-39, Lebanon controlled a missed Crater layup and called timeout with 18.6 seconds left. The Warriors tried to set up Croco inside, but Crater's Sydney Gray made the defensive play of the night with a steal. She was fouled, and with five seconds left, coolly drained a pair of foul shots to stretch the Comets' lead to 42-39.
Lebanon's inbound pass, a big heave to the frontcourt, was broken up and time ran out on their almost-miracle comeback.
By the way the game started, an ending such as this was as improbable as it was exciting. Crater led 7-2 after the first quarter and 18-10 at halftime, and Lebanon simply didn't have an answer for the Comets' swarming pressure defense.
After Maya Van Hook made a tough shot in the paint with 5.2 seconds remaining in the third quarter, Crater's 35-22 lead looked insurmountable.
Lebanon had four more field goals than Crater did (16-12), but the Comets sank 15 foul shots to Lebanon's five.
For Crater, Van Hook scored 15 points on 4-of-8 shooting, plus an 8-of-10 performance from the foul line. Gray scored nine points with five rebounds, and Nehkyah Ellis had 10 rebounds.
For Lebanon, Croco finished with 16 points and 11 rebounds, and Megan Miller scored 10 points before fouling out in the fourth.
Crater moves on to play Springfield in the semifinals Friday evening, while Lebanon slides to the consolation side and will play Churchill on Friday morning.