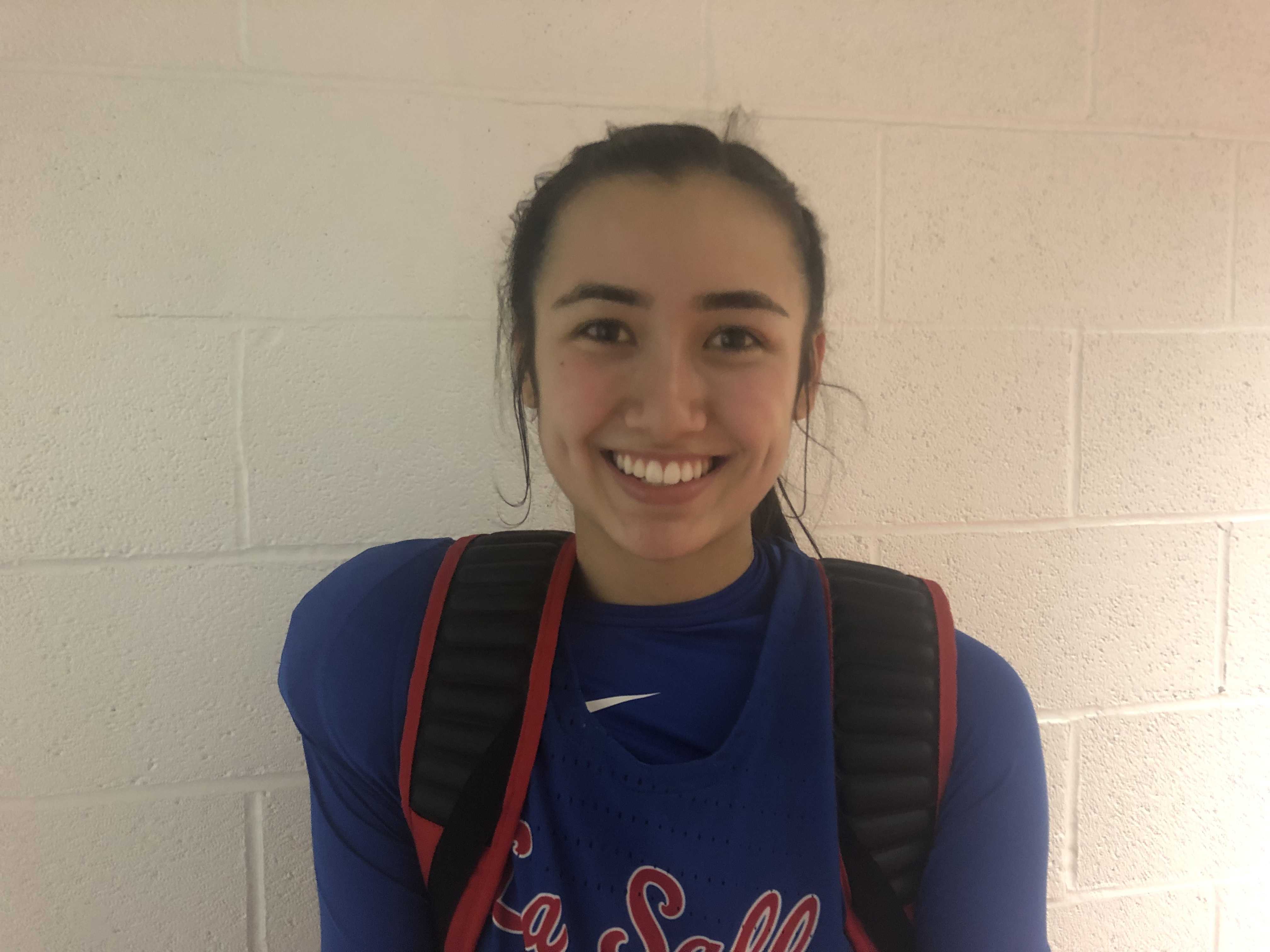 CORVALLIS -- After La Salle Prep's 79-63 win over Wilsonville in the OSAA / OnPoint Community Credit Union Class 5A girls basketball semifinals, all Falcons head coach Kelli Wedin could talk about was the adversity her team has overcome.
Some of it was on the court, some of it off, and Friday night was a shining example of how all of it culminated.
"This has been such a period of growth for us," Wedin said. "When you get to a point today, you see how much the adversity has made them into tough kids. They know how to weather storms they may not have been able to in December. Every single moment, every single week -- now here we are."
It has been a myriad of tribulations for the Falcons this season, from early-season injuries, sickness during a tournament in Arizona and players losing loved ones. Wedin said all of those experiences have not only galvanized her team, but brought them closer.
"I've seen these kids be so all-in all year," Wedin said. "They have done everything they can to be great teammates and buy in to the culture. They have been selfless."
The newest Falcon, senior guard Alyson Miura, transferred from Clackamas and played the first game of the season before injuring her right shoulder. The injury required surgery and she rejoined the team a couple weeks ago, but it looked like she had played all season.
She was perfect in the first half, shooting 4 for 4 from the field with a couple three-pointers that kept the Falcons within striking distance of Wilsonville. She nailed a long range shot at the 5:54 mark of the second quarter to give the Falcons a 24-19 lead, and the Falcons stayed in front the rest of the game.
She finished the game with 21 points on 7-of-9 shooting with six assists, and the USC signee said this one was pretty sweet.
"This is my fourth game back, and people have been sick and hurt and lost close family," Miura said. "We've been fighting, and this win to have a chance at the championship means everything."
Miura said she's still fighting through some pain in her right shoulder, and things have been tough for her because of it, but it didn't seem to slow her down. She was terrific.
Although La Salle Prep led the entire second half, Wilsonville's offensive presence was enough that it didn't really feel like it. Sophomore post Emilia Bishop ended the game with 18 points on 8-of-12 shooting and seven rebounds, and was a force in the paint. With great footwork and body positioning, she was a load to handle in the interior.
Senior guard Cydney Gutridge provided 14 points, including a three-point play that cut La Salle's lead to 52-47 midway through the third quarter. Gutridge also drained a three-pointer at the third-quarter horn to help offset a La Salle Prep run late, and keep the Wildcats within six at 58-52.
La Salle Prep poured it on in the fourth quarter to seal the win, outscoring Wilsonville 21-11. Wedin said she knew Wilsonville would have to send two or three defenders at the ball, so they used a spacing offense that created easy buckets from quick passes.
"We were running our stall offense because it makes teams that play high pressure pay," Wedin said. "We exposed that pressure with having the ball in good playmakers' hands."
For the Falcons, Addison Wedin went 13 for 14 from the foul line and finished with a game-high 23 points and six rebounds. She was 5 for 12 from the field, so it wasn't her best shooting night, but she attacked the basket and drew plenty of fouls. Lauren Vreeken notched a double-double with 11 points and 10 rebounds and Mia Skoro chipped in eight points in 20 minutes off the bench.
For Wilsonville, Burns finished with 13 points on 4-of-8 shooting and seven rebounds.
La Salle Prep will take on Springfield for the 5A championship Saturday night, and Wilsonville will play for third against Crater on Saturday afternoon.
In other semifinal action ...
No. 3 Springfield 54, No. 7 Crater 34: The Millers led wire to wire and held all Crater players under double digits in the late game.
Springfield jumped out to a 14-6 lead after the first quarter, then poured it on with an 11-2 second quarter before putting it on cruise control the rest of the way.
For the Millers, Reice Newell scored 16 points on 8-of-12 shooting, and Masey Williams scored 12 points with a pair of three-pointers. Kayley Elliott grabbed a game-high 11 rebounds.
For the Comets, Maya Van Hook scored nine points on 4-of-8 shooting and Sydney Gray had eight points.