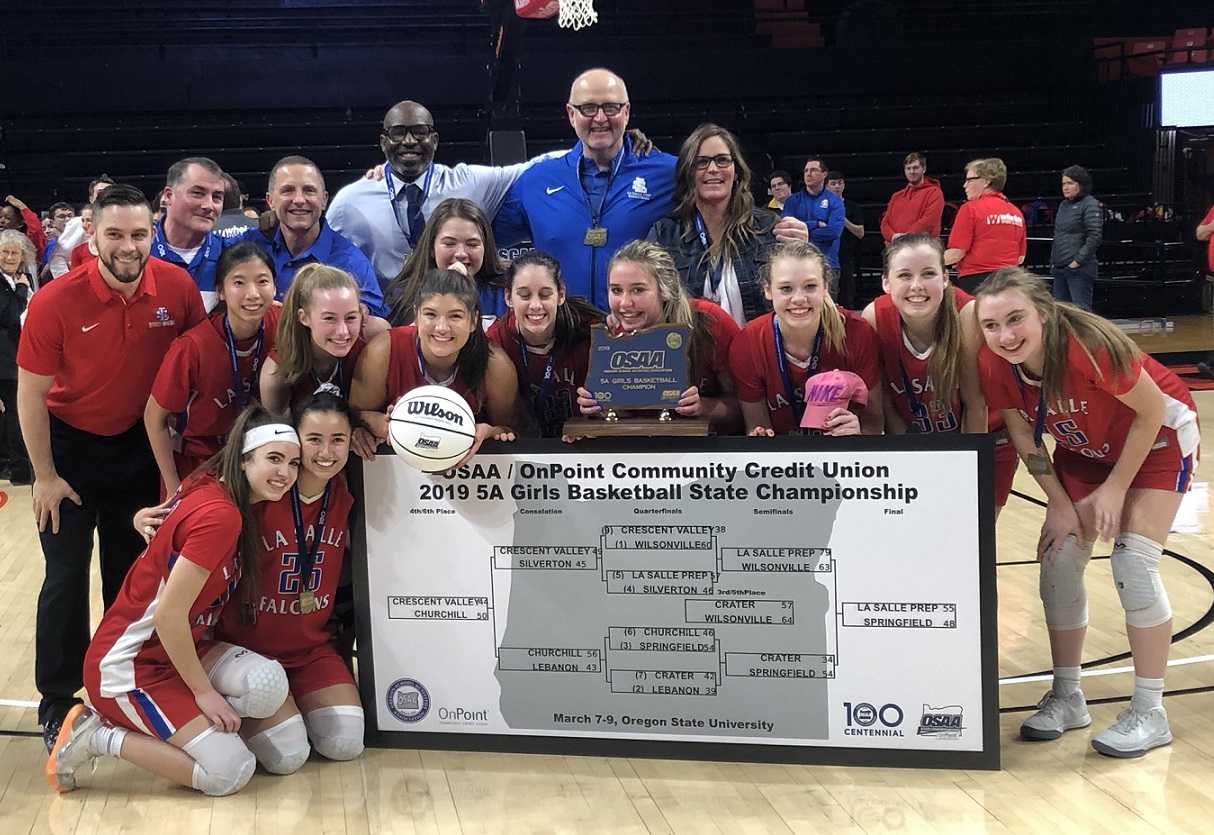 CORVALLIS -- The No. 5 La Salle Prep Falcons were dead set on not letting history repeat itself after a title-game loss to Marist Catholic last season.
With a deft touch from long range and tough defending, the Falcons topped No. 3 Springfield 55-48 in the championship game of the OSAA / OnPoint Community Credit Union Class 5A girls basketball tournament Saturday night at Gill Coliseum.
La Salle Prep shot 57 percent from three-point range (8 for 14) and a sizzling 83 percent in the second half (5 for 6). They also held dynamic Springfield guard Emma McKenney to eight points on 3-of-6 shooting, and the Falcons didn't let Marist's star player last season burn them again.
"It was a dogfight," La Salle Prep coach Kelli Wedin said. "We did a fantastic job on McKenney. We knew we couldn't do that with both of them (Rebecca Durbin being the other), so we had to pick and choose and really didn't want McKenney to get going. She beat us last year, single-handedly."
McKenney hit a couple big shots late in the game to keep the Millers in the game, however. She nailed a three-pointer with 32.7 seconds left to bring the Millers within six, then a finger-roll from the middle of the key to cut the lead to 53-48 with 21.4 seconds left. But La Salle Prep's Addison Wedin hit a pair of foul shots with 16.6 seconds left to ice the game.
"I felt like we had the energy the whole time and went hard the whole game," Addison said. "It was the worst feeling when we lost last year, and I told myself that we weren't feeling that again. We came together."
With senior guard Alyson Miura in foul trouble for most of the game, junior Emily Niebergall took it upon herself to pick up the slack. She was red-hot from the field, connecting on 6 of 8 attempts and 3 of 5 from three-point range to finish with 16 points. With 4:48 left in the game, she hit her biggest shot of the night, a three-pointer spotted up on the left wing, to quell a Springfield run and stretch her team's lead to 46-39.
La Salle Prep shot 48 percent from three-point range the entire tournament. A lot of times teams that shoot well during the year have a tough time with sightlines of the big arenas. Not the Falcons -- they've been here so much that they just needed a little refresher, Niebergall said.
"It was time to step up," Niebergall said. "It took a little getting used to, but I think once you get comfortable, let it fly. Shoot your shot. It's going to go in eventually."
While she played just 20 minutes, Miura still made an impact. She hit a trio of three-pointers and finished with 11 points, including a pull-up triple seconds after she committed her third foul with 5:13 left in the third quarter. All of Miura's field goal were three-pointers.
Springfield held a lead late in the first half, and Durbin played a big role in that. She scored 11 of her game-high 21 in the first half, and drilled a three-pointer with 3:30 left in the second quarter to give the Millers a 19-17 lead. But 20 seconds later, Wedin buried a three-pointer to give the lead back to the Falcons.
"They are a high-powered offensive program, and we held them to 55 points. We have nothing to hang our heads about," Springfield coach Teke Silva said. "It was a game of runs, and they had a few more than we did."
Durbin was terrific for the Millers, and Silva thinks she's one of the most underrated players in Oregon. Durbin was 6 for 13 from the field and 3 for 6 from three-point range.
"She does it for us on the offensive and defensive end," Silva said. "She's playing 32 minutes on both ends for us, and in my opinion that can't be matched by anyone."
For La Salle Prep, Wedin scored a team-high 18 points on 5-of-8 shooting with a pair of three-pointers and 6 of 11 from the foul line. Lauren Vreeken pulled down a game-high eight rebounds, and the Falcons shot 18 for 34 overall.
For Springfield, post Kayley Elliott was in foul trouble early on but still scored 13 points on 5-of-9 shooting in 26 minutes. The Millers were 5 of 16 from three-point range and 17 of 39 overall.
Coach Wedin's pregame talk revolved around the team writing a book, metaphorically of course. With all the ups and downs of a season, she wanted to make sure this story had a happy ending.
"I said this was the last chapter of our story," Wedin said, "and let's go write it the way that we want it to end."
A look at Saturday's other trophy games ...
No. 1 Wilsonville 64, No. 7 Crater 57: The Wildcats scored 27 points of 20 Crater turnovers and held the Comets off late for third place.
Wilsonville dominated in the paint with 36 points to Crater's 16, and shot 50 percent for the game at 23 for 46.
Sophomore point guard Sydney Burns turned in a big game for the Wildcats with 19 points on 8-of-11 shooting and seven rebounds. Another super sophomore, 6-foot-2 post Emilia Bishop, was nearly perfect from the field at 7 of 8 with 14 points and eight rebounds. Renee Lee played 17 minutes off the bench and certainly made the most of it. She scored 16 points on 6-of-8 shooting.
Crater outrebounded Wilsonville 39-27 with 18 on the offensive end, but shot 18 of 53 overall.
For the Comets, Averi Young had 15 points with eight rebounds. Sydney Gray scored 14 points with seven rebounds.
No. 6 Churchill 50, No. 9 Crescent Valley 44: Churchill freshman guard Danika Starr had 18 points on 5-of-12 shooting and 6 of 6 from the foul line to lead the Lancers past the Raiders for fourth place.
Tiara Bolden and Stella Scott each grabbed 10 rebounds for Churchill, and Bolden added 10 points. The Lancers made nine three-pointers to Crescent Valley's five.
For the Raiders, Cali McClave scored 21 points on 7-of-22 shooting. Peyton Dale had 14 points on 6-of-11 shooting.
Churchill outrebounded Crescent Valley 42-21 and outscored the Raiders 17-5 in the second quarter.