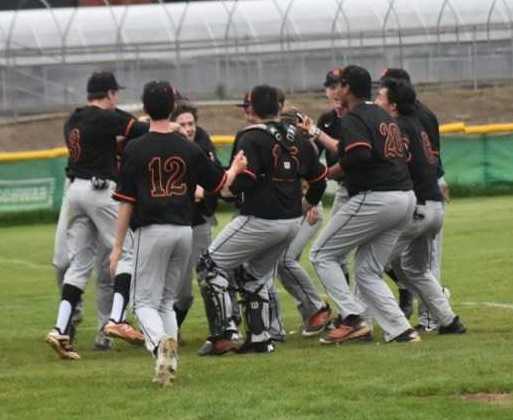 INDEPENDENCE – No. 3 Silverton outlasted No. 6 Central 4-3 in 10 innings in a pivotal 5A Mid-Willamette Conference baseball game Monday.
The visiting Foxes (13-2, 6-1) scored the go-ahead run in the top of the 10th inning when senior Cooper Hannan singled to drive in senior Hunter Runion.
Central (10-4, 3-2) loaded the bases with one out in the bottom of the 10th, but senior Owen Bischoff forced two fly balls to end the game. The final out came when junior Gage Mack, who moved from pitcher to left field, made a diving catch just inside fair territory.
"We're gritty," said Bischoff as the Foxes mobbed Mack like it was a game-winning hit. "We may not have a dude who's D-I or we have six college commits like teams in our league, but we're gritty."
Silverton led 2-1 before Central senior Conner Laeng tied it up in the bottom of the seventh with an RBI double. Bischoff homered to right field in the top of the eighth to put the Foxes up 3-2, but Panthers senior Ruben Cedillo answered with his own blast to right field in the bottom of the inning to tie 3-3.
"It was definitely the most intense game I've ever played in," said Bischoff, who went 2 for 3 with a home run. "They're a tough team. We didn't show up with the sticks the first seven innings, but we persevered like crazy."
Senior pitcher Kaleb Kantola went the distance for Central, striking out nine. Mack had six strikeouts for Silverton.
Just one more inch, perhaps, and it would have been Central celebrating a win. The Panthers, who play No. 1 Crescent Valley (15-1, 5-0) on Friday and Monday, will try to get even when they visit Silverton on Wednesday.
"We need a win. We need to fight at their house and get a win back and onto CV," said Cedillo, who had two hits. "Our pitcher is good, but it came down to defense. …
"We were all looking forward to this game, and obviously the next couple of games against (Crescent Valley), too, and we gave it our all. They came out on top today."