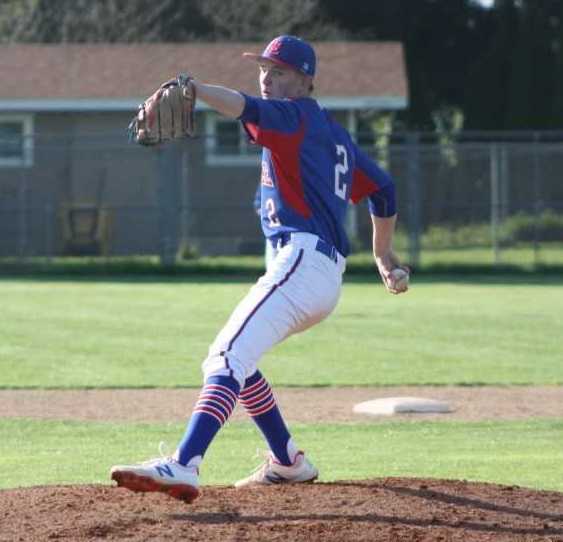 MILWAUKIE -- Heading into Wednesday, Putnam's baseball team was riding an 11-game winning streak and threatening to make a mockery of the 5A Northwest Oregon Conference title race.
But that was before second-place La Salle Prep stepped up to halt the Kingsmen with a 7-3 win that should keep things interesting down the stretch.
The host Falcons (8-9-1, 8-3) seized the momentum with a three-run first inning and got a solid pitching performance from senior Matt Evans to turn back No. 8 Putnam (15-4, 10-1), which had beaten them 1-0 on Tuesday. The teams meet for the rubber match of the three-game series Friday at La Salle Prep.
"It's really big," said Evans, who gave up two hits and one earned run in 4 1/3 innings, striking out seven. "We knew we had to get two out of three from these guys, and it gives us a good chance to now."
Falcons coach Nate Fogle liked how his team responded coming off tough one-run road losses to Scappoose and Putnam.
"I thought we came and played," Fogle said. "We knew we had to come with our backs against the wall a little bit. I thought we answered the bell. We got them early, which was key. It sets the tone."
Putnam coach Chad McGowan lamented his team's inability to produce a timely hit. The Kingsmen, who had three hits, left 11 runners on base, including seven in scoring position.
"That was it," said McGowan, who starts one senior. "When we get a guy on third base and less than two outs, that's a time in the last 15 games where we've been able to get that run in, pretty much 100 percent of the time. Those runs early on would've been big, kind of change the way the momentum of the game goes."
Putnam sophomore pitcher Austin Hayes started the game by hitting Evans with a pitch and walking senior Isaac Kersey-Bronec. Senior Spencer Paugh drove in a run with a groundout and senior Gavin Gately hit a two-run single for a 3-0 lead.
La Salle Prep junior Sean MacNeela made it 4-0 in the fourth inning with a home run on a ball that went in and out of the glove of senior left fielder Ozzy Mackenzie. The Falcons added another run in the fourth on an error, making it 5-0.
Putnam scored three runs in the fifth inning -- including an RBI single by junior Tanner Drog -- and threatened to add more when it had the bases loaded and one out. But senior pitcher Jace Norton fielded a grounder for a forceout at home and sophomore reliever Dave Jensen fanned sophomore Jayden Junta to end the rally.
"It fizzled out a little bit, unfortunately," McGowan said.
Fogle used three relief pitchers in the fifth to escape the jam.
"I told the guys, 'If we're going to do something special, it's going to be all of us, it's not going to be one guy,'" Fogle said. "All of them have to know their roles, and all of them bought in."
Jensen did not allow a hit in the last 2 1/3 innings, striking out four.
"We put him in a big role this year and he's responded well," Fogle said. "He's a guy that stays calm under pressure and he's going to pound the strike zone. That's what I like about him."
The performance of Evans, who has committed to Chico State, was what carried the day for La Salle Prep, though.
"He threw gas today," said MacNeela, the catcher. "He threw within himself. That was probably one of the best outings he's had all year. Curveball was very good. Putnam's a really good team, and he shut them down."
Since opening the season 0-6-1 in nonleague games, La Salle has won eight of 11 in the NWOC. The Falcons, conference champions in 2017, are hungry to get back on top.
"Our schedule, our first seven games were against really good competition," said Evans, who also doubled for one of La Salle Prep's six hits. "That helped us a lot. These guys, they really want it, you can see. I think we're only going to get better from now."
Putnam -- which has bounced back from going 10-17 last season, when McGowan was unable to coach because of paternity leave -- is in the midst of a key stretch. After playing La Salle Prep on Friday, the Kingsmen have a three-game series next week with Wilsonville (10-8, 7-3).
"One loss isn't going to kill us," McGowan said. "We've just got to be able to bounce back."