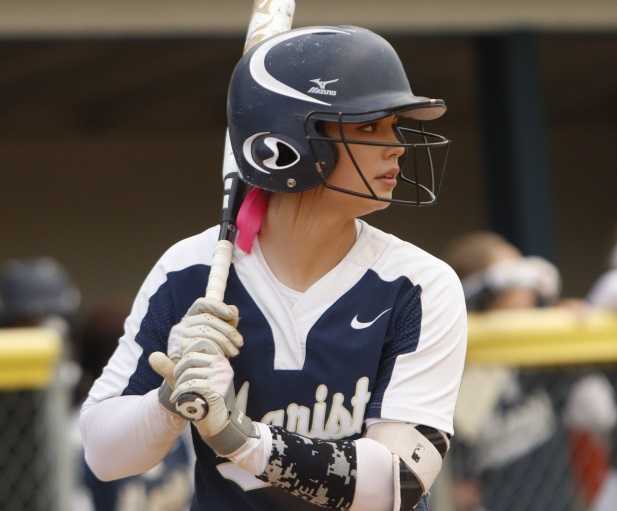 As the home runs continue to pile up for Ariel Carlson, don't expect the Marist Catholic senior to count them.
The University of Oregon-bound Carlson couldn't tell you how many she has hit. And she prefers to keep it that way.
"Honestly, I really have never paid attention to stats," she said.
Carlson is on pace to set the national high school record for career home runs. Through 16 games this season, she has hit 15 home runs, giving her 67 in four years.
The national record is 75, set by Kasey Flores of El Paso Eastlake (Texas) from 2015 to 2018. Carlson is No. 3 behind Flores and Shelby Holley of Pisgah (Ala.), who hit 72 from 2008 to 2011.
Carlson would have to keep slugging at a high rate to have a chance, but the record is certainly within reach.
"That would be amazing to do, but when you try to break records, it doesn't usually happen," said Carlson, rated the No. 21 senior recruit in the nation by FloSoftball. "You've got to just work and focus on winning the game for your team, and eventually that will fall into place. That would be cool, but it's not something I'm focusing on at all."
Carlson could become the second Marist Catholic player to set a national record. Kayla Braud, now an assistant coach with the Spartans, ended her high school career in 2009 with a 103-game hitting streak.
Carlson is batting .692 (27 for 39) with 43 RBIs and only three strikeouts in the cleanup spot for the Spartans (14-2), who are No. 3 in the OSAAtoday 4A coaches poll. Her power displays – she has hit the balls into the Willamette River at her home field, about 320 feet away -- have become regular occurrences at Marist Catholic games.
"It's pretty fun to watch," Spartans coach Missy Doerr said. "She clears the fence pretty darn good. There's not even a question that they've gone out. There's quite a few that have gone a very long distance. I'm not shocked anymore when she hits it."
Where does the 5-foot-6 Carlson get her power?
"I wish there was a trick, some crazy thing that I knew about hitting, because otherwise I would tell everyone I knew," Carlson said. "But honestly it's just a lot of hard work behind every swing."
Carlson said she is looser and more confident this season.
"Things are just clicking right, I guess," she said. "Going into this season, I just decided that this is my last year, so I'm really going after it. There's nothing to lose."
Marist Catholic's lineup also includes junior catcher Abby Doerr, the coach's daughter, who is hitting .711 with 12 home runs and 47 RBIs. Her presence in the batting order a big reason why opponents have difficulty pitching around Carlson, who has 12 walks this season.
"We've kind of developed a system where it's hard to do that," Missy Doerr said. "She's a good enough hitter that you come anywhere close and she can make something happen."
Carlson also has been outstanding as the team's ace pitcher, going 11-2 with a 1.57 ERA. In 60 innings, she has struck out 123 and allowed 27 hits.
Carlson isn't crazy about pitching – she doesn't throw for the Beverly Bandits, her Chicago-based travel team – but does it to fill a void for the Spartans.
"I was the only option last year. This year we have younger pitchers, but they still needed me to be in that pitching role, and I was more than happy to do it," Carlson said. "This is my last time pitching, so I just get after it because I'll be done in like six weeks."
Missy Doerr said that Carlson is an "inspiration" to her younger teammates.
"She's helping the younger ones with their hitting, which is exciting," she said. "She's kind of leaving her mark, not only on the field but with her teammates."
Barlow's 'bulldog': Junior Lexi Geary has helped lift Barlow to the top of the Mt. Hood Conference.
In four road wins last week, Geary went 12 for 16 with five home runs and 16 RBIs. She also went 4-0 with a 2.96 ERA for the Bruins (12-6, 7-0), who beat all three second-place teams in Centennial, Reynolds and Clackamas.
Geary continued her hot streak in Wednesday's 8-2 win over Central Catholic by going 4 for 4 with four RBIs. For the season, she is hitting .587 with five home runs and 31 RBIs and is 10-2 with a 2.86 ERA.
In a 6-0 win over previously undefeated Reynolds, she tossed a three-hitter and hit a three-run home run. Two days later, she hit a two-run shot as Barlow won at Clackamas 7-2.
"She's really cranked things up," Bruins coach Rob Gehrke said. "She was fighting through injuries last year, and she's actually fighting through the same injury this year, a little problem with her back. But the kid's amazing."
The 5-3 Geary took over as the team's ace last season.
"She's a bulldog," Gehrke said. "She's not very big but she throws the ball hard. She's not scared of anything."
Power surge: The Dalles catcher Maddie Troutt continued her impressive sophomore season Tuesday by going 3 for 3 and hitting her ninth home run to help the No. 7 Riverhawks (11-3, 5-1) beat No. 6 Pendleton 12-11 in a 5A Intermountain Conference game.
For the season, she is batting .479 with five doubles, one triple, 34 RBIs and 28 runs. She has a 1.113 slugging percentage.
Troutt hit two home runs against Gresham in the first week of the season and ripped three home runs, including a grand slam, against Redmond on April 12.
Saving Grace: Junior pitcher Grace Kimball has been the difference so far for first-place Sunset in the 6A Metro League.
Kimball was outstanding last week as the No. 3 Apollos (14-4, 4-0) won Metro showdowns at No. 8 Jesuit and No. 9 Westview. In 14 innings, she gave up seven hits and two earned runs and struck out 23.
She has 181 strikeouts in 112 innings this season. Her ERA is 1.60 and opponents are batting .166 against her.
Sunset extended its winning streak to six Wednesday with a 5-4 home win over Mountainside.