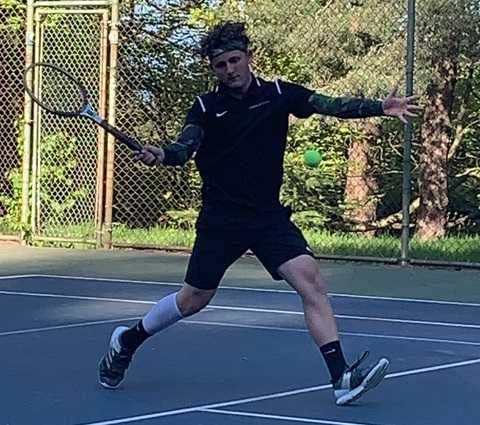 For Lincoln's boys tennis team, trying to overcome three-time reigning 6A champion Jesuit in recent seasons has been an exercise in futility.
Despite having some of their strongest teams, the Cardinals have managed roughly half of Jesuit's point total at the state tournament, where they were third in 2016 and runners-up in 2017 and 2018.
This year, though, they are hoping things will be different. Not only are they deep and experienced, but they could get some much-needed assistance.
"We are welcoming Summit with open arms," Lincoln coach Todd Mansfield said of the Storm, which moves to 6A after winning the last five 5A titles. "I think they can really, really make a difference and help us, as can Lakeridge and Sprague. There are a few other teams that are bringing A-listers in singles and doubles that can make a big difference for us."
Much of Lincoln's hopes are pinned on senior Avi Shugar, who has signed with Alabama, and the doubles team of seniors Danny Luo and James Chen. At state last year, Shugar and Luo/Chen lost competitive semifinal matches to eventual champions from Jesuit.
For the Cardinals to have a shot at their first team title since 1988, they are going to need at least one singles or doubles title, and maybe both, according to Mansfield.
"I really think with Avi Shugar, Danny Luo and James Chen leading the way, we've got an opportunity to take out Jesuit, which we know is everybody's goal and is a big mountain to climb," Mansfield said.
Shugar must contend with Jesuit junior Peter Murphy, the two-time 6A champion, and Summit sophomore Nate Bonetto, a first-year player who dominated Murphy 6-2, 6-1 in the final of the Jesuit Tournament on April 13.
Shugar lost to Bonetto 7-5, 6-3 in the first round of the Jesuit tournament but rebounded to win consolation. His other loss this season came last weekend against Sprague junior Judson Blair in the final of Westview Invitational, a match decided by a tiebreaker.
"Last year's state semifinal loss left a really nasty taste in his mouth that he wants to get rid of this year," Mansfield said of Shugar, who made the quarterfinals for South Eugene as a sophomore before transferring to Lincoln. "Avi's been up and down a little bit, but what I've really seen grow in him is his mental game and his ability to handle himself beautifully on the court without getting upset. He's really matured these past 12 months."
Mansfield said that watching Bonetto beat Murphy was beneficial for Shugar.
"It really opened Avi's eyes to altering his game in a way that can help him get over Peter," Mansfield said. "It's not a done deal, because Peter's a fantastic competitor, but I think he picked up a few tips. If he mixes that together, he's got a great chance to take out Pete, and Nate, as well."
Luo and Chen lost 7-5, 6-3 in the semifinals last year to the Jesuit team of Tommy Kallgren and Jaden D'Abreo, now a senior and junior, respectively.
Luo and Chen have come back strong this year. They finished first in the Jesuit Tournament with a 6-3, 6-2 win in the final against the Summit team of juniors Ryan Abbott and David Feldman, last year's 5A doubles champion.
"James has really grown and developed his game immensely in the past 12 months," Mansfield said. "Danny is just steady and solid. They really complement each other well."
A big key for Lincoln is senior Allen Song, the team's No. 2 singles player. He made the second round at state last year and can provide a boost by reaching the quarterfinals this year.
Lincoln's No. 2 and No. 3 doubles teams – senior Clayton Allen/sophomore Atharve Bhingarde and seniors Michael McPhee/Regen Li – also could be factors.
The Cardinals first need to qualify at the Portland Interscholastic League district tournament Thursday and Friday at Portland Tennis Center. The 6A tournament is May 16-18.