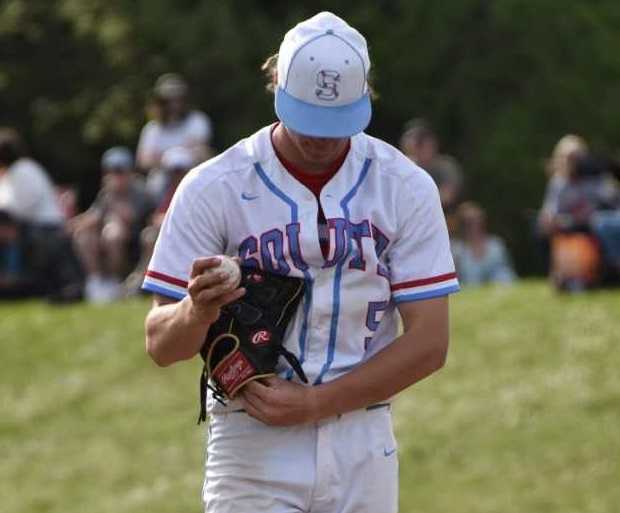 SALEM – No. 5 South Salem erupted for four runs in the fourth inning to beat visiting Sprague 4-2 in a first-place showdown in Mountain Valley Conference baseball Friday.
The Saxons (15-4, 7-2) got payback for Thursday's 11-1 loss at Sprague (11-7, 6-3) and retook sole possession of first place. The fourth-inning outburst was enough to support the pitching of Oregon State-bound senior Ryan Brown.
"Yesterday really opened our eyes in how where we should be and how we couldn't be complacent," said Brown, who struck out six. "We're a better ballclub, but we didn't play like it. They outplayed us in every aspect of the game yesterday. We came out today with a fire underneath us."
Sprague took advantage of South Salem miscues to take a 1-0 lead in the second inning on a sacrifice fly by sophomore Brett Hassoun, but the Saxons came back with four runs in the fourth inning off Olympians senior Michael Soper.
Sophomore Danny Alvarado doubled to drive in Brown, senior Kaiden Doten added an RBI and junior Greyson Hanowell capped the rally with a two-run homer, making it 4-1.
"It was huge. Ryan was dealing for us and it all started with our plate approaches, I think," Alvarado said. "We all went up there with the mentality to attack a fastball, but Soper was good with the curves today, so we didn't swing it like how we wanted to throughout the game. But we had one big inning where he was shaky and we were on him. He came after us and we delivered."
Sprague rallied in the seventh when it loaded the bases with one out against Brown and senior reliever Elijah Enomoto-Haole. The Olympians made it 4-2 on a passed ball, but with the tying run at second base, Enomoto-Haole retired juniors Jackson Hildebrand and Ethan Johnson on a fly ball and groundout, respectively, to end the game.
The loss ended a four-game winning streak for Sprague. Olympians junior catcher Brock McMullen kept it in perspective.
"We're still going to grind out here the rest of the season. This loss doesn't mean anything," McMullen said. "We're going to feel it for sure because we were so close, but the rest of the season, we're going to build off of this."
Both teams have three conference games remaining.