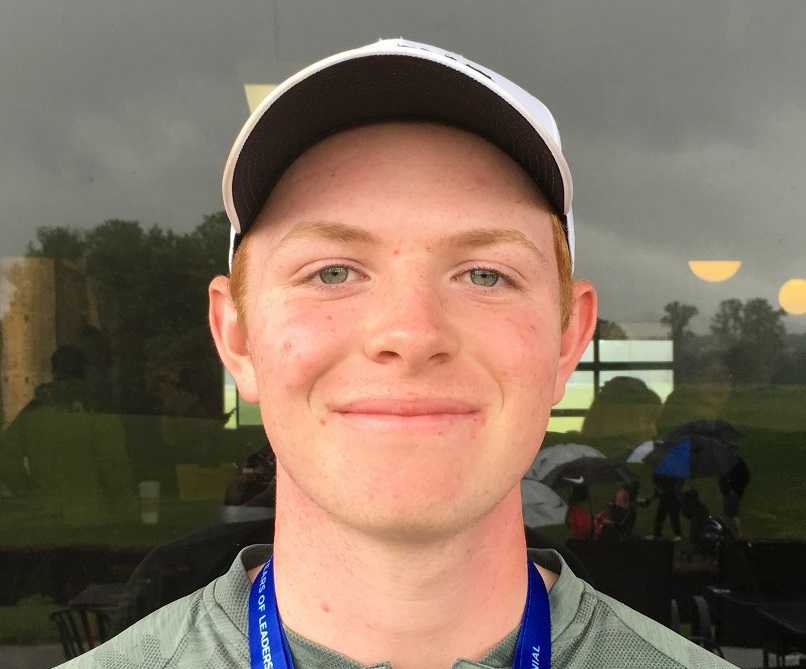 CORVALLIS -- Andrew Reinhardt didn't know the full gravity of the moment, but he seized it anyway.
Unwittingly tied for the lead with two holes left, the Jesuit junior made a putt for the ages to win the OSAA/OnPoint Community Credit Union 6A boys golf tournament Tuesday at Trysting Tree Golf Club.
Reinhardt coaxed in a 37-footer up a ridge for birdie on the 17th hole, which turned out to be the difference in a one-stroke win over Lincoln senior Nate Stember, the reigning champion.
"I rammed it right in the center of the cup," said Reinhardt, who finished off his win with a short par putt on 18.
Reinhardt, co-runner-up behind Stember last year, shot a 68 to finish the two-day tournament with a 3-under-par 139. The Oregon-bound Stember already had finished with a score of 140 when Reinhardt stood over his putt at 17.
"I honestly didn't know where Nate was at. I only knew where my teammate was at," Reinhardt said of Crusaders freshman Ethan Tseng, who finished third at 141 after bogeying the final hole. "Right after I made the putt on 18, everybody just started going crazy, and I found out. It means a lot after being in the same spot last year."
Stember was watching when Reinhardt made the long putt.
"From the upper ridge, breaking left. It was a really, really good putt," Stember said. "He knew I was there, too, so it was kind of funny. It was pretty impressive."
"What a gutty performance. Four-under on the back nine to win the state championship is pretty cool. He's a really, really good player. He's gotten unbelievably better in the last year-and-a-half, two years."
Crusaders coach Jay Minsker raved about the dedication of Reinhardt, the son of Jesuit girls assistant coach Konrad Reinhardt.
"He's put so much time and effort into it," Minsker said. "I'm so proud of him. He works out year-round. I'm so happy for him. He's been very consistent all year. He never really put everything together."
Reinhardt got in a groove on the back nine, much like he did on Monday, when he shot 2-under down the stretch.
"I felt a lot more confident going into the back nine because of yesterday," Reinhardt said. "I got off to a slow start but then I got it going on."
Reinhardt adjusted well to Tuesday's cool, rainy conditions after a sunny, warm Monday.
"The first few holes, the weather kind of affected me because I didn't quite get warm," he said. "I made my birdie putt on 4, and I was ready to go at it now."
Stember was hungry to repeat and appeared in good shape when he was in the clubhouse at 140. But it wasn't enough.
"I wish I was playing in the final group, so I could get a feel for what's going on," Stember said. "But that's how this tournament is structured, so you've got to go with it. It was definitely disappointing."
Reinhardt and Tseng led the way as Jesuit cruised to its third consecutive team title, outscoring runner-up Mountainside 572-600. Sophomore Brody Marconi was sixth at 145 and junior Johnny Ward tied for ninth at 150 for the Crusaders, who shot 1-under in the rain Tuesday.
"The conditions were beneficial to us today," Minsker said. "It didn't affect them. What it came down to today was just being mentally tougher than other players and just executing. It was a totally different golf course. The kids were prepared."
Summit (614), Central Catholic (620) and Lake Oswego (624) finished behind Jesuit and Mountainside.
Mountainside junior Mateo Fuenmayor (142) placed fourth and West Salem sophomore Brandon Eyre (144) was fifth.
5A
Through four holes in Monday's first round at Trysting Tree, Ridgeview senior Isaac Buerger was at 4-over-par and could almost feel the 5A tournament slipping away from him.
That's when Buerger – the state champion as a sophomore and fifth place as a freshman and junior – drew a line in the sand.
"I was like, you know what, 'I refuse to let it happen. This isn't happening. I'm coming back, I just need to finish. I know I can do it,'" Buerger said.
From that point forward, Buerger was outstanding. He was 8-under the rest of the way in the two-day tournament and finished with a 4-under 138 to win his second state championship, beating Crescent Valley senior Michael Gray by eight strokes.
"I was a little upset with how I played last year," the Weber State-bound Buerger said. "I just wanted to come out this year and give it everything I got. And that's exactly what I did."
Buerger shot a 4-under 67 in Tuesday's second round, one stroke off his personal best. He dedicated the round to his late grandfather, Daryl Buerger, writing "grandpa" on his golf ball.
"My grandma texted me this morning and told me to play for him," Buerger said.
The title performance capped an unusual season for Buerger, who got a late start due to spring snow cover in central Oregon. He and his teammates spent much of the early part of the season hitting balls into nets.
"Once we got started, it was just go-time from there," Buerger said. "We just made the best of it. Gradually, my game started feeling better every day."
Crescent Valley won its third team title, and first since 2007, with an all-senior lineup of Gray, Matthew Zaback (tied for third-148), Seth King (fifth-149) and Connor Sandberg (tied for 22nd-166). The Raiders shot a two-day total of 609 on their home course to easily defeat Ridgeview (644) and West Albany (651).
"Honestly, at the end of state last year, I felt we really had a chance to do this this year," said Crescent Valley coach Kelly Gallagher, a member of the school's first title team in 1995. "We had four seniors coming in -- you need to have four good scorers -- and when I saw how hard they were working in the summer, I was like, 'I think we can do this on our home course.'"
The Dalles junior Aidan Telles tied Zaback for third at 148. Thurston senior Ty Garner, the reigning champion, tied for eighth at 152.
4A
Marist Catholic, last year's 5A champion, dominated the 4A tournament at Emerald Valley Golf & Resort in Creswell.
The Spartans had four finishers among the top 13 to finish with a two-day score of 627, well ahead of runner-up Seaside (659). Valley Catholic (707) placed third.
Marist Catholic sophomore Nick Watts shot a 1-over-par 145 to win by eight strokes over his teammate, junior Arnav Reddy (153). Watts, who was eighth in the 5A tournament as a freshman, fired a 1-under 71 on Tuesday to pull away from the pack.
The Spartans' other scorers were sophomore Alec Vendetti (ninth-162) and junior Jared Charbonneau (tied for 13th- 167).
Stayton senior Evan Massena (154) finished third, Woodburn sophomore Cole Beyer (155) was fourth and Mazama junior Nate Beck and Seaside freshman Carson Kawasoe tied for fifth at 156.
3A/2A/1A
Oregon Episcopal blew away the competition in the second round at Emerald Valley to win its first state championship.
The Aardvarks, runners-up the last two years, entered the day with a four-stroke lead over reigning champion Bandon and finished with a 66-stroke victory over the Tigers.
Oregon Episcopal shot 318 on Tuesday, a big jump from its 346 on Monday, for a two-day total of 664. Bandon (730) and Heppner / Ione (742) were far behind.
The Aardvarks did it with three sophomores finishing in the top five: Will Phillips (second-159), Nic Nautiyal (third-160) and Hudson Hale (fifth-162). Their other scorer was senior Luke Saimee (tied for 19th-183).
La Pine junior Tommy Rohde took medalist honors with a 157. Rohde, who was sixth in the tournament last year, shot a 5-over-par 77 on Tuesday.