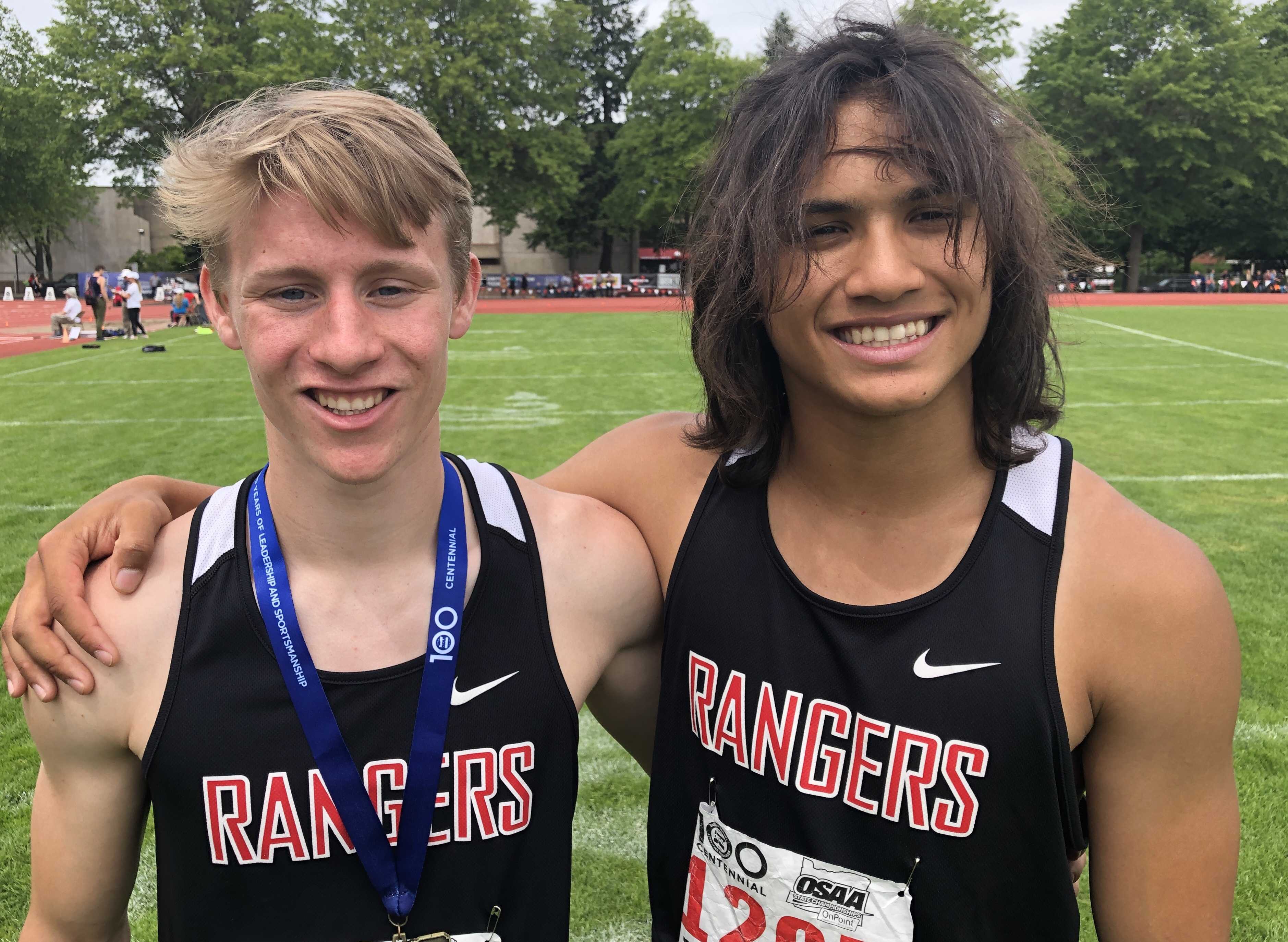 MONMOUTH -- Dufur's 4x100-meter relay team set a meet record in the OSAA/OnPoint Community Credit Union 1A boys track championships at Western Oregon University on Saturday afternoon.
With a time of 43.83, the Rangers broke the record of 44.14, previously held by Powder Valley.
"We were running for senior Abraham [Kilby]," junior Asa Farrell said. "One of our teammates got hurt and we needed to break the state record for him, and we did."
Added senior Tanner Masterson: "All that hard work actually paid off."
The Rangers' 4x100 relay team has been together since middle school. They cited their chemistry and longevity with one another as their motivation.
"We just love to compete," Farrell said. "We always love to be competitive with each other and we just came here to compete today."
Along with setting a new state record in the 4x100 relay, Farrell won the 100 in 11.07 and Masterson won the 200 in 23.13.
Cove's Tim Stevens ended his high school career on a high note in his final state meet. Spectators started a standing ovation as he turned the final corner of the 1,500.
Stevens finished in 4:01.26, a meet record, and cleared his competitors by nearly 10 seconds. The victory is the seventh state title for Stevens, who won the 3,000 on Friday.
And in the 4x400 relay, Hosanna Christian and Elgin both finished neck-in-neck with a time of 3:33.62. Upon review, it was determined that Hosanna Christian was the victor, just edging out Elgin in the closest finish of the day.
Dufur won the meet with 53 points. Joseph came in second with 48 points.
2A
As East Linn Christian's Jediah Wasson made his final turn onto the home stretch in the 1,500 in the 2A meet Saturday at Western Oregon, he was listening for the sound of footsteps or the noise of the crowd rising.
He didn't hear any of it. Instead, with the finish line in sight, he picked up his pace and won in 4:09.94.
"I was honestly thinking that someone was coming up behind me, so I knew I needed to just go, go hard," Wasson said.
Wasson said he was trying hard to pace himself on the first lap so that he could hit his top speed when he needed it most.
"What it is is hitting the first lap at the right pace, and not going too fast," he said. "You build yourself up to a certain athletic capacity and if you hit the right pace in the first lap then you'll have enough to carry yourself through. And then it's just gut, the last lap is just guts."
Lowell senior Tyson Brasfield won both the 200 (23.13) and 400 (50.63).
East Linn Christian won the meet with 72 points. Heppner was runner-up with 51 points.
Kyle Pinnell is a student at Southridge High School