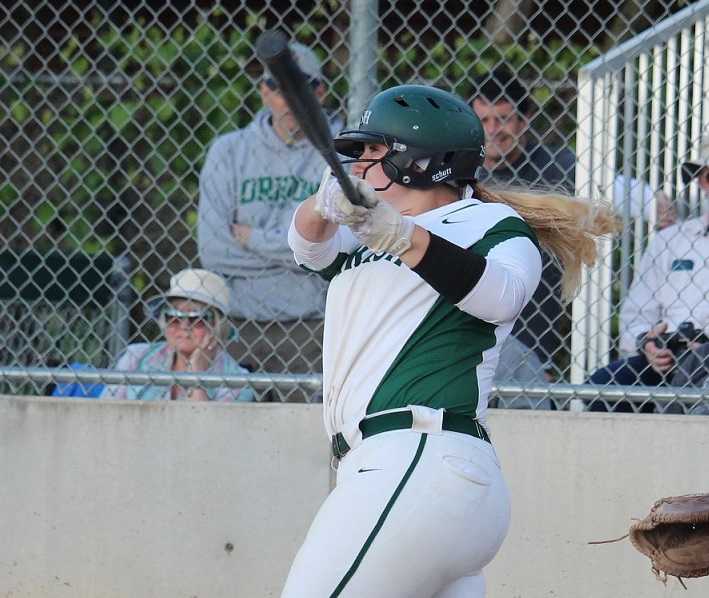 A look at Wednesday's playoff softball games in the OSAA / OnPoint Community Credit Union State Championships:
We will add more recaps as we receive them from coaches.
6A
Grants Pass 8, Mountainside 0 -- Skylar Padgett tossed a four-hit shutout and Chloe Dominger contributed two hits in the win for host GP.
McMinnville 14, Tigard 2 – Brynn McManus hit two home runs and Payton Hudson and Kassidee Bates also went deep for McMinnville, which had 19 hits in the six-inning contest. Hudson got the win on the mound, striking out eight over six innings.
Clackamas 17, Jesuit 3 -- Pitcher Shaylee Monise went 3 for 5 with seven RBIs -- including a grand slam -- and Alyssa Daniell hit two home runs for the Cavaliers, who had 19 hits. Monise pitched a six-hitter. Full game story
Tualatin 2, Franklin 0 -- Tia Ridings threw a no-hitter, striking out 13, and helped her cause by delivering two of the Timberwolves' six hits. Sydney Wagner also had two hits for the victors.
Sheldon 9, McNary 0 – Olivia Schmidt went 3-for-3 with a home run and four RBIs for Sheldon, which also got a homer from Emma Neuman as one of her three hits. Camille Leach went the distance on the mound for the Irish for the win. She benefited from some great defense behind her, but could not solve McNary's Taylor Ebbs, who went 4-for-4.
Glencoe 8, Westview 0 – The Crimson Tide used home runs from Jensen Becker and Ellie Ravins to shut out Westview. Glencoe starter Dana Butterfield went the distance on the mound, striking out eight while yielding just three hits. Glencoe turned a triple play and a double play behind her.
Roseburg 2, Barlow 1 – Roseburg and Barlow engaged in a classic pitcher's duel that saw the teams combine for just three hits. Roseburg catcher Samie Bergmann hit a solo shot in the first to give the Indians the lead. Marina Carlyle scored on a throwing error in the second after stealing third to give Roseburg a two-run advantage, one it would not relinquish.
Sunset 6, Newberg 1 – A Mikaela Byrnes RBI double in the first Sunset start quickly in its win over the Tigers. Byrnes, Kendra Knapp and starting pitcher Grace Kimball each had two hits for the Apollos. Kimball yielded just three hits in a route-going pitching performance.
5A
Ridgeview 11, North Bend 0 -- Allicitie Frost threw a no-hitter for the top-seeded Ravens, who got two triples from Natalie Hill and doubles from Lorena Vasquez, Teeghan Reams and Kiani Nakamura.
Central 6, Eagle Point 0 -- Emily Cole pitched a four-hit shutout as the Panthers eliminated the Eagles. Central had 10 hits, getting two each from Sydney Nash, Allison Wells and Mariah Hyre and an RBI double from Peyton Foreman.
Pendleton 12, Thurston 7 -- Kirah McGlothan hit a two-RBI double and a three-run home run for Pendleton, which also got a solo homer and a double from Sam Spriet and a two-run double from Josie Wilson. Harmony Stevens hit a three-run homer for Thurston.
West Albany 18, Churchill 1 – The Bulldogs scored four runs in the first inning and four more in the second and rode a 19-hit attack to the dominating win. Ellie Babbitt and Mahayla Gamble combined for six hits (five for extra bases) and 10 runs batted in. Presley Jantzi and McKenzie Kosmicki also had three hits for West in support of Gamble, who struck out 10 over five innings. Kira Stone's single in the top of the fifth drove home Churchill's lone run.
Hillsboro 1, Lebanon 0 -- Natalie McKinney's RBI single in the fourth inning was enough for the third-seeded Spartans to overcome Lebanon. McKenzie Staub pitched a one-hitter with 11 strikeouts for Hillsboro.
Crater 3, La Salle Prep 1 -- Hannah Joseph allowed one hit in 5 2/3 innings, striking out five, to lead Crater to the win. The Comets scored their runs on RBI singles by Joseph and Marissa Eilenberger and on a wild pitch.
Dallas 1, Putnam 0 -- Kaelynn Simmons pitched nine innings, allowing three hits and striking out 12, to get the win for Dallas, which took advantage of two errors in the bottom of the ninth to score the game's only run. Emma Classen, Kacey Jordan and Ruby Earhart had two hits each for Dallas.
Hood River Valley 8, St. Helens 0 – Strong defense and timely hitting propelled HRV to the shutout victory at home. The Eagles got home runs from Makenzie Chambers and Haylee Baker in support of senior righthander Lauren Decker, who induced a big sixth-inning double play to preserve the shutout.
4A
La Grande 12, Mazama 2 – Winning pitcher Allie Brock had 11 strikeouts and gave up just two hits as La Grande won at home. The Tigers had six extra base hits in the game, including a home run from Jaiden Hafer and a double and triple from Kara Gooderham. Kenzi Grounds homered in the loss for Mazama.
Sweet Home 5, Gladstone 4 -- Sweet Home scored the game-winning run on an error in the top of the seventh to stun host Gladstone. Allison Miner went 4-for-4 at the dish for the victors, who tallied 11 hits total in the game. Savannah Hutchins went the distance on the mound to get the win. Marrin McLeod, Savannah Tunon and Sabrina Ward each had multi-hit games for the losing Gladiators.
Marist Catholic 9, Ontario 0 -- Ariel Carlson tossed a one-hitter with 18 strikeouts and one walk and Maggie Stephenson went 4 for 4 with a double and an RBI to lead the Spartans.
Junction City 8, Astoria 1 – Abby Bumcrot hit a two-run homer in the bottom of the first and finished 2-for-4 with 4 RBIs to lead the 24-4 Tigers to the decisive win. Jenna Kister was stellar on the mound for JC, striking out 12 and allowing only a second-inning long ball to Kayla Helligso.
Banks 7, Elmira 6 – Banks scored three runs in the bottom of the seventh inning to rally for the win at home. Abby Campbell started the rally. Pitcher Kaylin Hernandez got the winning hit.
McLoughlin 14, Stayton 3 -- The Pioneers scored four runs in the first inning and six in the second on their way to the five-inning win. Courtney Cain went 2 for 2 with four RBIs, Graci Bullock went 3 for 4 with three RBIs and Bella Perkins had four RBIs for McLoughlin.
Philomath / Alsea 9, Madras 2 -- Kamden Combs returned from missing three weeks with mononucleosis to pitch a complete game five-hitter and go 4 for 4 in the win. Ashley Matthews had an RBI single and two-run double for the Warriors.
Henley 13, Cascade 5 -- Sophomore catcher Maddie Perez had four RBIs, including a two-run triple, and Paige Barnett hit a two-run homer to lead the Hornets to the win. Bailey Dysinger and Camryn Boyles hit two-run homers for Cascade.
3A
Clatskanie 15, Brookings-Harbor 0 -- The No. 1 Tigers parlayed 11 walks and four hits into the five-inning rout of Brookings-Harbor, improving to 24-0. Olivia Sprague hit a three-run doubles and Alexis Smith had a double and single for Clatskanie. Shelby Blodgett pitched a no-hitter with 10 strikeouts and one walk.
Scio 11, Harrisburg 1 -- The Loggers scored six runs in the second inning -- getting two-run doubles from Ashlynne Ziebert and Olivia Zeiher -- en route to the five-inning road win. Kasidee Parazoo pitched a four-hitter.
Rainier 6, Santiam Christian 0 -- Taleah King threw a seven-hit shutout with 11 strikeouts and went 2 for 3 with an RBI for Rainier. Emmalie Melvin hit a solo home run and Jaedyn Larsen had a double and two RBIs.
South Umpqua 4, Nyssa 2 -- Shalyn Gray hit a three-run homer, Amelia Ferguson had an RBI double and Hannah Lowell had three hits for South Umpqua. Tayah Kelley got the win in the circle, pitching a three-hitter with 12 strikeouts and five walks.
Cascade Christian 6, Blanchet Catholic 4 -- Mallory Meilicke hit a grand slam in the bottom of the first inning to propel Cascade Christian. She also tripled and scored on a sacrifice fly to give the Challengers a 6-2 lead in the third inning. Katelyn Willard got the win for Cascade Christian, giving up three hits, striking out six, walking two and hitting two batters.
Taft 11, Vale 1 -- Kayla Lininger had three hits and four RBIs, Addie Gates had three hits and three RBIs and Emma Coulter had three RBIs for the Tigers in the five-inning win. Coulter pitched a three-hitter with six strikeouts.
Yamhill-Carlton 11, Enterprise / Wallowa / Joseph 8 -- The Tigers led 11-5 going to the bottom of the seventh but gave up three runs to make the game closer. Enterprise had two on and the tying run at the plate when 2B Jordynn Reavis made a double play to end the threat and the game. Camille Kern homered and drove in three to lead the YC offense. Lisie Luttrell chipped in with three hits, two runs and an RBI.
Dayton 12, Creswell 2 – Dayton exploded for 10 runs on seven hits in the fifth inning to break open a close game. Lacey Smith led the offense with three hits in four trips. She also scored twice, stole two bases and drove in one. Hallie Drago and Gracelyn Ehrich had doubles for Creswell.
2A/1A
Grant Union / Prairie City 4, Lost River 2 – The Prospectors doubled up Lost River behind the strong pitching of senior ace Macy Strong, who also went 2-for-3 with an RBI. Madi McKrola added two hits and a run driven in for GU/PC. The game was scoreless into the bottom of the fourth thanks to an outfield assist at home plate from Baylee Combs. GU/PC then scored four runs on five hits in the bottom of the fourth to take what proved to be an insurmountable lead.
North Douglas 12, Bonanza 7 -- Nicki Derrick had three hits and three RBIs, including a two-run homer, and pitched a complete game with nine strikeouts and five walks as the Warriors advanced. Riley Black also homered for North Douglas.
Central Linn 6, Waldport 5 -- Central Linn rallied from a four-run deficit after two innings, taking the lead for good thanks to a four-run fifth inning. Kelsey Crowson went the distance on the mound for the victors. She was supported by Payton Holt, who went 4-for-4; and Sarah Conner, who was 2-for-3 with a double. Teira Rodgers went 3-for-3 with three runs scored in the loss for Waldport.
Lakeview 5, Weston-McEwen 0 -- Alyson Yates tossed a complete-game shutout with nine strikeouts for Lakeview. The Honkers rapped 12 hits off Weston-McEwen's McKenna Stallings.
Toledo 1, Monroe 0 -- The third-seeded Boomers turned a triple play in the top of the seventh inning to secure the win. Toledo managed only one hit off Monroe's Tyler Warden.
Vernonia 11, Santiam 0 -- The Lady Loggers got home runs from senior Joyce Everett and freshman Brooklynn Walters in the win. Jayden Hartman and Nita Cook chipped in with triples as Vernonia cruised to the win behind Everett's pitching.
Kennedy 12, Oakland 2 – Kennedy scored nine runs in the bottom of the sixth to walk off against Oakland. Starting pitcher Grace Schaecher was one of six Trojans to drive in runs in the frame. Schaecher also had a two-run double in the first and struck out nine over six innings on the mound to get the win. Kelsie Collins was 2-for-3 to pace Oakland's effort.
Glide 6, Union / Cove 3 -- No. 15 seed Glide stunned No. 2 Union behind Jordan Williams, who pitched a complete-game seven-hitter and hit an RBI double. Alyssa Malek hit an RBI single that staked Glide to a 3-0 lead in the first inning.