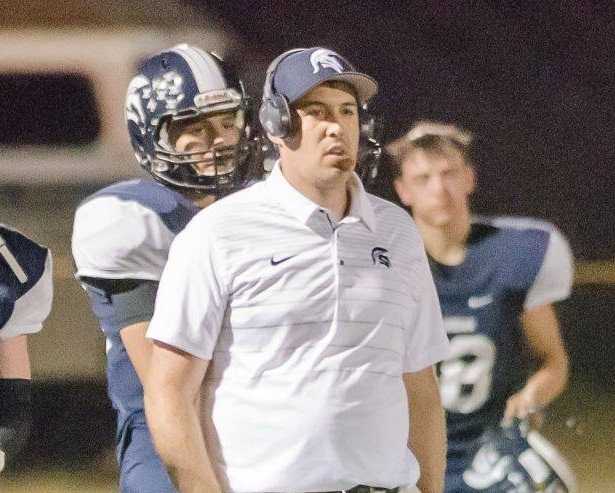 Sheridan was one of the big success stories of the 2018 football season.
In their second season under coach Jacob Peterson, the Spartans ran the table in 2A Special District 2 for their first league title in 36 years.
To build on what they accomplished, though, the Spartans must do it without Peterson.
Peterson has resigned as the school's coach and athletic director to become the defensive coordinator at 6A Newberg, where he assisted before taking over at Sheridan. He said the decision to leave his first head coaching job was financially motivated.
"That was really the deciding factor," Peterson said. "I didn't realize how hard it was going to be to go from 6A teaching and coaching to 2A, and the pay cut.
"Being a head football coach was the only thing I've wanted to do my whole life. I never thought I'd be stepping down once I became a head coach, back into a coordinator role. I fully expect to be back head coaching within five or six years. At this time, I had to take that step."
Peterson, 33, said the difference between the jobs is at least $8,000 a year. He said the move was necessary to support his wife and two daughters, ages 4 and 2.
Sheridan has hired longtime assistant coach Jeff Swinehart, the defensive coordinator last season, as Peterson's replacement. Peterson was involved in the hiring process before stepping down as athletic director.
"Jeff's been doing it a long time. He's been all gung-ho getting after it," Peterson said.
Peterson said the Spartans are in good position to follow up on last season, when they finished 8-2 and made their first playoff appearance since 2010. They won a first-round game before falling in the quarterfinals to district rival and eventual 2A champion Kennedy 27-6.
"One of the hard things to leave was I felt we could've won another league title this year," Peterson said. "We had the athletes. We're way thinner this year, but we're poised to make another run. The weight program's better than it's ever been. We've got kids working their tails off. I don't think a lot of 2A programs lift like we do."
When Peterson took over, Sheridan was struggling to compete in the 3A West Valley League. In his first season, the team finished 5-4 overall, 1-4 in the West Valley. It was the Spartans' first winning record since 2010.
"I told my wife, 'I feel good enough to say I put them in the right place, and I'm not bailing on them,'" Peterson said. "And Jeff, working with me, he can just roll into what we were doing. It's not another complete start. I felt it was OK to step away."
Peterson said he was a finalist for the job at 3A Dayton and received a call from 5A Central about its head coaching vacancy, but couldn't afford to wait to accept the offer from Newberg, where he spent four seasons on the staff before leaving for Sheridan.
After each of the last two seasons, Peterson said, Newberg called to ask if he wanted to return. This time, he was ready to rejoin the Tigers, who went 5-5 last year in their second season under coach Kevin Hastin.
"Nothing beats 6A football. I'm back coaching at a high level right now," Peterson said. "I really like Hastin. I like the program we've got now. It's all working out pretty good, as much as I didn't want to step back to not being a head coach."