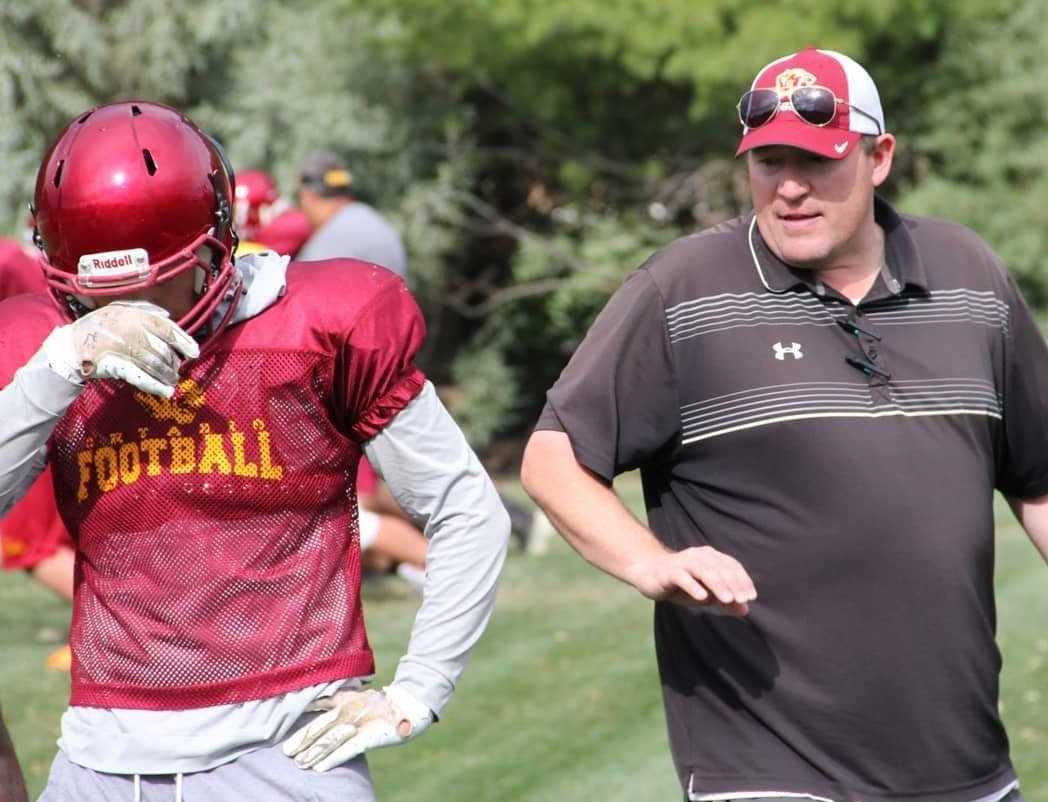 As a high school football coach in Idaho for the past 18 years, Tony Cade never faced an Oregon team.
But in spring youth leagues, his teams always got all they could handle from Ontario.
"I'm just like, 'Dude, they've got some kids up there. They're tough. They get after it,'" Cade said. "That's a good place. Good-looking kids."
So this year, after members of Ontario's football community encouraged him to apply for the vacant head coaching job, Cade threw his hat in the ring. In June, he became the Tigers' new coach.
"Ontario's had a tradition. We're going to try to bring that culture back," said Cade, 40. "I think we've got the kids to do it."
In his two head-coaching stints, Cade went 9-10 at 3A American Falls (2015-16) and 5-13 at 4A Burley (2017-18). Before that, he was an assistant for 13 seasons, including 10 at 4A Blackfoot.
As a head coach, Cade has shown an ability to increase turnout. American Falls had 18 players in his first season, 26 in his second year and was on track to add a freshman team before he left. At Burley, turnout increased from 58 to 95 in his second season and was set to surge near 115 this year, he said.
"It was just crazy what we were able to do," Cade said of his time at Burley, which has an enrollment of about 900 and plays in Idaho's second-highest classification.
Ontario went 28-28 in the last six seasons under coach Erik Johnson, who left to take the job at 5A Eagle Point. The Tigers made the 4A semifinals in 2017 and finished 5-4 last year, losing in the first round.
"I think it's a good time to come in," Cade said. "It'll be a growing year. We lost 20 seniors. Depth's going to be our biggest issue."
Cade is eager to strengthen the program's foundation.
"We're going to build it," he said. "We'll start at the lowest levels and get it done. You've got to build it from the ground up. You've got to be visible for coaches and you've got to be visible for kids."
Cade started his career as a linebackers coach but moved on to multiple positions, on both sides of the ball, during his time at Blackfoot. He was the offensive coordinator as head coach at American Falls and Burley, where the team "put up more points than they had in 15 years," he said.
He plans to call the offense at Ontario. He has hired Larry Nigro, who had a decadelong run as the coach at Emmett (Idaho) and recently assisted at Eagle (Idaho), to help with the defense.
Cade favors running his speed-option offense out of multiple formations – under center, power I-formation, spread, trips, etc.
"It's hard to plan for me," he said. "I'm pretty versatile, but I do everything out of my speed-option package. You'll see us come out in a lot of different sets. I grew up in the speed-option. That's what I like, a lot of read-option stuff."
Cade said he has a "great quarterback" in Kenji Teramura, a 6-foot-3, 210-pound senior, who has been impressive in camps this summer.
Ontario opens Sept. 6 at Mazama, a 4A quarterfinalist last season.
Youth "no excuse" for Viks: It was only six years ago that Sam Johnson was a Far West League first-team receiver and defensive back for Siuslaw.
Now Johnson, 23, will be the Vikings' coach, and he is hungry to get them back to their winning ways.
During Johnson's four years in the program under coach Tim Dodson, Siuslaw went 38-6 and finished as the 4A runner-up in 2011. But the Vikings went 3-13 in two seasons under Jamin Pool (2016-17), dropping them down to 3A, where they finished 0-8 last season under coach Chad Smith.
"This town has been in a rebuilding season for three years, and we can't do it for four," Johnson told Exploding Whale Sports. "We've got the kids. That's never going to be an excuse. The 'young thing' is never going to be an excuse.
"This is a season we fully expect to win every game we play in. We're never going into a game thinking we're outmatched. We expect to win all our football games this season."
Johnson, who assisted at Pleasant Hill, replaces Smith, who was hired as the coach at 4A Cottage Grove.
Ashland falls to Japan: In a game delayed one day and moved to the coast due to poor air quality, Ashland opened the season Saturday with a 45-18 loss to the Japan All-Stars in the 16th Pacific Rim Bowl.
Smoke from wildfires postponed the game, which was scheduled for Friday night at Ashland but was played Saturday afternoon at North Bend High School.
Japan pulled even at 8-8 in the series, which is played every two years at alternating home sites. In the previous meeting, Japan beat the visiting Grizzlies 34-7 in 2017.
Saturday, Japan led 23-10 at half and scored two touchdowns in less than a minute in the third quarter – the second one on a fumble return – to open a 36-10 edge.
"It was a rough game," Ashland coach Beau Lehnerz told the Medford Mail Tribune. "We had a lot of mistakes and turnovers. They're a really, really good team and capitalized on those mistakes."
The teams met for pizza and visited the beach after the game.