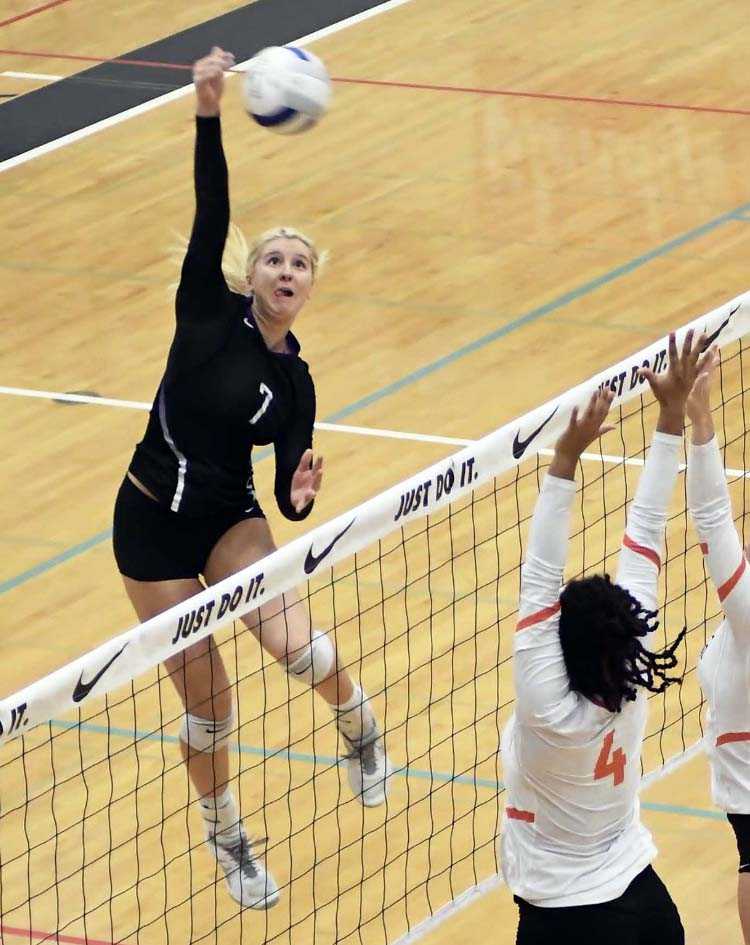 The coaches have spoken! Jesuit, Corvallis, Valley Catholic and Santiam Christian, the defending champions in 6A, 5A, 4A and 3A, respectively; plus Kennedy in 2A and Powder Valley in 1A, are the favorites to capture state titles in 2019.
Let's take a closer look, starting with 1A.
Last November, St. Paul made a successful move from 2A to 1A by capturing its first-ever state title in volleyball. The Buckaroos defeated Powder Valley in four sets in a battle of unbeaten squads.
Though St. Paul returns its strongest hitters, senior outside hitter Isabelle Wyss and senior middle Erin Counts (40 kills combined in last year's final), both of its very skilled starting setters, Karlee Southerland and Jordan Caldwell; and strong defender Destiny Smith, the coaches have tabbed Powder Valley to hoist the trophy for the first time since 2012. The Badgers bring back six primary players, including their libero, Bailey Cole; S/OH Brooke Allen and middle Belle Blair, all of whom are juniors. Coach Marji Lind's team has a great blend of youth and experience, which should serve it well both this season and next.
"The six returners and the two main additions to the unit seem to be making quite a strong force," Lind said. "All of the girls involved in the program work hard, have total dedication to the team and have a very 'We before Me' perspective, which is very exciting and refreshing. We know that we will accomplish nothing without every person fulfilling their unique role on this team. They know this and they live this perspective. All of the players are so humble and celebrate each other's successes; they know that it is not just about one or two on the court."
Lind said that her team is focused and excited for the 2019 season and hopes to take that final step.
"I think the girls are using the whole experience of last year as motivation for this year," she explained. "Truly, getting second in State was not a disappointment. We lost to the only other undefeated team in the state, which is pretty special to have the two undefeated teams come head to head for the State title match. However, as any team does after a loss, we sit and we analyze what might have been executed better and what were our weaker points in the overall game, because the goal is to always get better and stronger as a unit."
Lind added that being first in the pre-season poll might cause some chatter and a few hugs but only for a short time.
"Not too long after that, I believe I will see a change in their eyes, faces and focus," she explained, "and it will again be back down to the business at hand of preparing for our first matches. They know we need to take each match as it comes and not get distracted by looking too far forward."
As good as Powder Valley looks for 2019, do not count out the defending champs. Not only does St. Paul bring back significant talent, head coach Les Hiller says her players have an edge over most teams because of the competitiveness and leadership on her roster.
Hiller added that repeating last year's unbeaten season is not the focus heading into 2019.
"We chose this year to have an even tougher schedule than last year as we want to continue to improve through being challenged," Hiller said. "We are entered in three 2A tournaments and are traveling October 4-5 to Arizona to play in the Nike Tournament of Champions against 5A and 6A teams from across the nation. Undefeated was not on our minds last year and it is not on our minds this year. We just want to continue to get better at our sport and strive for the perfect game, not a perfect record."
The rest of the top 10 includes Hosanna Christian, last year's third-place finisher, and sixth-place finisher Crosshill Christian. Crosshill Christian graduated three key starters and should be a scrappy, defensive-minded team in 2019 led by senior libero Grace Treadwell. Country Christian, which won 1A in 2016 and 2017 and was Valley League champion in 2018, did not make the top 10. The Cougars were stunned by Joseph, No. 9 in the pre-season rankings, in the Second Round last year.
***
Kennedy was No. 1 in last year's pre-season 2A poll and in the final poll before the playoffs but suffered through some ill-timed illnesses and injuries and finished fifth at state. The Trojans, who have never won State, are No. 1 again to start 2019, with good reason. Five starters are back, including three First Team All-Tri River Conference performers, senior middle Sophia Carley, junior libero Hailey Arritola and junior S/RS Ellie Cantu. Head coach Laura Beyer said she also expects great things from senior Ibeth Gomez, who sets and plays defense and has been on varsity since she was a freshman; junior defender Elise Suing, who is growing into a strong hitter; and junior Kelsey Kleinschmit, who is adept playing defense as well as hitting on the right side.
Being No. 1 in the polls is fine, but doesn't mean all that much, said Beyer.
"You have to prove yourself day in and day out with hard work and dedication," she said. "Anything can happen and you just have to try to stay healthy and injury free as well as peak at the right time."
Portland Christian, which captured its third state title in 2018, should also be a prime contender in 2A, as the Royals look to go back-to-back for the first time since 2007 and 2008 when they had Olympian Kim Hill on their roster. Head coach Kristina Gore's team graduated four starters, including an All-State setter and 2A Player of the Year middle blocker, but the team expects to make noise behind an experienced quartet: senior setter Madelin DeLucia, senior libero Madeline Files, senior OH Josie Ernst and sophomore middle Danielle Tsague.
Gore said that winning state may be a long shot in 2019, as her team is sophomore dominated.
"Our team goal is to get back to the state tournament," she said. "Having lost a large group of our seniors and impact players, we are trying to set the goal as something we think we can accomplish. However, we have a strong group of younger players and, in our classification we believe we have what it takes to be competitive."
Weston-McEwen, which has been to the state playoffs in 14 of the past 15 seasons and has three titles to its credit, is the third choice in 2A. The TigerScots won 25 matches last fall but fell in last year's quarterfinals to eventual champion Portland Christian in five sets and wound up sixth. Head coach Shawn White's team graduated four of its top five hitters and its top setter, so the offense will look different in 2019. Led by senior libero Emma Olson and defensive specialist Carrie Hazen, the team should pass and defend at a high level. Junior Jesse Manning is back to hit.
"We will have lots of new hitters," White said. "If our hitters develop and are consistent, we will be one of the top teams in the state."
Central Linn was the fourth choice in the coaches poll. The Cobras received two first-place votes. Perhaps that's because they return senior hitter Sydney Northern and junior libero Josie Nealon, both of whom were All-State Tournament picks last November.
***
Santiam Christian is the biggest favorite of any team to start the year. The Eagles ended Cascade Christian's two-year run in 3A and appear poised to repeat with all eight varsity players returning from last year. Key players back include setter Josie Risinger and outsides Emily Bourne and Kassie Staton. All are three-year starters and powered Santiam Christian over Cascade Christian in last fall's four-set championship match.
"Last year was an incredible experience and we are very grateful that the hard work produced such great results," said Eagle coach Kelli Fitzpatrick. "That being said, this is a new year and we aren't putting the expectation of a repeat state title in front of us. We are focusing on perfecting the little things and more importantly on the character of who our players are as people and how they can be a light to others in this world. A byproduct of that philosophy produced a winning season for us last year and it was amazing to see the girls flourish on and off the court."
Blanchet Catholic joins Cascade Christian as co-second choices in the coaches poll. Both suffered significant graduation losses. Blanchet placed four on the All-State Tournament team after placing fifth a year ago, but three were seniors. The Cavaliers, who also have a new coach, do not return any starters but will lean on tradition. Cascade Christian graduated all-world hitter Caroline McMahon. The Challengers will build around All-State setter Taylor Cave, a junior.
South Umpqua, Catlin Gabel and Horizon Christian are three other teams in the pre-season 3A top 10 to watch.
South Umpqua, which placed third at State a year ago, graduated three starters, including amazing setter Sydnie Johnson; but returns power hitters Shalyn Gray and Jenna Whitmore.
Catlin Gabel has never been past the Second Round of the state tournament but has a great shot this fall with six returning contributors, two key newcomers and a nucleus of seasoned club players. Setter Ellie Nicholson, OH Catie Keen and tall, physical sophomore middle Sophie Scott will lead an Eagles team that has both height and ball control.
Horizon Christian, sixth at State a year ago, will look to a strong freshman class to fill the void left by the graduation of five seniors, four of them starters. Senior setter Jaliza Lazaro, junior outside Alyssa Smith and junior middle Katie Graham are a solid core group to build around.
***
Defending champion Valley Catholic starts as the No. 1 team in 4A, as expected. The Valiants will have to find offense to replace last year's standout senior, Kayla Robbins, who had 42 kills in the state final, but returns virtually the rest of their roster. Look for exceptional setter Allie Merz to dish to the likes of middles Madeleine Beaupre and Madeline Klopcic, Gretchen Kibbe on the right and small but dynamic Zoey Van Vleet, last year's libero, on the left side. Cailtin O'Kief and Kylee King are impact defenders.
"We will be a different team this year, with the offense needing to be spread out among multiple hitters," noted head coach Becky Kemper. "We will be using the preseason to try a variety of options we have for lineups. We have a lot of talented hitters, with an experienced, game-savvy senior setter, and seeing what combination will work best will be a lot of fun to figure out. Our serving will continue to have to be a big weapon for us as well."
"We came into last season, after not playing well in the [2017] championship match, with something to prove," Kemper added. "This year, after finally bringing home the trophy, we don't come into the season any different. We still have something to prove, and the players know what it takes to get there. We have goals for where we want to be when league starts, where we want to be midseason, and where we want to be by the state tournament."
Sweet Home, fifth at State a year ago, received six first-place votes in the pre-season poll. The second-ranked Huskies return five starters, four of them juniors. Outsides Bailee Hartsook and Allison Miner, middle Shelbey Nichol, libero Graci Zanoona and setter Savannah Hutchins will lead the way.
"We are a small town school with a lot of great kids who work hard and are competitive," said head coach Mary Hutchins.
Sisters starts the season ranked third. The Outlaws graduated two four-year varsity players, including conference co-Player of the Year Kendra Sitz on the outside, but return the rest of a very strong offense. Coach Rory Rush's team will feature setters Addy Myhre and Ellie Rush feeding attackers Sam Silva on the outside and Sophia Silva and Greta Davis in the middle.
"This year we are focused on speeding up our offense and playing great defense," Rush said. "With great defense to back up our strong, quick offense we hope to be a team to be reckoned with."
Cottage Grove, which came so close to winning 4A a year ago, starts No. 4 in the coaches poll.
Marist Catholic struggled in its first year in 4A. The Spartans, 10-12 a year ago, expect to be better and more experienced in 2019. Ranked sixth in the pre-season poll, Shari Pimental's team graduated its kill leader but returns a core four of setter Ellie Christian, attacker Cathy Kalstad, middle Heidi Knebel and libero Natali Hayes.
Two juniors, setter Sage Veek and OH Nessa Hurliman, will lead No. 7 Tillamook. The Cheesemakers, who have never won State, placed sixth last fall. Head coach LaVonne Stein-Rawe said that her team will be shorter than last year's squad but should be very strong defensively and behind the service line.
"Defense wins matches," she said. "As soon as we bring our culture together, we will be pretty tough."
***
Corvallis won the 5A title last November in dominating fashion. The title was the fourth in school history and the first for head coach Steve Hyre.
The Spartans, who lost only eight sets all of last year, open at No. 1 in the 5A coaches poll. Hyre's squad graduated five who were in the regular rotation but bring back four, including 5A POY Ryann Gregg. The four-year starter, a University of Portland recruit, is a power hitter on the outside but also is an adept passer. Middle Nevaeh Bray, RS Taylor Silbernagel and DS/S Hanna Jones join Gregg as returning impact players.
"We will be young as varsity experience goes, but return six varsity players with a good core of younger kids to fill the holes left by the seniors we graduated," Hyre said. "I believe that our senior leadership should be strong and will help to carry the younger players along during the season."
Ridgeview, which finished second in 5A last year in its first year in that classification, is No. 2 in the poll. Now in its eighth year as a school, Ridgeview has a great shot to snag its first state title, as the Ravens bring back six players who were All-Conference a year ago.
OH Rylee Troutman leads the way for head coach Randi Viggiano's team. The high-volume scorer had 16 kills in the state final loss. She has the arm to carry a team, but won't have to in 2019 with middles Nicole Bossemeyer and Suzanna Bailey also potent options for returning setters Allicitie Frost and Kennedy Buckner.
"Our second in the state finish last year left a hunger for something more," Viggiano said.
West Albany was third last year and starts the year ranked No. 3 in the coaches poll. The Bulldogs graduated a lot of front court talent but should be very strong in the back row with the return of senior libero Sydney Backer and senior defensive specialist Kierra Sanchez. The team will be young but athletic up front.
Pre-season No. 4 Wilsonville may have the best shot at upending favored Corvallis in this division. The Wildcats will be searching for their first-ever state title in volleyball in 2019 with five returning starters, six if you count a middle who took last year off after starting as a sophomore. Nathan Blankenship's team returns NWOC Player of the Year Lindsey Hartford, a 6-1 senior outside; All-Conference senior setter Kennedy Juranek, All-Conference sophomore outside Ashli Edmiston, junior pin Clarissa Klein and sophomore middle Tatum Lubisch, among others.
"The team dynamics – pulling together and supporting each other without hesitation – makes the team incredibly strong," said Blankenship. "The balance of experience, talent and great teamwork should [make us] a strong contender for a state championship."
Crook County won eight straight titles between 5A and 4A from 2006 through 2013. With six returning starters and a new head coach in alum Kristy Struck, the Cowgirls, No. 6 in the pre-season poll, expect to make noise this fall. The team is senior dominated and hungry to return the school to its glory years.
Key players to watch include senior setter Anna Woodward, heavy-hitting outside Raegan Wilkins and athletic middles Elizabeth Barker and Kenna Woodward.
"We will be a force this year," Struck asserted. "We have a well-rounded team that meshes well together. They play hard and fight for every point. They do not ever quit. They have been in the weight room and on the court all summer working hard to improve. They are hungry for another state title."
***
Defending champion Jesuit tops the 6A poll. The Crusaders were undefeated in Oregon a year ago but graduated all but starting setter Allison Buchholz. There is talent in the Jesuit pipeline – there always is – so longtime coach Teresa Zimmerlee isn't counting out a fourth state title over the past six years. Peyton Griffin, Maddie Dowdall and Ella Massingale are among those who should contribute.
Said Zimmerlee: "This team has a lot of potential and the outcome for us will be determined by how fast they gel as a team and their commitment to their individual roles and goals for themselves and as a team."
Perennial power Central Catholic (four 6A titles since 2009) is No. 2 in the coaches poll, but may be the team to beat in what may be longtime coach Rick Lorenz' final year with the Rams. Fourth at State a year ago, Central brings back seven from last year's rotation: middles Mia Jordan and Katie Nall, setters Kealani Rosa and Lauren Stemple, outsides Julia Carr and Maianna Payne and libero Ava Bruins.
"Barring major injuries, we should be in the hunt again," Lorenz said.
West Linn is No. 3 in the poll, but the Lions' fortunes took a hit when powerful middle Makayla Long moved to Arizona at the end of the school year. New coach Emilie Wilmes will build around All-State OH Audra Wilmes, a Washington Husky recruit. The Lions will look to a strong freshman group to fill in some holes in their lineup.
Co-No. 3 Sprague is looking good this season. Head coach Anne Olsen has been with the Olympians going on nine years and has taken her team to the state tournament four times, capped by last year's outstanding second place finish. Five regulars have graduated but Sprague should contend again behind senior OH Bridgette Smith, senior middle Madi Chuhlantseff, a transfer from West Salem; senior setter Reese Sherwood and junior middle Celia Hubbard. Look for two freshmen, libero Sarah Jones and RS Hannah Blubaugh, to contend for starting spots early in their careers.
No. 5 Mountainside went 18-7 in its first varsity season last year. Coached by Brooke Mayo, the Mavericks had no seniors on the 2018 roster. Everyone is back for a squad that fell, 15-11 in the fifth, to Sheldon last year in the Second Round. Senior S/OH Izzi Szulczewski is the top returnee and could be the best setter in the state this year. There are five other seniors in Mountainside's first such class, middle Katelyn Redell, outside Kristi Mazzotta, outside Milan Mafinejad, RS Megan Cassidy and setter Maya Ngai. Standout junior hitter Mackenzie Leith also returns.
Sheldon reached the state tournament a year ago but did not place. The Irish, who have never won a state title, should be better in 2019 thanks to an infusion of talent. Junior Josie Peters and sophomore Keira Vaughn are two major contributors back for head coach Martine Wodke. The team's fortunes improved significantly with the transfer of two All-State Tournament participants from a year ago, 6-1 OH Reilly Kelty from Cottage Grove and 5-7 setter Hannah Ledgerwood from Hosanna Christian.
"The players have been competing with one another all summer to build strong trusting relationships," Wodke said. "We will have strong passing and setting and many hitting options. I am excited to see how they compete."