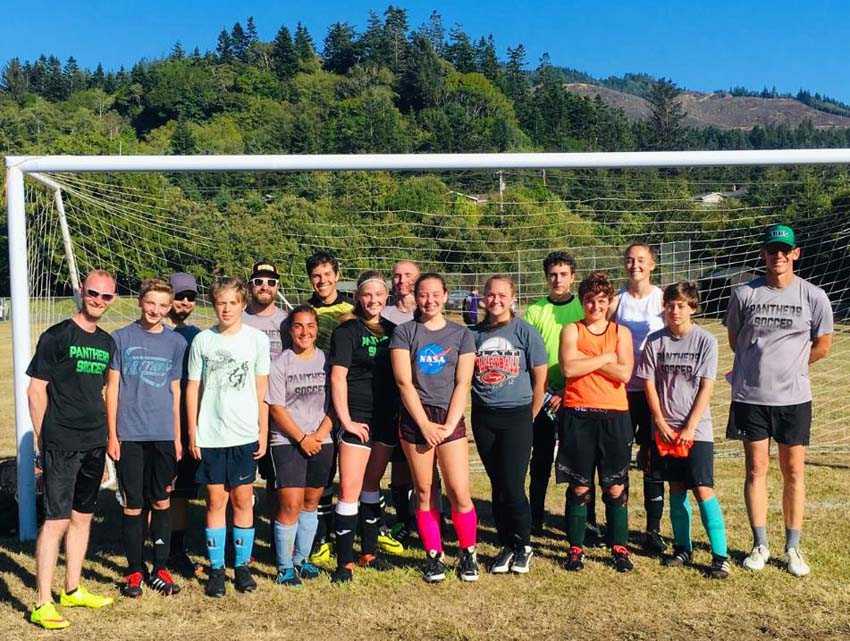 Today is the day, the first day soccer can be played competitively in 2019 in the Beaver State! Roseburg at Crater (boys) and Crater at Roseburg (girls) starts it all off this morning at 10 a.m.
Why 10 a.m. you ask? The games originally were planned for later in the afternoon but the prospect of excessive heat and there being no school yet made the switch to 10 a.m. perfect both in Roseburg and in Central Point (where Crater is situated) 90 miles away.
***
Before we get to other fascinating notes from around the state, let's start with some trivia: do you soccer buffs out there know why we in the United States call the sport "soccer" when everyone else calls it "football?" Hint: it has almost zero to do with American football.
My crack research reveals that use of the term "soccer" actually started in England, the country credited with developing the sport, well over 150 years ago. In the 1800s, several sports in Britain were being called football, notably "rugby football" and "association football" (soccer). Oxford students in the 1880s shortened the names to distinguish between the two, calling the former "rugger" and the latter "assoccer." While the name assoccer faded from use in England in the 1900s (rugger became "rugby"), it came to the States as "soccer" and stuck, perhaps because by then American football had gotten a foothold, so to speak.
***
At Summit HS in Bend, Storm fans are looking forward to seeing senior Jack Cauble competing again. Cauble played varsity soccer as a sophomore and was on his way to qualifying for state as a sprinter the following spring when a hamstring avulsion injury cut his track season short. Cauble recovered to play fall soccer and was a projected starter but suffered an ankle injury on the first day of practice that not only cost him the season, it ultimately required surgery that sidelined him the entirety of track season as well. Finally healthy – he returned to playing soccer in mid-August – Cauble will make his debut today at South Albany, some 17 months since his last athletic competition.
"Jack is a great young man and an inspiration to our team," said boys soccer coach Ron Kidder. "He was one of our sideline leaders last season and we expect him to be a significant contributor on the field as the season progresses. We are all looking forward to watching him run on both the soccer field and the track in 2019/2020."
***
Do not look for Gold Beach soccer in the girls' soccer section of OSAA.org. You won't find the Panthers there. You will find Gold Beach, a second-year program coached by Mackenzie Lee and in a co-op with Pacific, in boys' Special District 4. The catch is there are girls on the team!
"In order to serve the most students possible, the team is co-ed," Lee explained. "We have a great group of student-athletes and wonderful community support. Last year we competed as an independent league and laid a great foundation. This year we are part of the 3A/2A/1A - SD4. We are looking forward to a great season."
***
West Salem, No. 9 in the pre-season OSAAtoday coaches poll in girls soccer, boasts the first all-female coaching staff in Salem-Keizer history for girls soccer. The staff is headed by first-year head coach Whitney Pitalo, a Salem native and former D1 player at USC. Audrey Kagey, Bianca Andrade, Aubrie Morales and Meli Cortez complete the all-female Titan staff.
Pitalo inherits a team that could be the school's strongest yet, with senior leadership, speed, defense and scoring punch.
***
Junction City assistant coach Ben Warren also is a referee who officiates statewide. He used his contacts in the coaching and refereeing communities to organize a series of "friendlies" during the summer before dead week. He sent out an email to gauge interest and once there was a list of teams and available fields, he set about making a schedule and assigning officials and collecting just enough money to cover refereeing.
"This schedule had to be remade so many times it would make your head spin," said Junction City head coach Beau Dussell. "He was a trooper about the whole thing."
Each team that participated got to play in 9 or 10 games.
"It was AWESOME!" Dussell exclaimed. "Kids who would not normally get to play tournaments or gain that extra experience from game play got an unexpected chance to work with new teammates and see what they could accomplish."
***
At OSAAtoday, we understand that a "win" may not mean the same thing at different programs around the state. Take Elmira High School girls soccer, for instance. When Rob Lee took over the program 11 years ago, he inherited a culture of losing. "We lose. We always lose."
"Even when we won a game, my players thought it was just dumb luck," he said.
Slowly but surely that type of mentality has finally gone away. Elmira has strung together five consecutive years of qualifying for the 4A state play-in game and has finished third in its league the past couple of seasons.
"Our girls now believe in themselves as a quality program... not a state championship program, but one that is no longer a bottom-dweller," Lee said.
With so many girls back, EHS could have its best team yet in 2019, one that could contend for second place in the Sky Em League. Finishing first, however, is probably still out of reach with powerful Marist Catholic in its league but so what? The Falcons are poised to soar regardless.
***
Like Elmira, the girls soccer program at Scappoose is about more than winning on the scoreboard. Third-year head coach Summer Jark explains:
"I feel extremely lucky and blessed to be a coach at SHS. The community support has been outstanding and our girls are SPECIAL. They are kind, compassionate, encouraging and hard working. Our upperclassman go out of their way in the spring and summer in welcoming new freshmen. They show by example what it looks like to give it your best effort and are extremely respectful to each other, coaches and other players. Not once in the past three years have I had to deal with a disrespectful player. As a mom of three young kids, I hope that my kids can grow up to be like these young ladies.
"Coaching at SHS has truly been my happy place and I love seeing them grow as leaders and players."
***
Quick hits…This summer, members of the Bend High Girls Soccer Team traveled to Costa Rica to play some friendly matches, train, run a community outreach youth soccer camp and, of course, share a wonderful experience…No. 10 North Marion is a sleeper to go far this season in 4A girls soccer. The team competed at a high level in 2017 and also was strong last year when healthy. The Huskies are healthy again heading into 2019…After winning multiple state 4A titles in boys soccer, La Salle Prep moved to 5A in 2014 and has made steady progress. The Falcons made the state final last year after consecutive semifinal appearances the previous two seasons. With 16 of 19 players back, Seth Altshuler's team appears primed to take that final step… Barlow may be underrated in 6A girls soccer. The junior-dominated Bruins lost just once last year and return nine starters, including Abi Hoffman, the two-time Mount Hood Conference POY…Catlin Gabel girls soccer has made the 3A/2A/1A finals the past four years, coming up short each time. The Eagles not only are motivated; they are talented. State Player of the Year Sophie Wand returns, as does the rest of the front five in what should be a potent, goal-scoring attack…