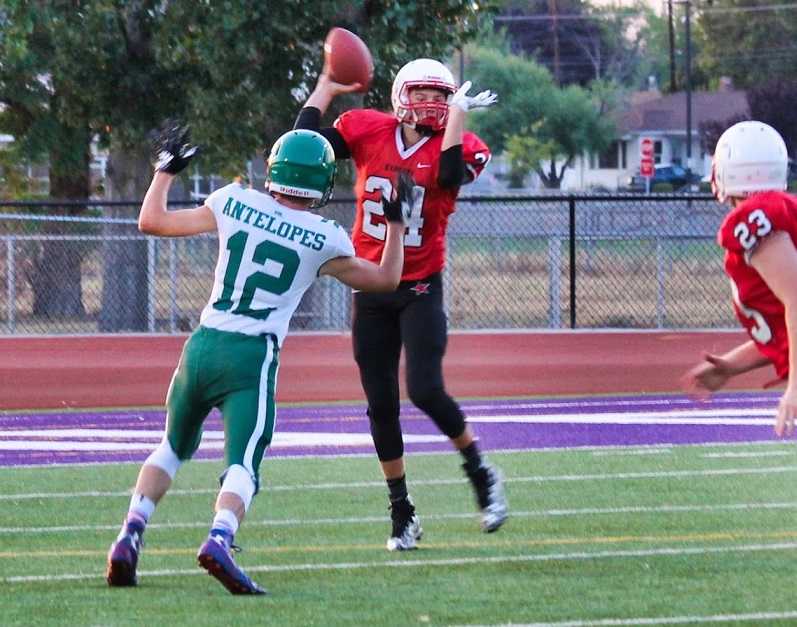 As 1A Dufur goes for a state record-tying fifth consecutive football state championship this season, the "Drive for Five" has become a rallying cry for Ranger fans.
That drive hit a major snag Friday, though, when the No. 1 Rangers opened their season with a 66-8 home loss to No. 6 Adrian/Jordan Valley.
"We couldn't drive for five yards," Dufur coach Jack Henderson said. "We're going to have to redefine the drive for five."
The loss ended Dufur's 33-game winning streak. It didn't help that Asa Farrell, the team's star tailback and only senior, was out with a groin injury. Regardless, the Antelopes were athletically superior, according to Henderson.
"They were quicker and faster in every position," Henderson said. "We have to improve a lot."
The Antelopes, who rushed for 536 of their 604 yards, led 50-0 at halftime and pushed the lead to 66-0 before Dufur scored a touchdown with one minute left. They got touchdowns from sophomore quarterback Conley Martin, seniors Michael Babcock, Wade Bond and Kort Skinner, junior Sebastian Munoz and freshman Jace Martin.
Adrian/Jordan Valley brought back six starters on offense and seven on defense from a team that reached the quarterfinals last year.
"I knew we were capable of scoring a lot of points, but I was really impressed with coach Bryce Kershner's defense," Antelopes coach Bill Wortman said. "It's been a while since that's happened to Dufur.
"We were very good last year. They've played a lot of football, and they expect to be really competitive and to be in every game. They were excited, but they realize that we still have a lot left that we're capable of."
Henderson said he was disappointed that his players did not rise to the occasion.
"The thing that's most disconcerting is we have four or five kids – although they are in different positions – that played for us last year when it mattered," Henderson said. "To tell the truth, before we started, I thought we might have a chance to improve and get there, but now, in postgame, we're trying to figure out who we're going to beat in league.
"It was a bit of a shocker. It's kind of amazing how reality set in in 48 minutes, actually the first 12. We're just fundamentally not very good right now."
Dufur plays Friday at No. 2 St. Paul in what was a much-anticipated rematch of last year's state final, won by the Rangers 38-32. Henderson said he sent a message to Buckaroos coach Tony Smith after Friday's game.
"I wanted to apologize ahead of time," Henderson said. "It's unfortunate, because I was hoping we'd go to St. Paul and it would be a great game."
Ranger rally
Down by 23 points in the fourth quarter Friday at Valley Catholic, it would've been easy for Estacada to start thinking about its bus ride home.
Instead, the Rangers, a 4A quarterfinal team last season, kept plugging away and emerged with a 40-39 nonleague win.
"It was quite a wild game," Estacada coach Andy Mott said. "I think in the first half, a lot of them kind of had Friday night shellshock. And then the second half, they kind of started getting their feet under them. It was awesome to come out on top. It gives us a lot of momentum heading into next week."
The Rangers began to move the ball better after halftime, but a deep drive was foiled when they fumbled and Valley Catholic returned it for a touchdown to open a 39-16 lead late in the third quarter.
"I thought, 'Oh, my gosh, there goes our momentum, there goes everything,'" Mott said. "But we just kept punching back."
Freshman Waylon Reidel and senior Jose Vasquez had touchdown runs as Estacada closed to within 39-32 with about 3:30 left. A couple minutes later, junior quarterback Isaiah Schaffer completed a 40-yard pass to sophomore Jordan Stores to the Valley Catholic 15-yard line, then scrambled for a 10-yard touchdown run to make it 39-38 with 18 seconds to go.
Vasquez ran in the two-point conversion from the wildcat formation for a 40-39 lead. Estacada was 5 for 5 on two-point conversions in the game.
"The big thing is we have a little bit of depth that we haven't had in a few years," Mott said. "In the second half, we were able to keep our guys fresh. They have some really talented kids, but I think we kind of wore them down in the second half. We never hung our heads and felt like we were out of it."
Vasquez rushed for 145 yards and two touchdowns on 20 carries for the Rangers, who had more than 300 rushing yards.
New era for Demos
Jefferson got Don Johnson Jr.'s coaching tenure off to a promising start by going on the road for a 28-22 win over Southridge.
Beating a Metro League team is a feather in the cap for the Democrats -- and the Portland Interscholastic League, for that matter -- but Johnson put it in perspective.
"We're definitely excited, but our kids have beat those kids their whole life, until they get to high school," said Johnson, who has turned around struggling programs at Milwaukie, Evergreen (Wash.) and Madison.
Junior running back Damir Collins (5-9, 190), who created a buzz with his performances in summer camps and received an offer from Oregon, pounded between the tackles for 242 rushing yards and three touchdowns on 23 carries.
"Our offensive line and our upper backs made room for Mr. Collins," Johnson said. "I thought we ran the football physical. Damir is patient, he's fast. He's really, really good, one of the best I've seen in Oregon. He's a very physical football player. He reminds me a lot of Napoleon Kaufman."
Johnson said he liked how his team played with discipline. The Democrats drew the Skyhawks offsides on two third downs and a fourth down.
"We just were playing cerebral football," he said.
Jefferson also got contributions from basketball players making their high school football debuts: sophomore middle linebacker Lamar Washington (6-4, 230), junior defensive end Nate Rawlins-Kibonge (6-7, 240), sophomore slot/safety Trejon'Williams and junior slot/defensive back Malachi Spinks.
"All of them were physical and made plays the whole night," Johnson said.
Up next for the Democrats is North Medford, which opened with an impressive 45-6 win over McNary.
"We're playing at home. We're trying to get our community excited," Johnson said. "They're a pretty good football team, but we're a very physical football team. We look forward to the challenge."
Rainier still Trippin'
Another Tripp debuted as the starting quarterback for Rainier on Friday as the reigning 3A champion Columbians rolled 22-0 over visiting Kennedy, last year's 2A champion.
Sophomore Kenney Tripp is the seventh of his brothers to play quarterback for Rainier, following Joey, who was voted the 2018 3A offensive player of the year after accounting for 47 touchdowns.
He had a modest start, rushing for 65 yards and one touchdown and completing 2 of 4 passes.
"He throws the ball very well for a sophomore," Rainier coach Mike King said. "Right now he's probably not as powerful a runner as Joey, but he has a little shiftiness to him, and has a nice little burst.
"As far as their demeanor, Kenney is very, very serious. Joey was actually kind of a relaxed type of guy. Kenney is pretty intense. He's a lot like his brother Brad was."
Stone Ware and Brandon Isaacson also rushed for more than 50 yards and one touchdown apiece for the Columbians. Rainier's defense forced six turnovers, getting interceptions from Ware, Isaacson, Korbin Howell and Trevor Carr and fumble recoveries from Howell and Nate Gaines.
Rainier's defense, led by all-state tackle Easton Crape, tackle Gaines and inside linebackers Howell and Leo Garretson, clamped down on Kennedy.
"It was a big test to face a team like that," King said. "I was really proud of the shutout."
The Trojans were without their all-state tailback, Emorej Lynk, who is out indefinitely as he recovers from knee surgery.
Comets crater Wildcats
Last season, Crater's defense was powerless to stop Wilsonville, which beat the Comets 53-20 in the season opener and 78-45 in the 5A playoffs.
That's 131 points, or 65.5 per game.
Crater's defense looked much different Friday night, recording eight sacks in blanking the Wildcats 40-0. Of course it helps that Wilsonville no longer has quarterback Nathan Overholt, who threw a state-record 59 touchdown passes last season, but the performance was an impressive turnabout, nonetheless.
Crater's offense took the spotlight Friday, compiling 612 total yards. Quarterback Trever Davis passed for three touchdowns, ran for one score and kicked a 47-yard field goal and Gavin Acrey rushed for 126 yards.
Barlow tribute
Barlow marked the first game in its new stadium Friday with a tribute to former Bruins standout Dan Paul, a 2007 graduate who died in July.
Paul went on to a college career at Boise State, where he played linebacker. The school honored the Paul family, which has made significant contributions to the football program.
"It was just a great day to do that, being the first time we played on the field," Barlow coach Terry Summerfield said.
The Bruins went out and throttled Bend 34-8, avenging a 55-21 road loss in the opener last year. Senior Jaren Hunter completed 19 of 27 passes for 203 yards and four touchdowns for Barlow.
Summerfield raved over the new stadium complex, which has a 1,500-seat covered grandstand.
"It was an exciting night, just electric," he said. "It's just gorgeous. It's so clean and pristine. We used to have a facility where if you ran a microwave and the popcorn machine, the scoreboard would go out."
A glance at other games across the state:
6A
Cal-bound Casey Filkins ran for 210 yards and three touchdowns on 17 carries as reigning state champion Lake Oswego won 42-21 at West Salem. … Oregon City converted a two-point conversion with 39 seconds left to beat Grants Pass 41-39. The Pioneers tied it on a 28-yard touchdown pass from Trey Martin to Calvin Green, and on the extra-point attempt, holder Austin Canchola bobbled the snap but passed to Morpheus Nithikhun for the winning points. Martin completed 39 of 54 passes for 377 yards and four scores. Green had 17 catches for 171 yards and two touchdowns and had two interceptions on defense. … North Medford rolled up 554 yards to beat McNary 45-6, getting two touchdown passes from Brennan Stults and two rushing scores from Devin Bradd. … South Medford's Toren Tuttle threw four touchdown passes, three to Austin Boster, in a 40-13 win over Centennial. … Sherwood rushed for 384 yards and six touchdowns, three by Lucas Voss, to thump Sandy 52-9. … Westview's Brayden Libby threw for 303 yards and six touchdowns – three to London Smalley and two to Darrius Clemons – as the Wildcats beat David Douglas 44-32. The Scots' Jermaine Robinson had eight catches for 96 yards and two touchdowns. … Aloha got seven touchdown passes – five by Timothy Dennis Jr. and two by Elijah Manriques -- a 61-21 win over Century. … Roseburg held off Mountain View 33-30 as Jakoby Moss threw for 242 yards and three touchdowns. … Hunter Gilbert had 188 of Tigard's 371 rushing yards in a 45-22 win at Sunset. … Cade Knighton threw two fourth-quarter touchdown passes to Silas Starr as Central Catholic overtook West Linn 35-27. … Tualatin's Kainoa Sayre returned after missing his junior season with an ankle injury to rush for five touchdowns in a 53-7 win over Lakeridge. ... Jake Leitgeb passed for 335 yards and three touchdowns -- including a go-ahead, 62-yard strike to Charles Willmott in the fourth quarter -- as Lincoln edged Canby 26-22. Willmott caught 10 passes for 171 yards and had an interception on defense.
5A
Reigning champion Thurston blasted rival Churchill 55-0. Cade Crist threw for 198 yards and two touchdowns and Wesley Kommer ran for two touchdowns and caught a scoring pass. … Crook County blitzed Ridgeview 39-15 as Kyle Knudtson rushed for 156 yards and one touchdown and Brody Connell threw three scoring passes. Ridgeview's Josh Beiver ran for 139 yards and one touchdown, caught six passes for 63 yards and returned a kickoff 95 yards for a score. … First-year Eagle Point coach Erik Johnson debuted with a win as the Eagles beat Klamath Union 34-8. … New Redmond coach Seth Womack also won his opener, 44-7 over St. Helens, behind three touchdown passes from Austin Carter. … Dallas rushed for 403 yards and returned two interceptions for touchdowns to defeat South Albany 58-13. ... Josh Rice ran for 170 yards and two touchdowns on 12 carries and Thomas Greiner had two interceptions in Scappoose's 41-13 win over Astoria. ... CJ Doyle had four catches for 113 yards and three touchdowns to lead Forest Grove past Putnam 27-14. Jarrod Miller had four touchdown passes for the Vikings.
4A
Parker Robinson threw for 248 yards and three touchdowns, two to Blaine Shaw, in La Grande's 36-14 win over 5A Pendleton. … Chad Werner and Jace Bush returned interceptions for scores as Tillamook throttled Newport 31-7. … Marist Catholic defeated Sweet Home 55-13, getting 182 rushing yards from Lucas Tuski and six touchdown passes from Max Campbell (338 passing yards), four to Hagen Stephens. … Charlie Baker ran for 135 yards and four touchdowns to help Mazama defeat Ontario 40-0. … Hidden Valley rallied from a 12-point deficit to beat Sutherlin 50-26 behind three touchdown runs from Tobias Powers and two scoring runs from Tanner Noble.
3A
Defensive lineman Darian Smith had an interception return for a touchdown to lift Umatilla past Regis 14-6. … Kristian Fralich ran for a touchdown and returned punts 60 and 52 yards for scores to lead Cascade Christian to a 52-13 win over Phoenix. … Amity converted a late fumble into the go-ahead touchdown with 20 seconds left -- a pass from Keenan Graham to Kane Black -- to get past St. Mary's 34-32. Graham was 16 of 25 for 252 yards and five touchdowns, two each to Black and Josh Wart -- to offset four touchdown passes by the Crusaders' Aliiloa Kaeo-Wailehua. … Yamhill-Carlton quarterback Jaime Garcia accounted for five touchdowns (four rushing) in a 49-34 win over Warrenton, which got four scoring passes from Jacob Morrow, two to Austin Little (197 yards). … Vale rushed for 222 yards to outlast Parma (Idaho) 27-26.
2A
Blane Peal threw two touchdown passes to Theo White in Weston-McEwen's 30-7 win over Central Linn. … Jayden Wilson passed for 108 yards and one touchdown and ran for 87 yards and two scores in Heppner's 27-20 win over 3A Clatskanie. … Monroe's Zach Young rushed for 106 yards and two touchdowns and returned a kick 70 yards for a score as the Dragons dominated Sheridan 44-16, allowing only 155 total yards. ... Gervais opened with a win for the first time in 17 years, prevailing 32-26 at Portland Christian, which dressed 13 players.
1A
Powder Valley gave coach Josh Cobb his first win by beating Arlington/Ione 48-12. … Pilot Rock/Nixyaawii routed Enterprise 44-6 as Tyasin Burns ran for 289 yards and four touchdowns. … Elgin rumbled past Imbler 58-20 as Tristan Simpson ran for 130 yards and four touchdowns and passed for 232 yards and two scores. Jordon Palmer had six catches for 175 yards and one touchdown. … Lowell beat Siletz Valley 54-12 as Taysian Williamson ran for five touchdowns on nine carries. … Camas Valley converted three turnovers into touchdowns in the first quarter in beating Bonanza 66-6. … Quarterback Jayce Clevenger scored on a 24-yard run with 22 seconds left to push Elkton past Mohawk 28-22.